If you're a sleep-deprived new mom who's feeling discouraged, don't miss these amazing words of encouragement for mothers. Plus get my Top 6 Newborn Sleep Tips! Click this button to download: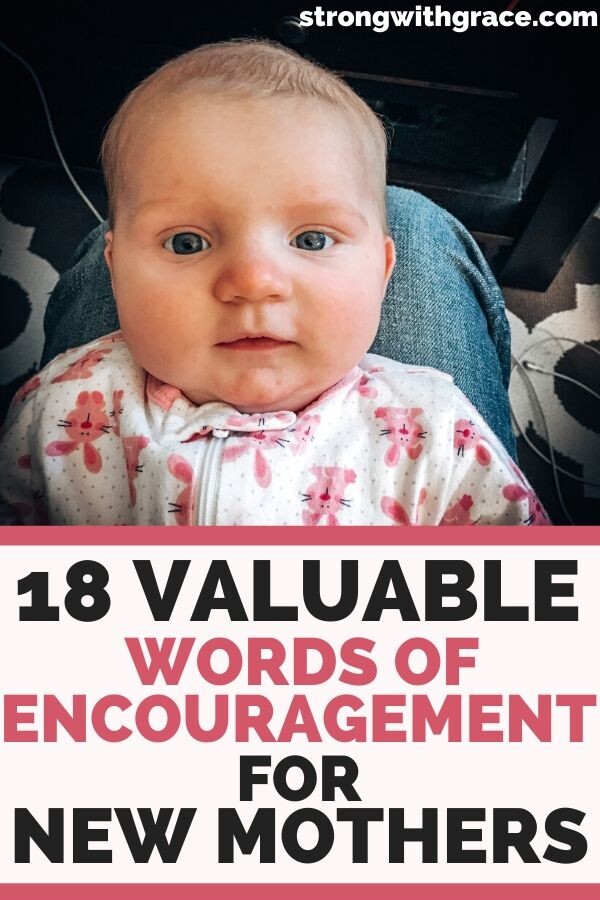 Several years ago I was a new mom, wondering if I'd ever be back to my normal self again.
I forgot my diaper bag when I went to my daughter's first doctor's appointment.
I lived in a hilly neighborhood, and it hurt just to walk a block down the street with my dog.
My husband deployed with the Navy two weeks after she was born, and I spent the next 6 months solo-parenting and trying to make it all work on my own.
My family lived far away.
They would help when they could, but I had lots of lonely moments and had to figure things out on my own.
I would plop down on the couch in the evening, exhausted, trying to get my precious babe to sleep and frantically googling "how to soothe a crying baby" or "at what age will baby sleep through the night?"
(And by the way, if you're looking for some help getting your baby to sleep better, you can get a free copy of My Top 6 Newborn Sleep Tips Click this button to download:)
We hope you enjoy the products we recommend! This post may contain affiliate links. That means we get a portion of the commission if you click through and make a purchase, but you don't pay a cent more. Thank you for supporting our small business as we strive to help you rock mom life!
18 Valuable Words Of Encouragement For Mothers Of Newborns
I wanted to share some encouragement to mothers of newborns because no matter how much you love your little one, parenting is a shock to your system. It's a sleep-deprived season, and sometimes it just feels like you're at the end of yourself.
So hang in there mama and enjoy these words of encouragement for mothers. I know you are giving it your all!
1- You'll Get More Sleep Someday Soon!
Soon you'll get more sleep than you're getting now (when you're baby is eating every 2-3 hours, or more). Seriously, you won't always be THIS sleep deprived! Hang in there!
2- Support Groups Are Available
There are people, groups and websites out there to support your specific struggle or challenge. (tongue tie, nursing & latching, colic) And don't forget to touch base with your pediatrician with any concerns!
3- Get Ready For Grins!
Your baby will smile soon if they haven't already… and it will melt your heart!
4- You Can Grow In Positive Thinking
If you're stuck in negativity, you can improve your mindset and grow in positive thinking. You're not stuck!
Click to learn more about my free