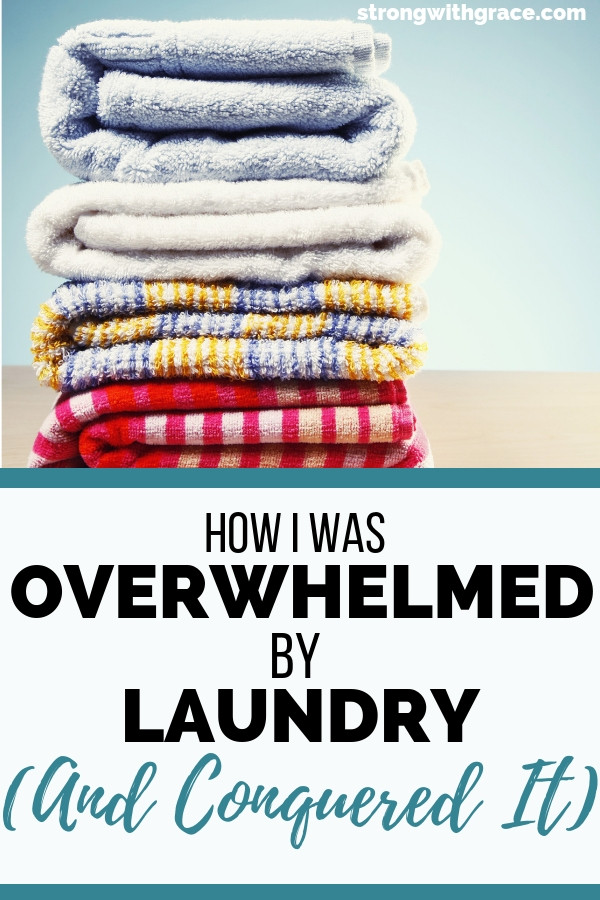 "I'm almost out of workout shorts," he gently mentioned.
My husband didn't want to make a big deal about running out of clothes, and often he would throw in his own load. But I felt terrible when I wasn't keeping up with the laundry.
The mounds in the dirty clothes bin overflowed onto the closet floor.
I stayed home with our 2.5 year old, and washing the clothes was part of my agreed-upon role during this season.
And I was overwhelmed by laundry.
Hubby ran out of workout clothes and boxers all the time (never t-shirts because he has like 5,000 lol).
I spent my days chasing our kiddo, prepping meals, feeding snacks, and taking her to pre-school two days a week. I was also working quite a bit on my previous blog and undergoing fertility treatments.
It was a lot for any mom to handle, but I still lived under a pile of guilt because I just couldn't keep up.
One day I stumbled across a blog post from A Bowl Full Of Lemons (an awesome cleaning blog) about laundry routines and I knew this was what I was missing.
How I Started My Own Laundry Routine
After pondering a variety of options, I chose the family laundry schedule that fit best for my family, which is throwing in a load first thing in the morning every day (except weekends).
(Other options include doing it all in one or two days, doing it at night, etc).
Later in the morning or early afternoon, I could transfer the load to the dryer. By evening if I hadn't had the chance to fold, I could pull the clothes out after our daughter was in bed.
Many nights I lucked out with hubby helping me fold while we watched TV.
This routine was life-changing:
I now enjoy laundry-free weekends.
Some weekdays I run more than one load, usually to make sure I don't have to do any on the weekends.
We almost never run out of clothes.
I even have good chat time with hubby at night when we fold.
RELATED: HOW TO STORE CLOTHES FOR YOUR NEXT CHILDREN
Say Goodbye To Guilt
Most importantly, I don't live under a load of guilt that I am failing my family.
And the truth is, I wasn't really failing my family even though I felt like I was. (I have found better ways now to deal wtih unhealthy guilt.)
However, that's not to say that my laundry skills and habits didn't need sharpening.
Laundry doesn't have to overwhelm you like it did me. If you're struggling under a pile of guilt regarding your laundry responsibilities, take five minutes and plan a laundry routine that's right for you.
Check out this post for the exact steps needed to plan yours: 5 Tips To Creating Your Family Laundry Routine