If you've driven anywhere with children, you know they get bored and whiny easily in the car. Don't miss these awesome hacks to entertain kids on the road!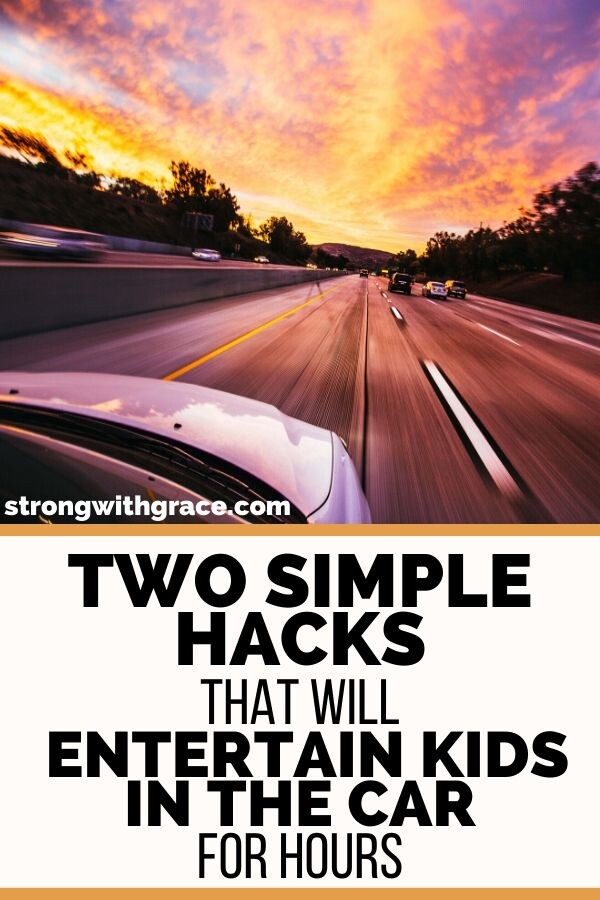 *We hope you enjoy the products we recommend! This post may contain affiliate links. That means we get a portion of the commission if you click through and make a purchase, but you don't pay a cent more. Thank you for supporting our small business as we strive to help you rock mom life!
In this stage of motherhood, I spend a lot of time in the car.
Which means my children also spend a lot of time in the car, and have ample time to get bored and make ear-splitting screeches about dying of hunger.
Between school runs and normal errands, I feel like we are ALWAYS in the car. And because of that, I've had to get organized on how to keep the younger two entertained.
This has become like my secret sauce of motherhood– keeping myself sane in the car. I mean, of course my main focus is to entertain the kids and keep them happy, it has nothing to do with me.
Ahem.
So today, I thought I'd send you TWO amazing car hacks, in case you've ever have a child who is SO over being in the car that they start driving you bonkers (who hasn't?).
RELATED: 1 YEAR LATER- 7 REASONS WHY I STILL LOVE MY MINIVAN
Two Simple Hacks That Will Entertain Kids In The Car For Hours
#1- The Book Bin
I have two book baskets in my van. One is a foldable fabric basket that I had lying around. The other is a soft basket (like this) we got as a shower gift long ago. I'm a big fan of repurposing old stuff!
Originally the smaller one was baby/toddler books (a favorite is Baby Faces), and the bigger one was pre-school books (like Blue Hat Green Hat or any other book by Sandra Boynton) & bigger-kid readers (we love Berenstain Bears).
Honestly they're kind of a mixed up mess right now, but I don't care too much as long as all the books fit back into a basket when we get out of the vehicle.
I keep the book bins right behind the front console. I've gained a lot of strength and flexibility in my right shoulder doing the "mom reach." You know, where you're still looking at the road but digging behind you, grabbing a book and handing it to an upset child.
Having those books available to entertain kids is GOLD– no more whiny shouts from the back!
If you're looking for ways to entertain kids at home, you can grab a free list of activity ideas in my "Rock Mom-Life & Marriage" Bundle here:
#2- The Snack Bin
You may have seen my older post about stocking the car with snacks. (If not, you can find the long list of ideas here or in my resource library.)
If your kids are anything like mine, they are always hungry. Like always. They can literally have just eaten lunch, will stand up and ask for a snack. What gives?!
This happens in the car a ton too.
I never used to have anything on hand, and had to listen to the kids whine about food all the way to wherever we were going. Sometimes I knew they wouldn't die because we were close to home. But other times we all got a little hangry and could have used some snacks.
Entertain Kids By Stocking The Car
Thus, I decided to stock the back of the car with snacks. And let me tell you, this has saved me SO many times.
I already had diapers and wipes back there, but the snack addition took travel to a whole new level. As long as I keep things stocked up on pouches, pirates booty and Goldfish packs, I'm good.
I put them all into an heavy-duty large organizer in my trunk area. In our other vehicle I also have a grocery organizer from 31 Bags, which I love.
Supplies List for A Successful Book Bin And Snack Bin:
I hope these ideas help you. These two things alone — the Book Bin and the Snack Bin– have saved me SO much agony!
Now You:
What do you keep stocked to entertain kids in the car?
What type of snacks to your kids like?
Here's to your sanity in the car!