If you're considering a minvan, don't miss Heather's 7 reasons she loves hers! Her husband even came around and now "likes" it too!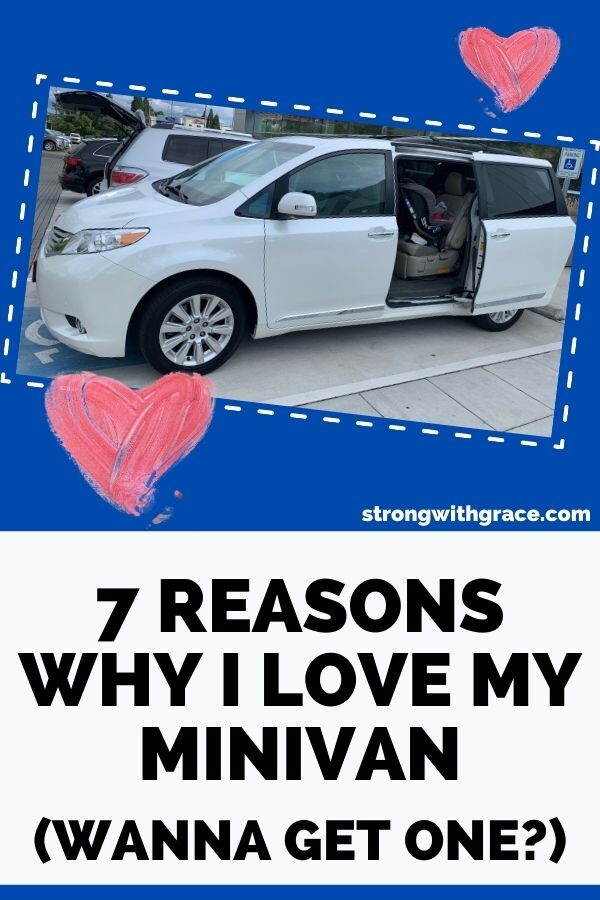 A while ago, my husband wrote a hilarious post about us getting a minivan and the fact that I'd finally convinced him to get one.
We got the blessed vehicle over a year ago now, and I can safely say that I'm just as excited it about it now as I was then.
My husband even *might* admit that he's rather fond of it as well. In a very manly way of course.
As for me, I personally think "wow, this car is SO freaking amazing. So glad we got it!" on a regular basis.
I know there's a huge stigma about getting one and some people just can't bring themselves to do it.
But I'll tell you that it's more than worth biting the bullet, heading down to the dealership and picking out the car that will save your sanity 1000 times over.
Why do I love it so? Let me count the ways…
1-3 Those Beautiful Minivan Sliding Doors
The sliding doors actually count for numbers 1-3 and here's why:
1- No Dinging Of Other Cars In The Parking Lot
While I like to find the closest spot possible to the store, my husband is the opposite. He parks as far away as possible (at least it seems that way to me) in order to avoid door dings and getting boxed in by other cars.
They say opposites attract, right?
Regardless, the sliding doors are genius. They prevent excited toddlers from shoving the door open as hard as they can and slamming it into another vehicle.
That alone makes a minivan worth it.
2- The Sliders Now Open On Either Side
The minivan I grew up with could only open on one side. These days, they have sliders on both sides.
This reduces any crawling through to the other side to buckle kiddos, and it allows me to pull up to curbs on either side to let kids out, which is much safer.
3- Electric Buttons To Open The Minivan Doors
One amazing thing about my minivan is the electronic buttons to open the doors. I can sit in the drivers seat, punch a button, and the door of my choice opens.
This comes in handy when dropping off my oldest at school in the health screening line, or if one of the kids forgets to pop the door close button near their seat.
RELATED: TWO SIMPLE HACKS THAT WILL ENTERTAIN KIDS IN THE CAR FOR HOURS
4- The DVD Player
I just asked my kids what they like about the van, since I drew a blank for a sec as I brainstormed this post. Blondie responded with one matter-of-fact word: "Movie."
Ah yes, one of the most glorious features: the dvd player.
We like to head out on day trips to places like the Crystal Mountain Gondola or Gig Harbor. Plus, our families are one state away so we regularly plan road trips south.
On a 4-6 hour drive, a dvd player works wonders to keep the kids entertained. We usually bring the iPads along too since they don't always like the same movies.
But still, the dvd player is key.
Side note– we don't use the dvd feature on drives around town. We save that feature for trips at least an hour plus. We also keep our car stocked with books for less brain-frying entertainment.
I'm assuming that in the future, vehicles will include digital video options, but our van is a 2014 so we're not that cool.
5- The CD Player
Does anyone use cds anymore?
Well, probably not much, but I still have stacks of old cds from way back when. That's classic music, and I haven't been able to get it onto iTunes so I'm stuck with it on disc for now.
That's why I love my van's cd player.
I can pop in an old album and take a trip back in time, forcing my kids to listen to something besides Disney Fairy music and Frozen II.
(I do love Disney music, but when I wake up singing it, it's time to listen to something else.)
6- A Convenient Center Aisle
In our van, we have captains chairs. That means that there are two separate seats in the second row, and a bench in the back.
(Some vans have a bench in the second row with two seats right next to each other.)
With the captain's chairs, it's super easy for my oldest to get to the back. I can even still hand her stuff way back there when we're stopped, just by both of us leaning a bit.
The aisle also keeps each kiddo in their own space and avoids siblings annoying each other physically.
They may annoy each other in other ways, but not by touching each other.
We hope you enjoy the products we recommend! This post may contain affiliate links. That means we get a portion of the commission if you click through and make a purchase, but you don't pay a cent more. Thank you for supporting our small business as we strive to help you rock mom life!
7- Easier Grocery Storage In The Minivan Trunk
In our old Toyota Highlander, I could only load groceries into the back if I took the stroller out before my trip to the store.
Seriously, the back was such that with three kids and a double stroller (the awesome Baby Jogger City Select Double we got on CraigsList), I couldn't get anything else into the trunk area.
That wasn't really a workable option, since I needed both the stroller and a place to store groceries.
The Sienna we have has a huge trunk area, and the third row of seats can drop into the floor. That creates a huge area for both my stroller and any groceries.
RELATED: 5 EASY STEPS TO STORING SNACKS IN THE CAR + PRINTABLE
I Don't Mind If People Think I'm A Dork.
I have no hang ups being a mini-van driver. My husband, at first, was hesitant. That's an understatement. (You can read his opinion here)
But I grew up with a minivan, and learned to drive on one. I know the convenience is worth it.
That said, even if you didn't grow up with one, it's possible to come around. It was for my husband.
He'd never say he loves it, but he thinks it's very worthwhile, and the best vehicle for our phase of life.
I'm just glad he finally came around so we could get one!
RELATED: WE GOT A MINIVAN: MY HUSBAND'S SIDE OF THE STORY
Now You:
If you have a minivan, do you love it or is it meh?
If you don't have a minivan, do you want one? Or do you never want to be seen in one?
Let me know!