Snacks for traveling in the car are vital if you want peace on the road or at your destination. Learn how to pre-stock your vehicle with food the easy way.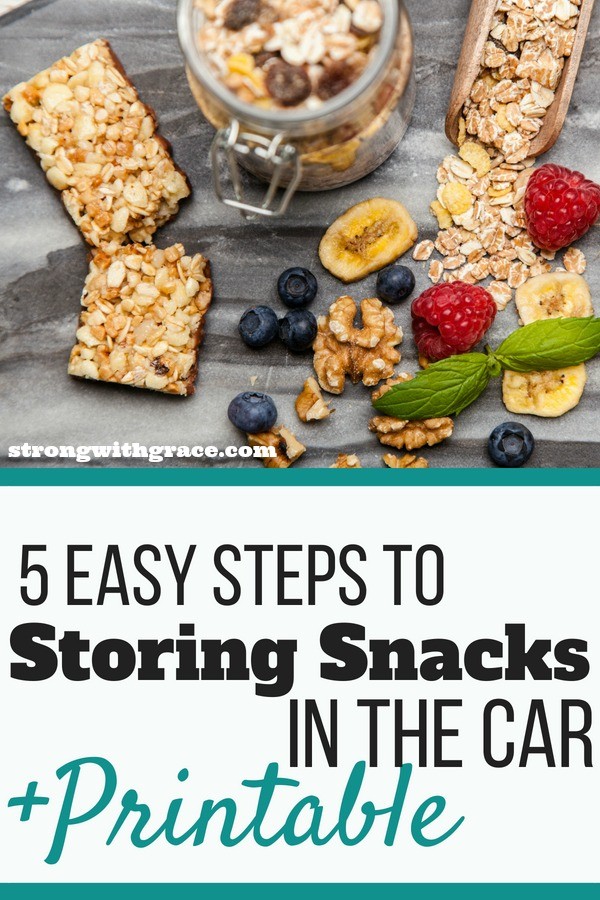 I had just gotten all three kids into the car and fastened my seatbelt when I realized we didn't have any snacks.
My mind flashed forward to after the upcoming swimming lesson: Two tired, wet and famished kids melting down on the sidewalk, and a baby getting caught up in the emotion and wailing just because.
No thank you.
But we were running late.
The conflict raged in my mind… Do I hustle back up the walk, unlock the door, and scramble madly through the cupboards for snacks? Or do I risk the sidewalk meltdown if I leave without food?
Maybe you've been there too.
Thankfully I finally figured out how to avoid that madness. Now I can save time AND have the snacks I need.
The solution?
I pre-pack snacks for traveling in the car and leave them stored in my vehicle.
Here are the handy steps so you too can have a car stocked with snacks (and keep your sanity):
1. Make a list of your the best non-perishable snacks.
You could wrack your brain for snack ideas, or you could grab my free printable Car Snacks Packing List below. It has 25+ snack ideas (I'm always adding to it) divided by type of food. Just print and circle the items you want. There's space to add your personal favs too!
Grab your free Car Snacks Packing List here:

2. Add the items to your grocery list.
Don't miss this step or you might forget to throw them in your cart next time you're at the store. The horror!
3. Organize your Car Snack Center.
Choose a tote or box you'll use for your food. Then make space for it in your car.
The faster you get your Car Snack center set up, the better. You might have to clean out your trunk or move a few things around, but it'll be worth the effort.
I have mine in the back of our SUV. I'm always loading the stroller back there, so if anyone needs a snack or drink I can grab it easily.
4. Bring home the goods!
Grab your desired snacks for traveling in the car on your next grocery run, or put in an Amazon order. (I admit it, I'm an Amazon junkie!)
5. Pack your vehicle.
Deposit the snacks in your selected tote and place them in the back of your vehicle. Your family will love you for it!
(My husband loves to grab a snack from the tote… and I always feel better sending him off with the kids knowing he'll be able to grab them something to eat in a pinch. Then I can enjoy some kid-free time. Wheeeee!)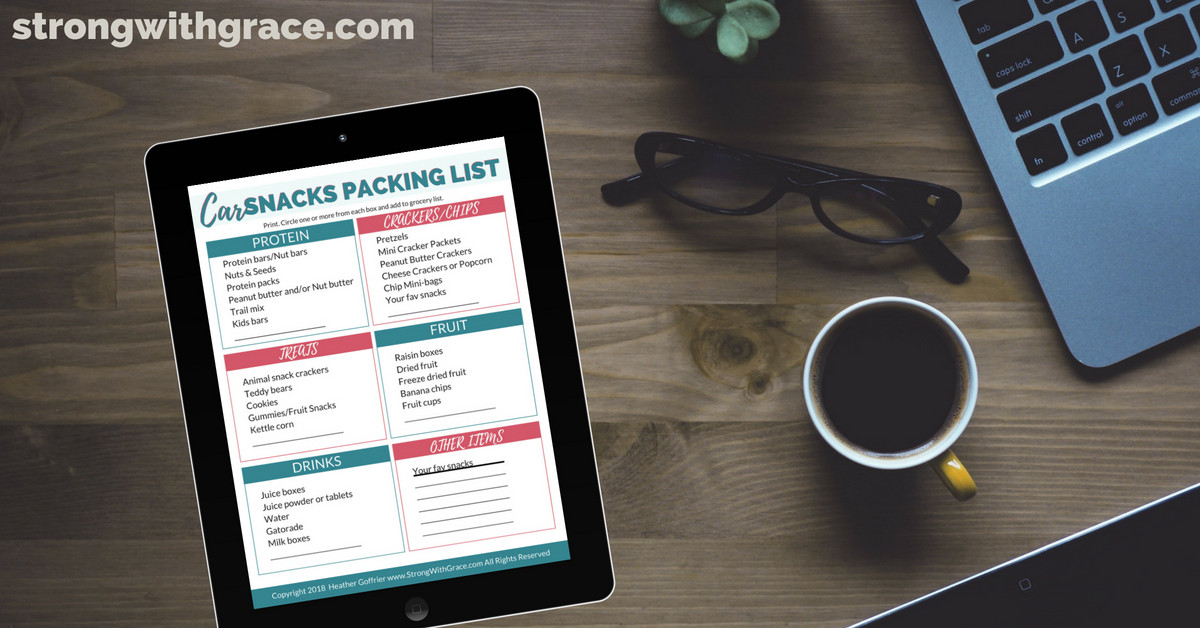 Problem solved!
But if you don't implement your plan, you'll still be wasting time getting out the door and running the risk of not having snacks for the kids.
Grab my free list today and get started on your Car Snack Center!