If you're a sleep-deprived mom with a newborn, get dad involved with these baby care ideas and ways to help! And for help getting more sleep, grab my free guide, "How To Start An Infant Sleep Schedule." Click this button to download: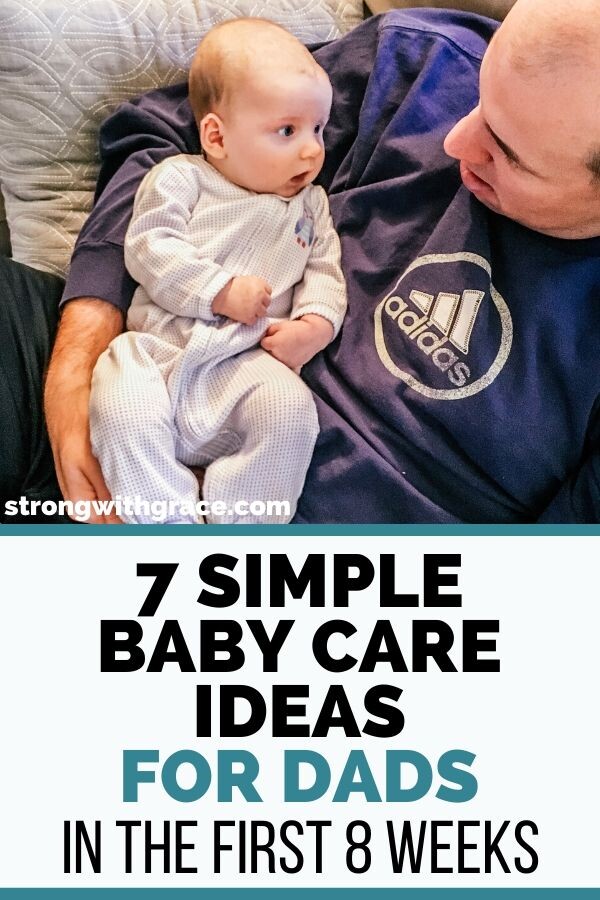 My first baby arrived at 1:34am, and the rest of the night was lost to slurping down as much grape juice as I could get, getting a meal (I honestly don't remember what it was, but it was SO delicious because I was starving), and moving to our "permanent" room.
Adam was a huge help that first night, but the next night he got himself into a bit of trouble…
We got only a tiny bit of rest the day she was born, in between baby baths, hearing tests, learning how to nurse and constant interruption by hospital staff. Not to bash them, I had some pretty amazing nurses. (Then there was the really wacky one.)
The following night was a mix of breastfeeding, cuddling, and changing diapers, with a few naps in between.
When sunshine streamed into the room and the sky lightened, hubby rolled over with bleary eyes.
"Wow, she slept great last night!" he gushed, feeling refreshed after sleeping through the night.
"No, Babe," I laughed. "YOU slept great last night."
He looked shocked and sheepish. I laughed and told him that I'd let him sleep. I was already up and right by the baby so I didn't bother to wake him that night.
He felt bad and made sure to never make that assumption again!
Though it was easier that first night to do things myself, I soon found many baby care ideas and ways to encourage Adam to help with all things newborn. And as the high of new baby wore down into sleep-deprived mom, I learned quickly to pass off certain duties to him.
By the way, starting a gentle routine with my babies helped me get a ton more sleep! I created a free guide with more info called "How To Start A Newborn Sleep Schedule." Click this button to download:
Here Are 7 Baby Care Ideas For Dads In The First 8 Weeks
1- Changing Diapers
My husband is a champ diaper changer. However, he deployed two weeks after my oldest was born, so he couldn't help for six months.
It's ironic though because by the time he got back from deployment and our baby was six months old, she was down to one poop per day. So even though he jumped in and helped with diapers again, it was at least a couple weeks before he had to change a poopy one!
He somehow lucked out by always being at work or out of the house when she happened to soil a diaper.
Let me just say that after 6 months of solo-parenting, I celebrated that first soiled one he had to change.
2- Bottle-Feeding
If you're doing formula or pumping + bottle feeding, there's no reason hubby can't jump right into the rotation.
I never fed bottles in the night, mostly because nursing was going well and hubby was gone. But from other moms I've talked to, everyone gets a lot more rest if you trade off and let one person sleep while the takes the next feeding.
Worth a try!
Hubby can also mix bottles while you get the baby ready, or vice versa. So many options.
RELATED: WHEN IS THE BEST TIME TO START AN INFANT SLEEP SCHEDULE?
3- Holding The Baby
Who doesn't love baby snuggles?
And seriously, how cute is it to see your hubby snuggled up with baby while he watches football… and you finally get to take a shower, take a nap, or just do something for yourself?
4- Household Chores
Chores: they're not glamorous, but they have to get done. Laundry, washing cloth diapers, cleaning, tiding up, organizing, dishes, you name it.
If hubby can help keep a peaceful, clean environment that's a win for everyone. And what a blessing for Mom!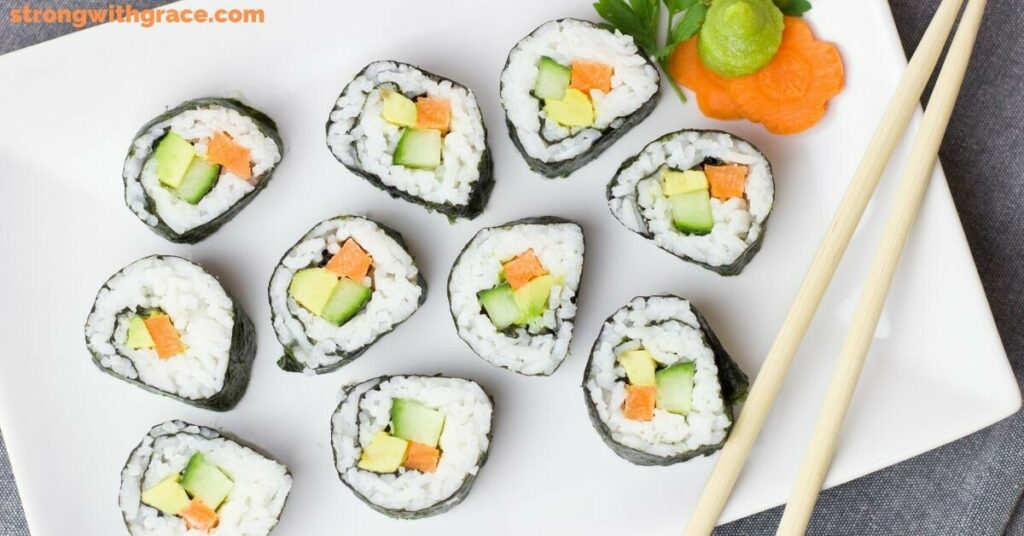 5- Cooking And/Or Picking Up Food
My hubby is a great cook, and I know I'm spoiled by that. It was helpful when he took charge of cooking or could make a dash for take out.
During the months I nursed, I couldn't eat or drink enough. It was so nice to have someone around to deliver my water bottle for the 80th time, since I forgot to refill it and stick it by my nursing chair… again. Thanks dear.
RELATED: 4 WAYS I LOST INTIMACY FROM MY MARRIAGE AFTER KIDS
6- Coordinating A Meal Train
I honestly haven't run across many men doing this. In my experience, a mom-friend of the pregnant woman has set up the meal organization.
But that certainly doesn't have to be the case, because your spouse can certainly take the point on this.
Takethemameal.com or MealTrain.com are two handy websites that allow friends to easily sign up to bring you a meal. Each website shows what people are bringing to help others volunteers prepare a variety of meals.
That way not everyone brings lasagne. Not that I don't love a good lasagne, but no one needs 10 of them.
7- Sleeping + Taking Care Of Your Other Children
If you have older children, it helps if at least one of you is getting a solid amount of sleep in those early months.
When our middle daughter arrived, our oldest child was still needy (sometimes more so than the newborn) and required a full tank of energy during the day.
Which I didn't have.
So I didn't mind when Adam went back to bed and I was up nursing, because I knew he would be wrangling our preschooler. It was tag-team.
Older sis also started waking up at night, which wasn't normal for her. That added to the sleep deprivation, especially when both of us had to get up.
Losing sleep during the newborn phase is a given. But you can make it SO much easier by starting early with a gentle routine. We started with a plan right away and all our babies slept through the night at an early age.
I created a free guide called "How To Start An Infant Sleep Schedule" so everyone in the house could get more sleep. Click this button to download:
Marriage & Relationship Tip:
It's important to discuss your roles and expectations, ahead of time if possible. For example:
Who is changing diapers in the middle of the night?
What kind of help can you expect during feeding periods?
Who wants to or is able to do the cooking?
Should you plan for takeout, or is someone coordinating a meal?
Consider what expectations you might have of the other person, maybe without realizing it.
By discussing your expectations, you can avoid unnecessary arguments and misunderstandings that often arise when we are sleep deprived and going through a big transition.
Baby Care Ideas Put To Use
Hubby more than made up for his first night off after our oldest was born, with all he did to help in the first few weeks.
Thankfully, he was around for the entirety of our second daughter's first year, and he was an amazing help. Adam would get up with me in the middle of the night and change the diaper while I got ready to nurse, then he'd go back to sleep.
He kept this up long after he went back to work. Thankfully we gently started a three week old baby sleep routine with all our kids which allowed them to sleep through the night at an early age (they all slept through the night by about 12 weeks).
That way, we both got a lot more sleep and didn't have to get up very often in the night.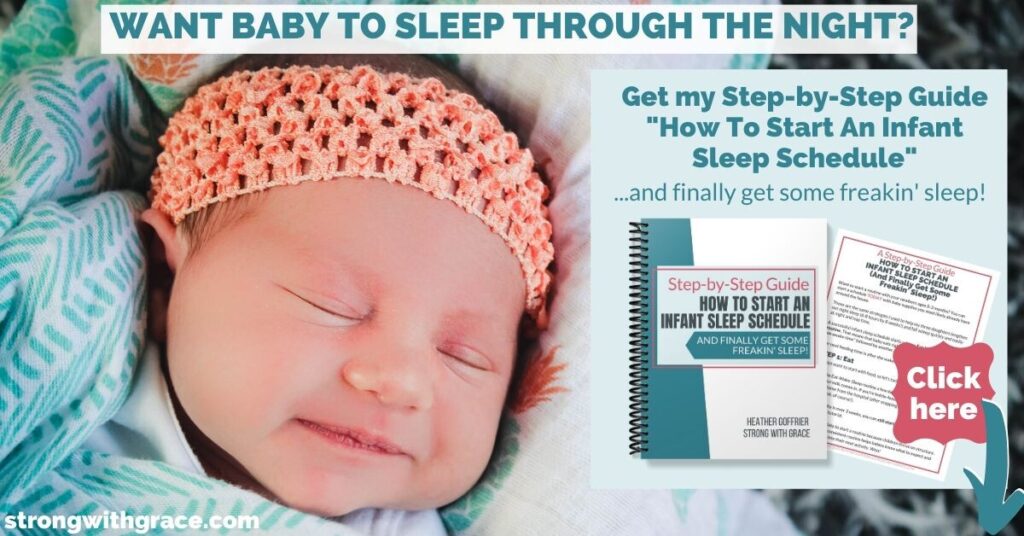 If you're needing more sleep and ready for baby to space out his or her night feeds, don't miss my free guide, "How To Start An Infant Sleep Schedule." Click this button to download: