If you want to organize your playroom but it feels overwhelming, use this simple toy organization strategy to make it super easy! Plus grab my free "How To Declutter" Checklist to do accomplish your goals even faster! Click this button to download:
Last week I was able to tackle toy organization in our playroom in a simple and low-stress way– and my kids even helped! We tidied up, organized and purged a bunch of toys. It felt SO good!
I had been dreading this process but at the same time feeling like I really needed to purge. Kids stuff was taking over our entire house!
Why do we need all this toy crap? I kept asking myself, especially after stepping on one and almost tripping.
And apparently there's a whole movement to simplify down to 1 toy per child (exaggerating a tiny bit here), but I am not on that wavelength. I have three kids at different developmental stages, and I can reasonably justify hanging onto things or keeping bins in the garage for down the road.
However, even that can get out of control, and it was time to get rid of the junk we don't really need. I was so done with the trinkets from birthday parties and kids meals and the stuff they literally never touch.
That is, until you try to get rid of it and it becomes their very favorite toy they can't live without.
You know what I mean.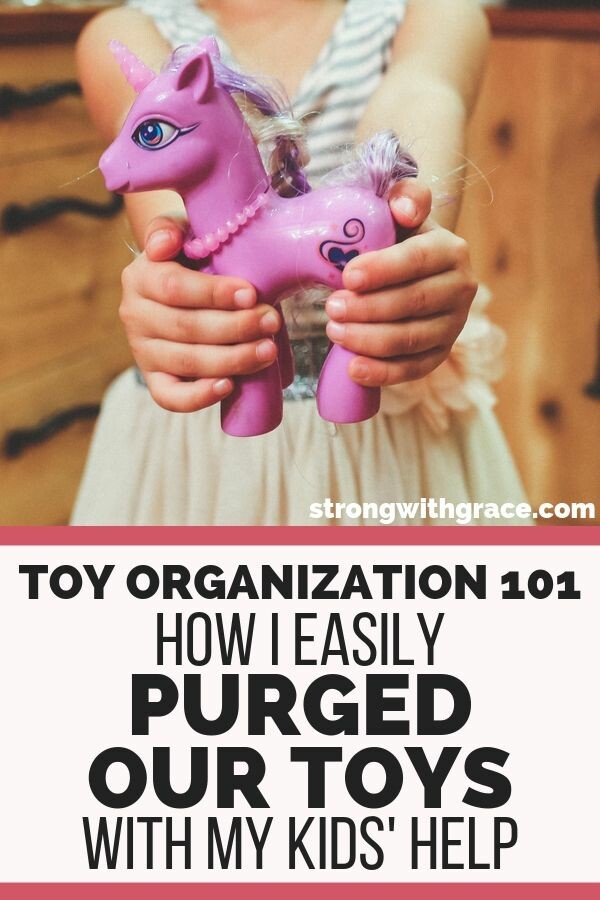 The Toy Organization Plan
The idea is to tackle toy organization by category. You only need a few toys in each category because it's addressing a certain need– for example, gross motor skills or math.
So, the plan is to gather all the toys in one category into one part of the house so you can see everything. Then it's easier to purge because you can easily see that you don't need 14,000 stuffed animals. (Or whatever your child happens to collect in ridiculously large numbers.)
We hope you enjoy the products we recommend! This post contains affiliate links. Please see our full disclosure policy here.
TOY CATEGORIES
Art
Building
Dramatic Play
Logic
Math
Music
Vehicles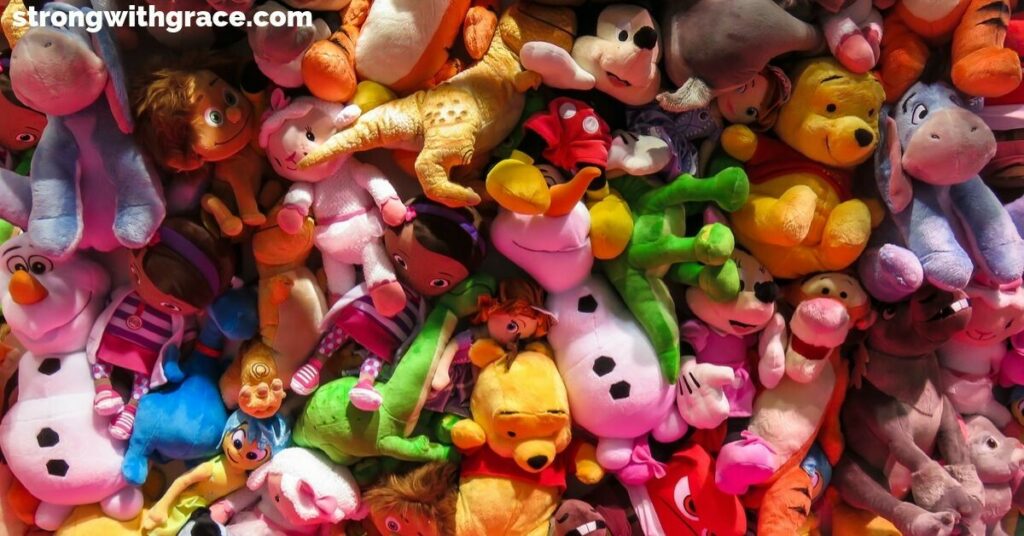 How I Tackled Toy Organization Super Quick And Easy With Help From My Kids
For some reason, this really made sense with my brain. I felt like cleaning up and getting rid of toys became a tangible, doable process rather than a huge black cloud hanging over my head.
First of all, I started with one category and told the kids we were going to go through all the blocks.
When we could see all our blocks in one place it was fairly easy for them to see that we didn't need 6 different kinds of blocks, plus the legos from daddy's childhood that we store in the garage. (our oldest is just starting to play with them, but away from the littles)
Thankfully, since I do purge fairly often, they are used to the idea. My oldest said, "Oh, we're getting rid of toys so some kids who don't have any can have some?" Right on, kiddo. The message is sinking in.
RELATED: 10 POWERFUL MOTIVATORS TO START ORGANIZING YOUR HOME
The Next Phase
After that, as we went through a few categories (see above), it was mainly my oldest who helped. The 2 and 3 year olds just played with the toys. However, it was nice to have them around because I could ask the three year old about certain toys to determine if she cared about them.
She tended to say "it's special to me" but sometimes I could tell that she had no clue while others I knew she really did love something.
Overall, the kids didn't put up a lot of fuss about getting rid of stuff, which really surprised me. If there were things they really didn't want to part with, I usually gave in to their wishes since it wasn't frequent.
We went through a several categories until we had to move on. I told them we'd save the rest of the toy organization for another day.
The nice thing is, by doing a few categories I felt like I checked a few things off my list. Even though I didn't finish the overall project, I satisfied the "check off the box" part of me so it was easy to move on.
Making Organizing Toys Easier For Kids
A few times I insisted we part with something, but I took a picture of my oldest with the toy (at her request). Honestly it's pretty much out of sight out of mind with all these things and I doubt she'll ever ask to look at the pic. But I want her to feel supported as she learns to part with sentimental items slowly.
It helped to give the kids a few "free play" breaks, even though they were playing a lot of the time anyway. It excited them to be able to stop "working" and just play.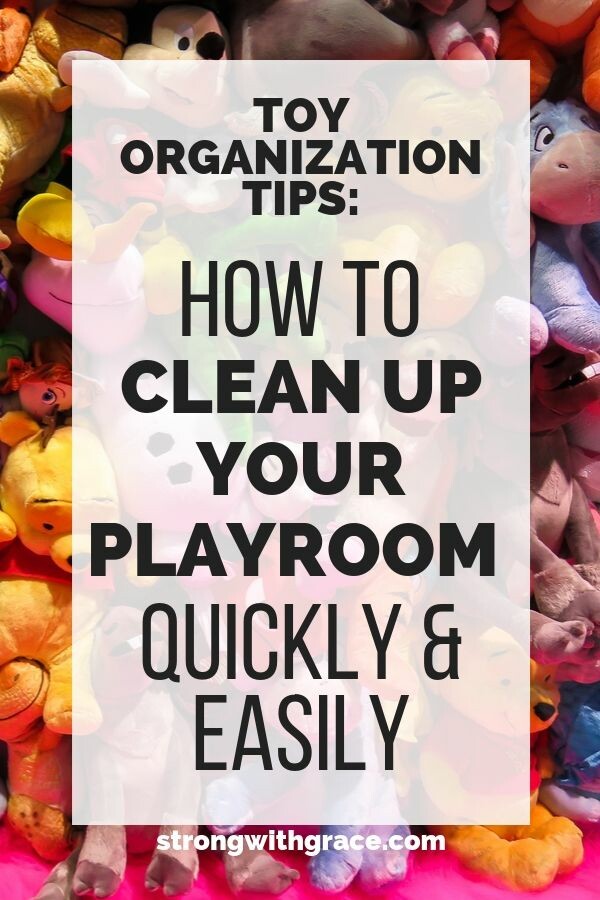 Future Toy Organization
We actually still have two sections left to go through: books and dress up clothes. Dress up is a sub-category but we have a huge tub of dress up clothes that we got as hand-me-downs, so that will be a bigger item to tackle.
I have plans to update you when I purge and organize the final two categories, so stay tuned! Until then, I'll give you a sneak peek of the storage items and some of our favorite toys in our playroom.
Playroom Furniture And Storage Solutions List
Ikea Hemnes Console Table– We got this to use as an entry table, and several houses later it's now a toy storage piece.
Y-Weave Rectangle Bin from Target. This fit into the cubbies of the Idea console table. They had sizes available that fit in both the small and large cubbies so it was perfect!
Ikea Hemnes Daybed with Drawers– Our oldest used this bed, but in our current house it fit best in the playroom as seating. The drawers are so handy for storing toys!
Sterilite plastic drawers- I've tried to get rid of these plastic drawers so many times, but they still prove useful. Someday I may update them to give the room a more trendy look, but honestly it's not a high priority to spend money on that right now. It's functional and the kids can't break it so I'm dealing with it!
Toy Storage Organizer bins– Our friends gave us this piece when they didn't need it anymore. I gratefully took it, and even though I'm not into the bright colors, it holds a bunch of our books and the kids toy food.
Play Kitchen– we got an awesome at Goodwill for $13, similar to the one I linked to. You never know what you might find at a thrift shop!
Reaping The Rewards Of Organizing And Purging Our Toys
I really enjoyed going through the toys with my kids. The whole process has been so simple, quick and a good bonding time. And, it taught the kids about sharing with others, organization, and even worked on sorting and counting skills too.
Not to mention our house felt fresher, cleaner and lighter without all those toys!
We were even able to give some old toys to a friend who is having a baby.
All that to say, if you want to organize your playroom but it feels overwhelming, use this simple toy organization strategy to make it super easy and — dare I say– fun!
Ready to be more productive and accomplish everything swirling around in your brain? Grab my FREE "How To Declutter" Checklist! Click the image below to download: