Want to grow as a couple? Heather shares marriage tips she's learned as a military wife through deployments and other challenges. Includes free checklist.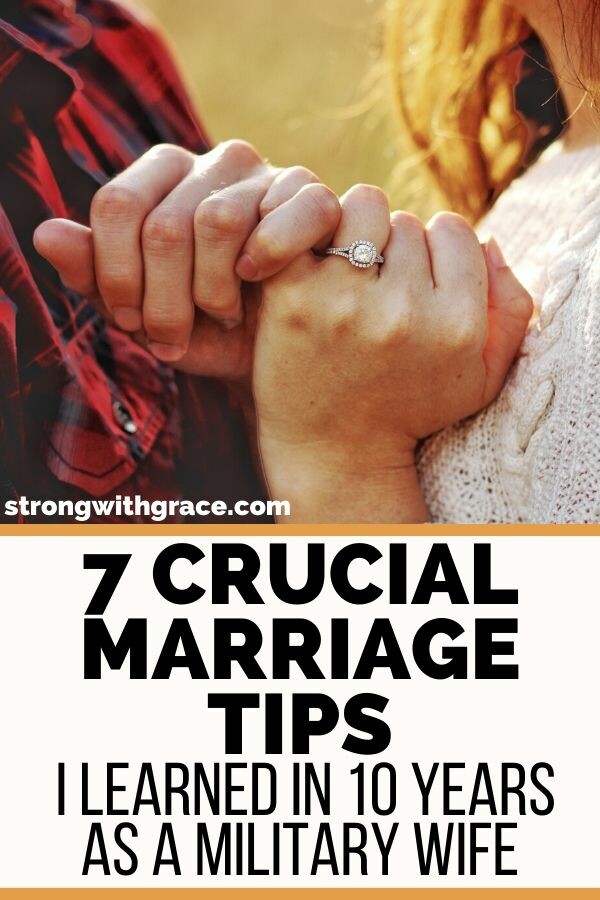 My husband and I are coming up on our 10 year anniversary. Because he's Active Duty in the Navy, we have spent two exhausting years of those ten hovering over FaceTime screens and firing off emails to each other instead of living in the same house.
Because of being apart 20% of our married life, (and more time if you count two deployments while dating long-distance), our relationship grew in non-traditional ways.
Like a piece of grass fighting its way up between two slabs of sidewalk, we have been determined to grow a healthy marriage relationship despite the obstacles.
I didn't know exactly what life would be like as a military family. I've had amazing highs like riding on an aircraft carrier watching flight ops up close, living in places that have award-winning chowder festivals, and attending Keith Urban concerts practically in our backyard.
(If I had a Keith Urban concert actually in my backyard, I might die. In a good way.)
I've had lows like sobbing in the shower because he deployed again and would miss the birth of our daughter. Like my mom getting breast cancer when I lived on the other side of the country, so I couldn't get home to help out. Or like finally getting set up with an infertility doctor, only to then move across the country and need a new provider and new referral.
7 Crucial Marriage Tips I Learned In 10 Years As A Military Wife
Through all the challenges, we've had to work hard on our marriage. The hard times caused us to draw battle lines and feel like we had to get our own way. They also drew us together (often after a hot-tempered argument) and allowed our marriage to grow in a way it never could have otherwise.
Today I'm sharing 7 tokens of wisdom I've gathered over the years, with hope that you might be encouraged in your own relationship.
1- It's Important To Keep A Sense Of Humor In Marriage
My husband can make me laugh by just being himself. He has a dry, goofy, witty sense of humor all blended into one, which somehow is the perfect fit for me.
He can find the humor in anything, and by marrying him my fun meter went from county-fair fun to Disneyland level of fun. I've learned so much from his perspective on life, because sometimes life brings surprises.
Like when a hurricane knocked out our power the weekend before my due date, and we lugged or oldest and the hospital bag plus a bunch of other crap to the hotel on base. And at least we could joke that if this storm sent me into labor at least we'd have a story to tell.
If there's fun to be had, why not have it?!
By the way, if you want to find out my Top 5 Daily Acts of Love to Strengthen Your Marriage, grab the free download here:
2- I Learned How Strong I Can Be Without My Spouse Around
I learned that limit of my own strength was 100 flights of stairs higher than I thought it was.
Figuratively.
I don't plan on climbing 100 flights of stairs anytime soon.
When I got married, I couldn't imagine all the challenges we would face. As difficult events arose, we faced them one-by-one with God's strength. I failed a lot and received a lot of grace from God and others.
When Adam deployed, I found that I was much stronger than I thought I was. I also learned that God is much stronger than I realized. And I found the limit of my own strength which allowed me to receive from others.
3- We Have To Receive To Succeed In Marriage
I'm a very independent person. Being married to someone in the military for 10 years (and counting) has not only taught me how strong I can be. It's also helped me recognize when I can't do things on my own.
My seasons of solo-parenting, major surgeries (2 C-sections), moving and all the other crazy stuff that's happened revealed where I needed to receive help.
I received help from people in ways I would have never asked for before. And it was so liberating and meaningful.
It was hard to allow others to help me with my mom jobs, such as putting my own child to bed because I couldn't lift her myself. Or cooking, cleaning and taking care of my house and kids while I rested and recovered from my c-sections.
But if I hadn't let others help me– people like my mom and dad, my in-laws, many friends and neighbors– I would have been stuck like a whale stranded on the wet sand, helplessly flopping and struggling.
I had to learn to receive, more than ever in my life, to get through my challenges. And I'm much better off for it.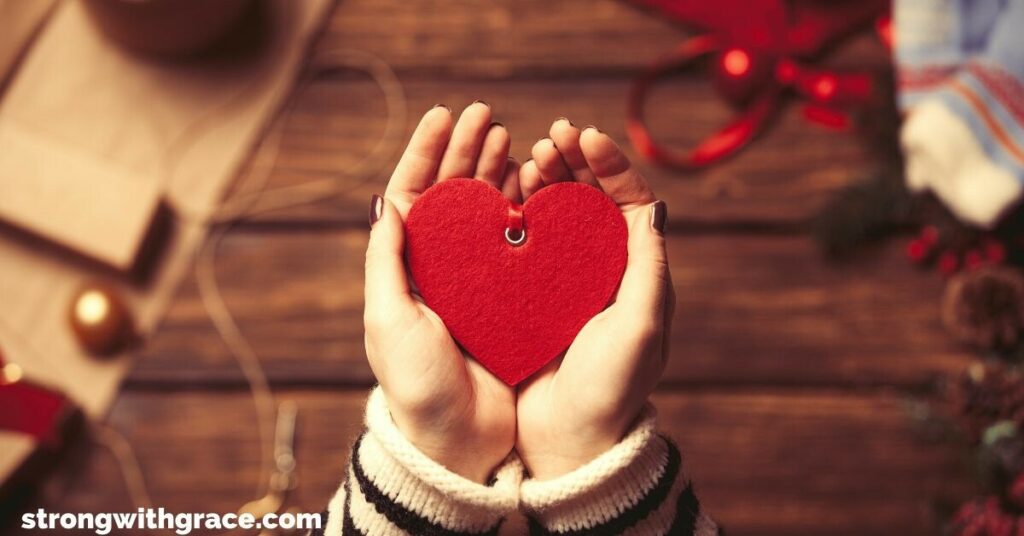 4- Friendships Outside the Marriage are Vital For A Balanced Relationship
It's hard to make friends as an adult, but our spouses can't be our only deep relationship. We need the perspective of others and we need their support.
Friends and acquaintances fill in the gaps our partners can't fill. Like if I expect my husband to have a lengthy discussion about all the options I'm considering for the curtains in the living room, forget it. But if I call my bestie, I could spend an hour on the subject.
I understand the value of friendship most every time we move because I have to start over with a new community.
I've learned that it's worth it to stumble through the nerves and try to meet people right away. That way, I can have fun with friends and when I get back around Adam, I am not attention-starved. My experiences with others helps me grow, vent and expand my thinking. Then I have more to bring into my marriage relationship.
5- Unmet Expectations = Frustration
I talk a lot about this idea in my post "Recipe For A Happy Marriage" The idea is that if we have different expectations, it can lead to disagreements, hurt feelings, and general frustration.
It's super important to learn how to express your expectations before issues arise.
When we miss that window and frustrations happen, we need to talk it through and get back on the same page. Most of the time we don't mean to hurt each other, we just have a different understanding of what should be happening.
This phrase has saved us a lot of heartache!
6- Emotions Fluctuate
You won't always feel gushing with love toward your spouse. That doesn't mean they aren't the right person for you. It just means you feel the way you feel in that moment. Feelings come and go. Love is more than a feeling, it's a commitment.
There's usually a reason for your feelings being off.
Like when we'd just gotten through a cross-country move, we didn't like the house we ended up in, we were starting the fertility process over again, and we had no friends… so things kinda sucked. We weren't in sync and I was just annoyed with him, probably due to my own over-stressed state.
But we took the time and effort to work through our feelings and issues, and as we got more settled in our new city, our relationship bounced back. It wasn't like I hated him– I loved him but my emotions were flatlined.
7- You're Never Stuck
Your relationship isn't stuck where it is now.
Doing acts of love toward your spouse even if you don't feel like it can make your feelings for him grow.
If you want to fight for your marriage like a piece of grass grasping for any light and water it can get, grab my free list of the "Top 5 Loving Actions To Strengthen Your Marriage Daily." It's in my Resource Library. You can get access to it below to start doing intentional acts of love today.