Tired of feeling disconnected and distanced from your spouse? Learn how to grow a healthy marriage here.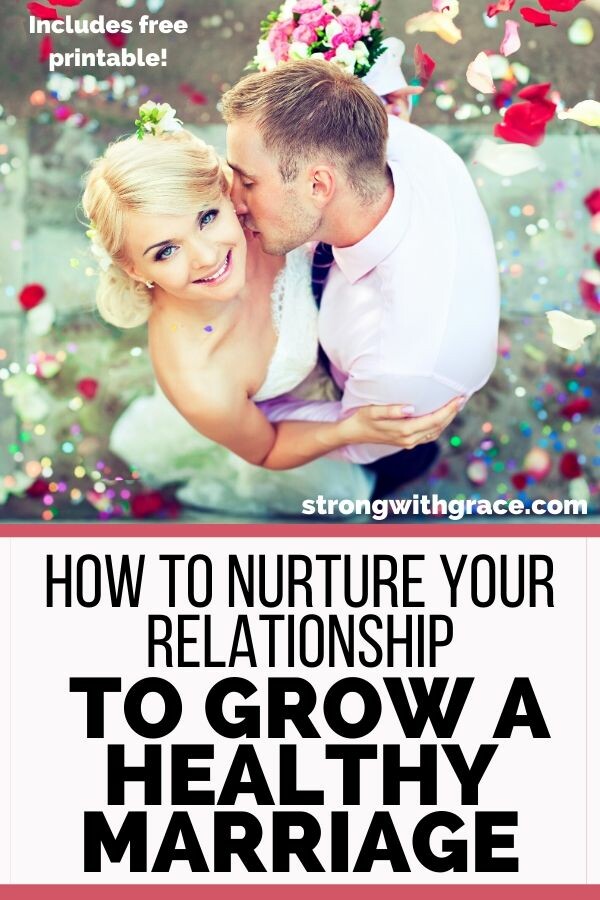 We hope you enjoy the products we recommend! This post may contain affiliate links. That means we get a portion of the commission if you click through and make a purchase, but you don't pay a cent more. Thank you for supporting our small business as we strive to help you rock mom life!
Have you ever noticed that sometimes marriage feels effortless and amazing, like you've never had this much fun in your entire life?
And then, one morning you get into an argument about your upcoming weekend plans, and at the same time an (unnamed) child flips her bowl of Panda Puffs because she wanted the PINK bowl (so apparently that means dump your meal out on the table).
Then your oldest suddenly thinks its a good time to ask for seven different things at once while you're trying to talk it out with the hubs.
Can I just get some alone time NOW? Is how I feel in those moments.
Marriage is exhausting. It takes work to get through chaotic bedtimes, then come back to the hot emotional conversations and calmly attempt to fix the issues, when you'd rather just be vegging on the couch.
Marriages Are Like Baby Trees.
Let me explain.
When I was in seventh grade we moved into a new house in a newly developed neighborhood. When the road was extended, we watched daily as sparkling pavement was rolled out, blooming flowers appeared in fresh mulch, and baby trees seemed to spring up overnight.
Speaking of the trees, if you've ever seen a tree-lined street with beautiful oak limbs stretching over the cars, or maple trees proudly pointing to the sky with their colorful fall leaves… well this was nothing like it.
These baby trees looked scrawny compared to the grown-up versions. They lined the streets, seemingly too far apart with little to show but a few twigs for limbs, but with hope that one day they would be mature.
Kind of like the first years of marriage.
It's exciting to get "planted" but after that there's a lot of growing to do.
So one morning after racing out the door to not be late for school, we drove by the newly planted trees. Only you couldn't call them trees anymore. We gasped at the sight out our foggy windows.
Some jerk had driven down the grass strip where the trees once stood. They drove right over the trees and flattened each one, leaving tire tracks and piles of wood splinters everywhere.
Every single tree was ruined. It was so sad!
Marriages Need To Grow. Big Time.
New marriages are like baby trees. They're young, immature, and have a lot of growing to do.
Our relationships need nourishment and protection in order to grow and develop into strong, mature "trees." A healthy marriage needs daily care so that over time, they can withstand the cross-country moves, the long work hours, and the crazy circus of raising kids.
At first, it's easy to think that our marriages will grow on their own. That they'll be fine when we come up against a challenge.
But then in the middle of the night, a pickup truck drives right over our baby tree, in the form of infertility, deployment, or arguing about whose parents to spend the holidays with… and we're crushed, not knowing how to move forward.
Daily Care Leads To A Healthy Marriage
Think of your marriage as a living thing that need to be nourished every day. If you don't feed it, water it, and tend to it regularly, it will eventually die. If you let weeds grow around it, it will wither.
It's important to do something each day to invest in your partner, such as write a note, tell him you love him, or ask about his day. Do what fits both of your personalities.
It's good to stretch outside your comfort zone without being fake. For example, neither my husband or I are big golfers. But if he wanted to go golfing together, I would go to be with him. It would be an extra effort on my part because I think golf itself is boring to play. I wouldn't pretend to love it or act like it was my fav thing. That would be fake. But, I know we would have fun together, which is the point.
Consider Your Husband
But even armed with ideas for growing your marriage, it's still hard to actually do because it takes thought and effort, two things we lack when we get caught up in our own world of to-do lists and personal goals for the day:
My marriage struggles when I get too self-focused.
I get crabby when things don't go my way
I'm not very flexible with my husband's ideas.
Philippians 2:3-4 says, "Do nothing from selfishness or empty conceit, but with humility of mind regard one another as more important than yourselves; do not merely look out for your own personal interests, but also for the interests of others."
It feels like I need to look out for myself. But in God's Kingdom, the more I consider my husband and his interests, the stronger our marriage becomes.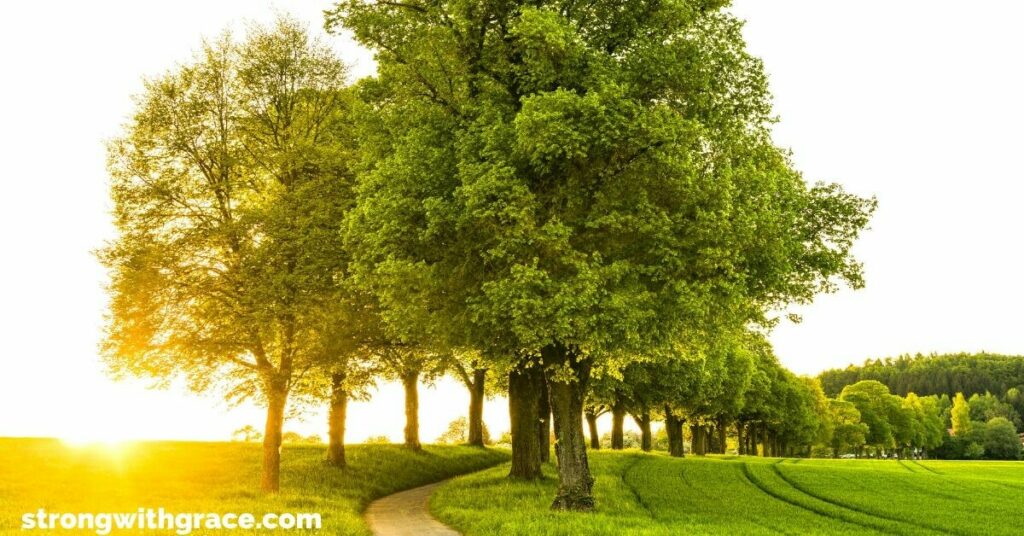 Get To Know Your Spouse
If you want to understand what your partner needs from you, read the book The Five Love Languages by Gary Chapman and discover his love language. (Your husband's, not Gary's).
You may be trying to love him in ways that don't register to him at all. Getting to know him better will help you cater your efforts to what really speaks to him.
I'm still learning new things about my husband after almost 10 years of marriage, like he absolutely HATES to unload the dishwasher. Who knew? Now I do that job 99% of the time. He now washes all the big dishes by hand that are such a drag after I've finished cleaning up the rest of the kitchen. Win-win.
Do The Most Important Five Things Every Day
Figure out the 5 most important things you can do every day to strengthen your marriage– the things that mean the most to you as a couple. If it's easier, you can use my list as a cheat sheet to get you started. It's in my resource library!
What Happened To The Trees?
A few weeks after the tree-mauling, they replanted new baby seedlings.
Now, 20+ years later, those trees would dismantle any vehicle that plowed into one. The years of water, sun, nutrients, and tending made the trees grow incredibly strong.
And your marriage can be incredibly strong too if you spend time every day nurturing your relationship.
You can't always see the growth from day to day, but every little act of love, kindness and selfless action does a mighty work in your relationship.