This post is part of the "Make New Friends" blog series. Be sure to check out the other posts after you read this one!
It's hard to make friends as an adult, especially when you feel you've already tried your best. Break out of your fears and insecurities with 8 simple skills. Plus grab a free copy of "The Ultimate List Of Places To Meet People: 79 Spots To Make New Friends" here: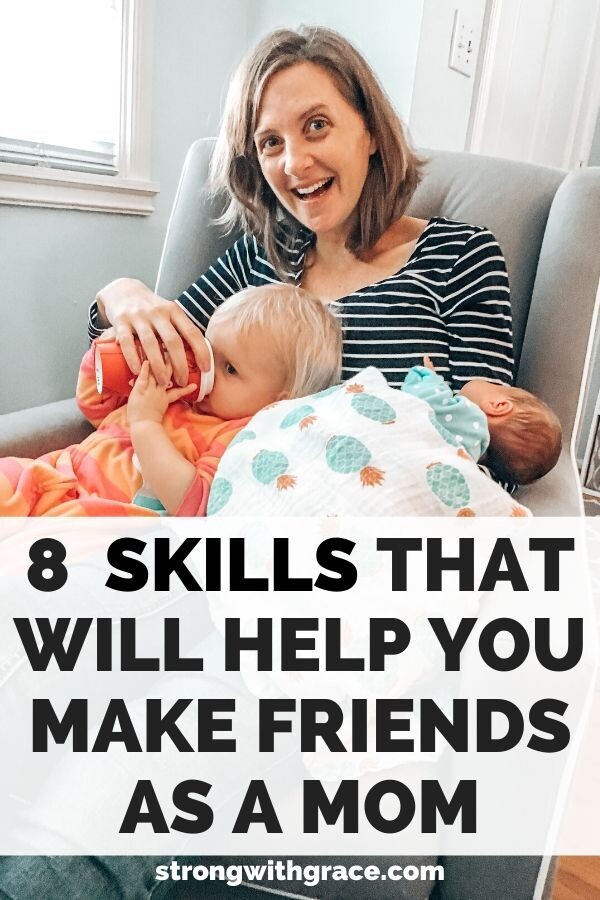 After I graduated from high school, I moved residences every year for 10 years. That included moves to 4 different states. Then, I met and married a man in the military. Since our wedding, we have moved 9 times in the past 10 years, living in the four corners of the continental US.
The cool thing is that I have friends all over the country.
The thing that stinks is that my friends are all over the country. It's rare that any of my close friends are here, where I am.
Needless to say, I have had to start over A LOT of times. And I'm currently still in the process of starting over here in our new place of residence in the Seattle area. Everything is new. New friends, new church, new schools for the kids. New doctor, new dentist, new hair person.
So much new it gets really, really old and I just want to drag all my friends to a cul-de-sac somewhere and everyone live next door and share vanilla and eggs when we run out.
And do life, and talk about what happened in our lives more than a couple months ago (or years ago), because I'm with people who were actually there.
I am super thankful because this move has turned out to be the smoothest transition into a new life that I've ever had. One reason is that for the first time, the military brought us near a handful of my closest friends. I used to live in Seattle prior to marriage, so I have some roots in this metro area. Thank you Jesus!
The other reason this move has gone so well is that I've put into action what I'm sharing with you today.
We hope you enjoy the products we recommend! This post may contain affiliate links. That means we get a portion of the commission if you click through and make a purchase, but you don't pay a cent more. Thank you for supporting our small business as we strive to help you rock mom life!
This is literally exactly what I do and how I do it. It's the meat and potatoes of making friends as grown ups.
The skills I'm talking about today are NOT like this: "Always have a firm handshake and look people in the eye."
They are life skills, and a mindset. It's deep down in the core of who you are, and how you offer yourself to the world.
If you're struggling to make friends, believe me, I have been there. It's hard. There are tears. It's lonely and frustrating.
But you. can. do. this.
Also, I highly recommend my list of 79 Spots to Make New Friends. You can grab them here: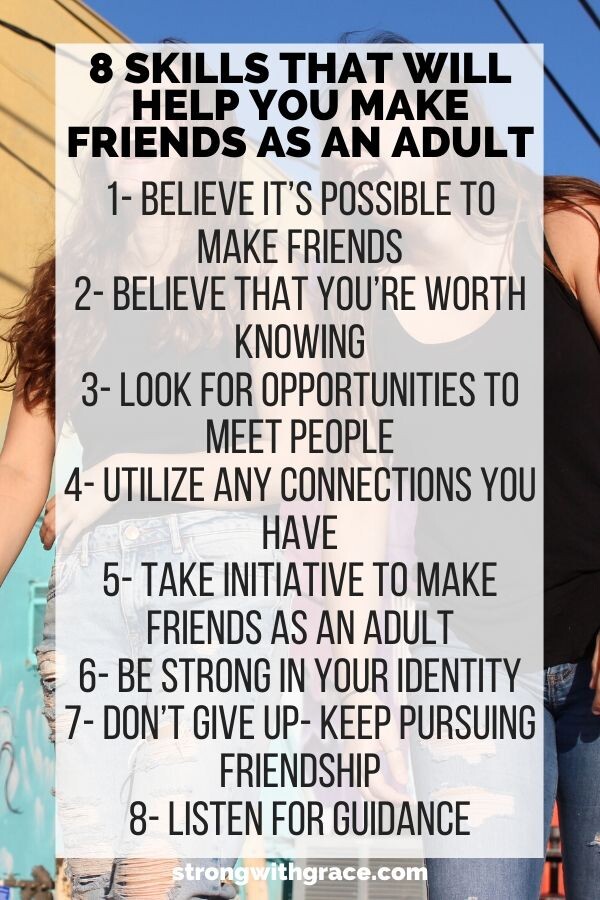 8 Skills That Will Help You Make Friends As An Adult
Believe It's Possible To Make Friends
People make friends all the time, but do you believe it can happen for you? It's easy to think that everyone else has tons of friends and it's so easy for them, but that it's nearly impossible for you.
That's not true.
I read an amazing article from Wonderoak blog called, "7 Lies I Believed That Kept Me From Friendship" and it spoke to our (women & moms) insecurities when it comes to making friends. I highly recommend reading it.
Even though I'm fairly outgoing and have had to start over many times, the "7 Lies" article challenged some of my negative thoughts. It helped me regain the willingness to take initiative with making friends again.
Believe That You're Worth Knowing
You are unique and awesome. I believe God made us all with a unique identity and we have so much to offer other mom friends.
If we think negatively of ourselves, we're going to have a hard time going out and trying to make friends. If we think "why would they want to know me anyway?" we are sabotaging ourselves from the start.
You may have weaknesses that aren't desirable, but so does everyone else. Let people know you because you're worth knowing.
You may have weaknesses that aren't desirable, but so does everyone else. Let people know YOU, because you're worth knowing. #makingfriends
Click To Tweet
Look For Opportunities To Meet People
Keep your eyes open and be attentive to opportunities. When you're out and about, be friendly. You might need to practice saying hi to strangers (pick ones who look safe and friendly).
You might not think that a trip to Trader Joes or Target could yield a friend, but you never know. Have the mindset that wherever you go you could meet someone so that when an opportunity comes your way, you're ready for it.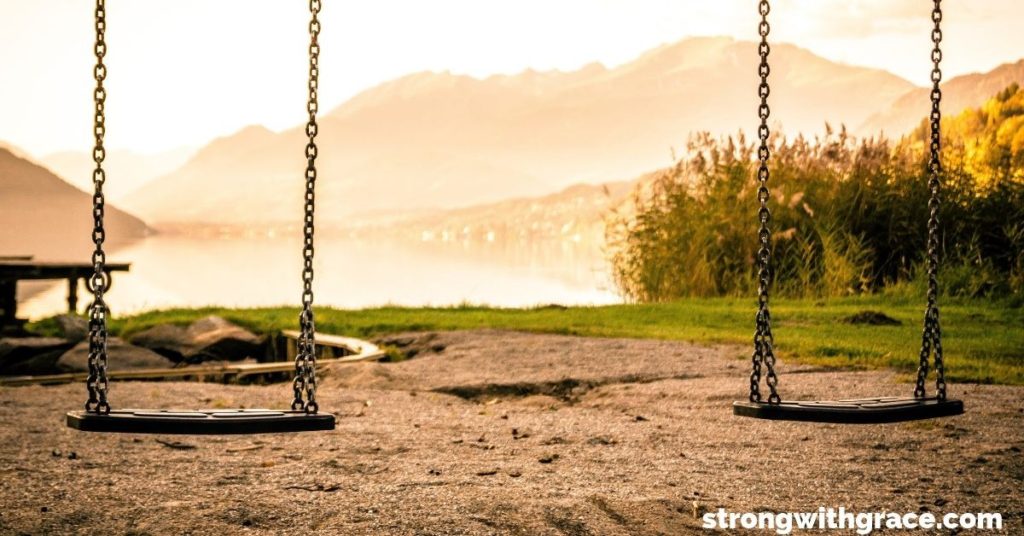 Utilize Any Connections You Have
If you're in a new area and know someone nearby, be sure to get together and ask for help getting connected. Even if they're just an acquaintance, they can steer you toward other places where you might make friends as an adult.
Facebook often has groups for cities or neighborhoods where moms help each other out. By joining such a group, you'll hear about upcoming activities and events.
You can even ask if other moms would be up for having a playdate. You'd be surprised how many of us moms are feeling isolated and hoping to make friends.
Take Initiative To Make Friends As An Adult
Through being a military family that moved a lot, I learned to dive in and try to make friends quickly. If I met someone I had something in common with- especially if they were also military– I tried to exchange numbers and plan a playdate with them.
It wasn't that I only wanted to have military spouse friends.
Military spouses tended to understand that it isn't weird to meet someone and exchange numbers right away, even if it's the first time we meet.
Since we know we'll only be someplace for a couple years at most, we try to get a jump on making friends.
Plus, we know how hard it is and when you have a connection you might as well run with it. I was so thankful to have those friends, and I was glad I got out there and connected because time flies.
Now we aren't near a military base, so my circles here are mainly civilian. In the civilian world people shy away from exchanging numbers right away, so I tried not to weird anybody out when I first got here.
But I've learned that if I see a person I think I'd hit it off with more than once (like at a school drop off) then I try to ask them to get together before months go by.
There's no reason to wait!
If you don't know where to start making friends, don't miss "the Ultimate List Of Places To Meet People: 79 Spots To Make New Friends." Grab yours here:
Be Strong In Your Identity
As I mentioned before, you are unique and God made you with a purpose and inherent value.
If someone doesn't react positively to you, or they don't want to meet up, remember: that doesn't change who you are.
You are unique, and God made you with a purpose and inherent value. #beyou #makingfriends
Click To Tweet
It doesn't make you unloveable or unworthy. It just means it wasn't the right person or possibly the right timing. Your identity is not changed or affected by other people's reactions.
Their reactions might sting or hurt your feelings. But take your feelings straight back to God and let Him remind you of what HE thinks of you.
(By the way, He thinks you're amazing)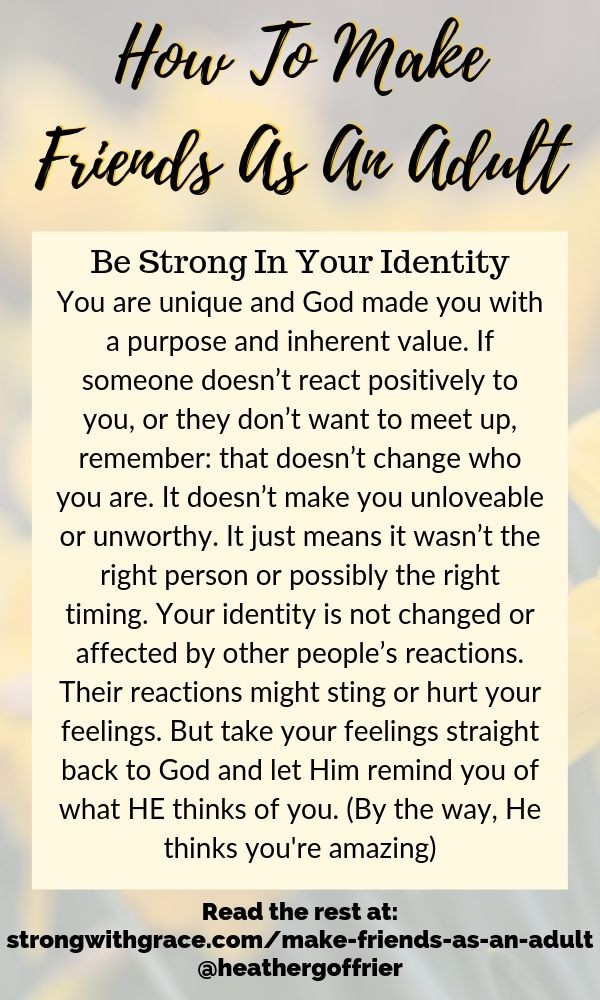 Don't Give Up- Keep Pursuing Friendship
Making friends gets easier with practice. You may have to put yourself out there a ridiculous number of times in order to find a group of friends or even one good friend.
But having that one good friend is still worth the effort.
With that friend, you have the start of that community and companionship we all crave.
Listen For Guidance
I've given you some things to think about and some important life skills to embrace that can help you make friends as an adult.
Before you get started, be sure to pray and ask God for direction as you seek new friendships.
And don't forget to listen for how He speaks and leads you. What ideas is He giving you? Which of these points stood out the most? What else might He be saying?
On several occasions, I've felt the Lord telling me that He would satisfy my desire for friends in His own way.
And even though I didn't feel like I had very close friendships during those seasons, the Lord felt very close to me and I truly felt Him satisfying that relational need.
He can bring you friends. And He can satisfy your need for friends in other surprising ways, often just by His presence alone.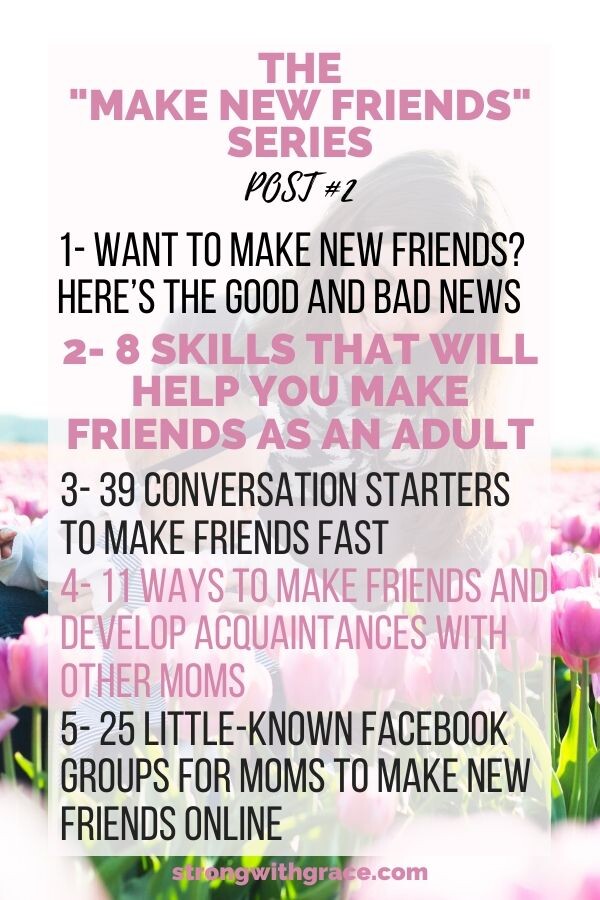 The "Make New Friends" Series
Recently I began to write the "Make New Friends" blog series. Be sure to check out the other posts below:
And don't forget to grab "the Ultimate List Of Places To Meet People: 79 Spots To Make New Friends" below if you haven't already!