Don't miss these amazing buys, tasty foods, and hidden gems on my personal Trader Joes food list. Includes a free printable grocery checklist!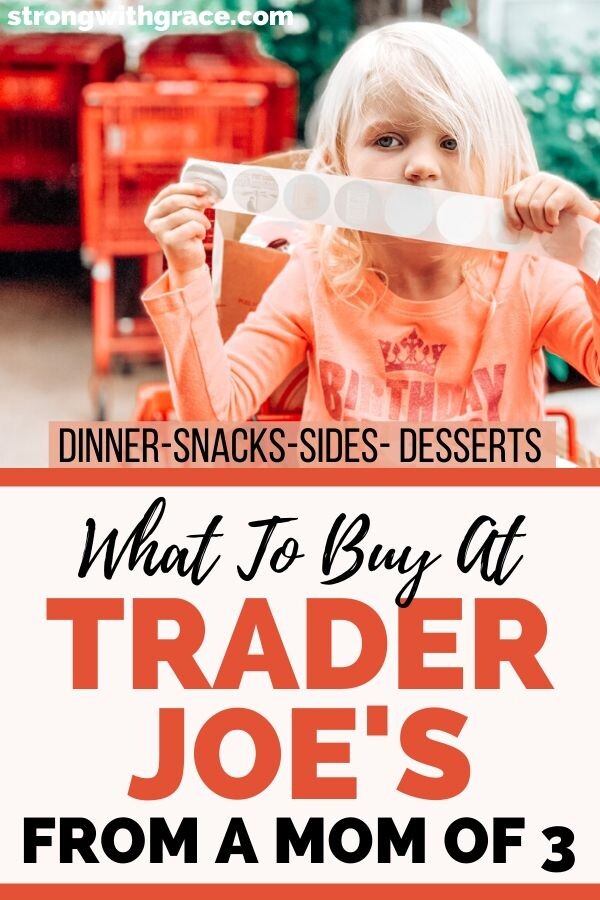 We hope you enjoy the products we recommend! This post may contain affiliate links. That means we get a portion of the commission if you click through and make a purchase, but you don't pay a cent more. Thank you for supporting our small business as we strive to help you rock mom life!
I love Trader Joe's.
But sadly, since we moved to Washington, I don't drive close to a TJ's regularly like I did when we lived in San Diego (I'm shedding a tear now).
Now that I have to make a special trip, I have learned to organize my Trader Joe's food list so I don't forget anything important.
I don't want to have to drive all the way back or go without (heaven forbid!) if I forget one of my fav items.
Previously when I wrote my Trader Joes shopping list, it was hard to remember which amazing of their foods to write down. What was that yummy sauce called? What was that frozen meal the kids loved??
Then I'd get home and it would hit me– I forgot the mini ice cream cones!
As a mom, when I figure out what my kids will scarf down (they are kinda picky) I try to keep it in the regular dinner rotation. But if I don't write it down, I'm toast.
My Trader Joes Food List Cheat Sheet
Today I'm providing you my Trader Joes food list cheat sheet. It's a list of my favorite items and their descriptions.
I also created a free printable shopping list that includes all the items listed below. It's in my resource library, and you can get access at the bottom of this post!
Get this list of the best Trader Joe's foods, plus a free printable shopping list that includes all the items listed here! #traderjoes #grocerylist
Click To Tweet
I learned to organize my list easily in my phone so I can get in and get out quickly with all the goods and without losing my mind. (Go here for my organization method.)
Besides that, can I just pause and say that grocery shopping is hard enough with three young kids?
By the time I get them out of the car, retrieve the basket, load them in, and enter the store, I'm already exhausted.
And they've already argued three times over which seat they get and whined about getting treats.
Sigh.
RELATED: HOW I ORGANIZE MY TRADER JOE'S SHOPPING LIST
The Big Reason I Love Shopping at Trader Joes.
I love shopping at TJ's because they make it easy to shop there and they seem to know what moms need. For example:
Everything is tight and compact— if you forget something, you can swing back through without walking a mile. It doesn't take hours to get around the store.
They make it fun for kids– most Trader Joe's have a stuffed animal (ours has a cougar because it's near the Cougar Mountain Zoo) they hide in various places. Kids can search for it while you shop, and when they find it, they get a lollipop (cue happy children).
I've seen stores keep the lollipop at the cashier or back at customer service, so be sure to check on the treat location when you go in if you don't know.
They also give away stickers to kids if you ask the cashier. Score.
Samples. Free food? Yes please. Free food for the kids? Double Yes. TJ's gives samples of amazing stuff, and I've definitely bought food on the spot after I tasted it and loved it.
Meal Planning Tips– They have suggestions for dishes and sides scattered throughout the store. They also give great tips on products to combine.
RELATED: WHY I ONCE MADE SPECIAL DINNER FOOD FOR KIDS, BUT STOPPED
Ok, here's my Trader Joes Food List, because you seriously don't want to miss this awesome stuff.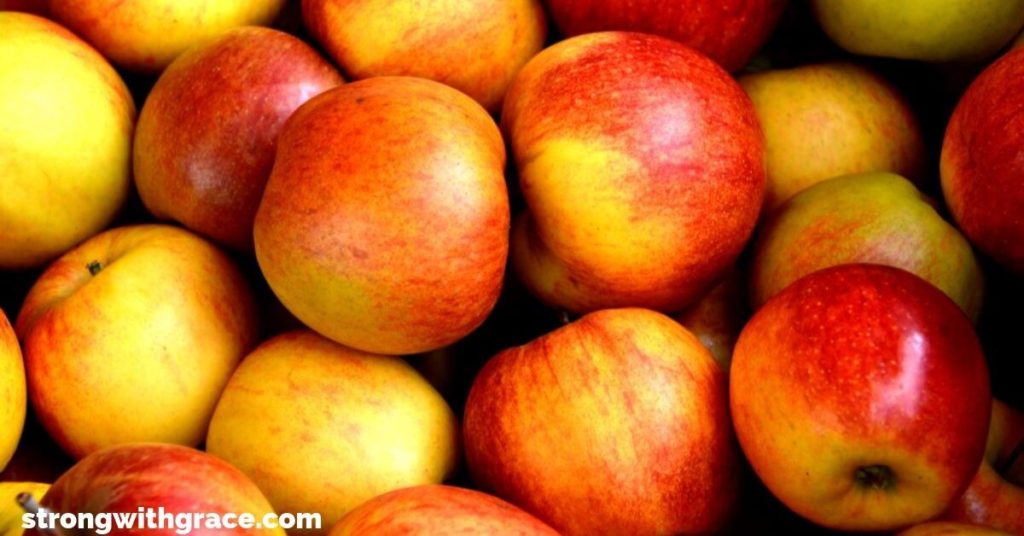 Trader Joes Snack Items
Cheese and/or Peanut Butter Crackers– made with healthier ingredients than regular brands, these are a quick and easy snack.
Packaged Nuts– We especially love the roasted & salted macadamia nuts and cashew nuts. They're a great protein snack and healthy fat for the kids.
I even cut up macadamia nuts for the 20 month old because they are a softer nut and chew up easily. (occasionally you'll get a hard one so be sure to sift through them if you do this!)
Hummus– This is another great & healthy snack. My youngest eats hummus like nobody's business, so I always grab a tub.
Peanut Butter Pretzels– I appreciate that they added protein to a carb… makes it a bit healthier and I adore the flavor combo.
Greek Yogurt– They have a full-fat version I used when our youngest was just starting on yogurt. It's great mixed with fruit!
RELATED POST: WHAT IS MEAL PLANNING? (AND 8 REASONS EVERY MOM SHOULD)
Yummy Sides
Tater tots- can be mixed with eggs (recipe?), or be an easy addition to dinner for picky kids.
Frozen Cooked Rice– As boring as this sounds, this is one of my all-time favorite items. Frozen cooked rice in a microwaveable bag. It makes dinner SO much easier because you just pop a pack in the microwave and in 3 minutes you have a side for your meal. Boom. They have Jasmine and Brown, and organic options too.
Pesto pasta– I recently tried this for the first time as hubby is a big pesto fan. To my surprise the kids even liked it.
Oyster Crackers– Super crisp and crunchy, they taste great in Trader Joe's Tomato Soup (or any soup).
Lentils + Brushetta– This combo suggestion was on the lentils price tag (lentil packs are typically in the refrigerated section by the produce) one time I was shopping. Since we love bruschetta, I grabbed a jar near the pasta sauce.
OMG. It is SO good, and the lentils are a healthy grain.
Pro tip: Get two jars of bruschetta sauce per one package of lentils to have the best ratio. Awesome to take to a party or just eat as a side with chips or crackers.
If this list is getting long, don't worry– you can grab the printable checklist version below!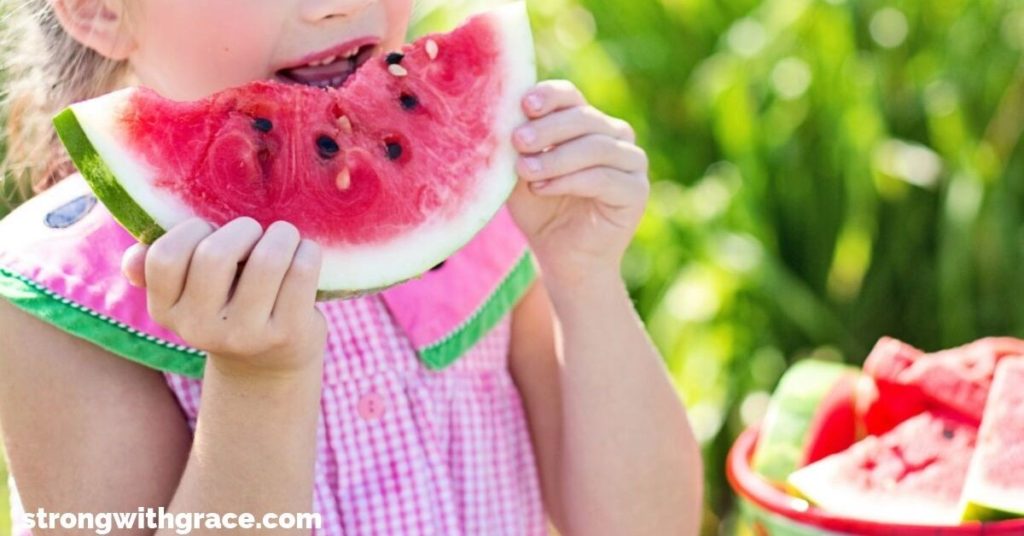 Quick and Easy Dinners
Chicken alfredo– Another quick and easy dinner option. The kids love alfredo, and I love how fast and easy it is to heat up on the skillet— this one is already cooked through when you buy it.
Mandarin Orange chicken– You can cook it in a skillet or in the oven… it only takes 20 minutes and the sauce is delicious. It has zing but isn't "spicy." My kids love it. Throw in a bag of frozen rice and there's your main dish and side.
Tomato Soup– So yummy on a cold, rainy day. Pair with a grilled cheese sandwich and throw in some oyster crackers for the win!
Blueberry Freezer Waffles– My kids live on these. After you've had these, if you try a generic freezer waffle you'll notice immediately how fake and gross it is compared to TJ's. My kids love the blueberry and I feel good about the healthy ingredients and delicious flavor.
RELATED: 11 EASY TRADER JOE'S FROZEN MEALS FOR NEW MOMS
Don't Forget Dessert
Mini 'Hold The Cone!' Ice Cream Cones In Vanilla or Chocolate, my sister-in-law introduced me to these tiny desserts. They're great for little kids because they get a whole cone but not too much sugar.
Chocolate Covered Dried Fruit– This has dried cherries, strawberries, apricots and blueberries inside little chocolate balls. Hard. To. Stop. Eating.
Maple Leaf Cookies– if you're craving a maple treat, don't miss these— shaped like maple leaves, these are another of hubby's favorites.
Chocolate Peanut Butter Cups– A "healthier" version of Reece's (if there is such a thing) these come unwrapped in a tub and are to-die-for!
Chocolate Covered Pretzels– Watch out, you might just eat the whole bag in one sitting.
I hope you enjoyed this list of my favorite Trader Joe's scores! I don't want you to miss out on all these amazing buys, tasty food, and hidden gems.
What's Included In The FREE Trader Joe's Grocery Checklist download:
All awesome items from my list above
Space to add your own favorites!
Easily readable in PDF form
Instant access to my entire resource library of parenting, home, marriage, and encouragement printables
GRAB YOUR FREE PRINTABLE TRADER JOE'S SHOPPING LIST HERE!