Need some dinner ideas? These Trader Joe's frozen meals are perfect for new moms and busy families! Don't miss this list!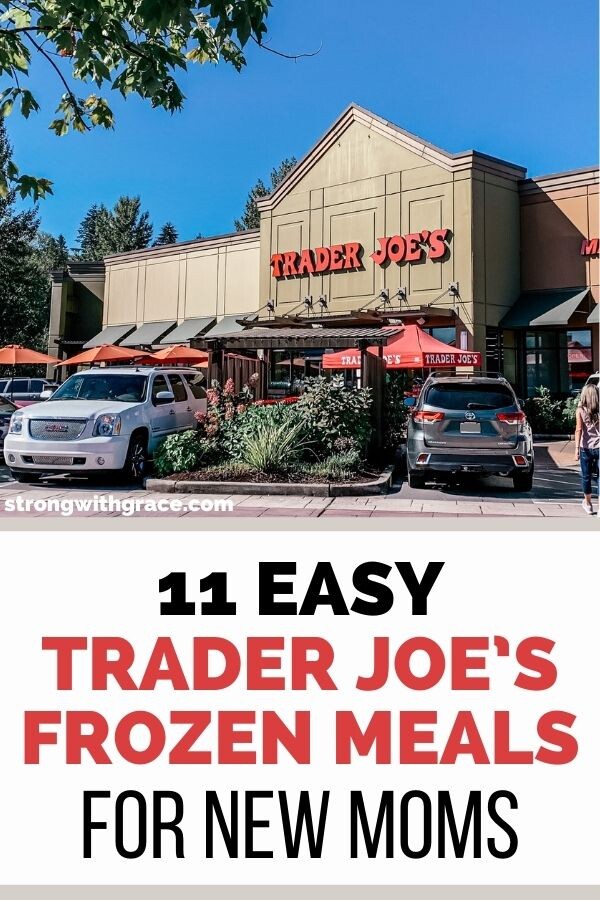 My kids are about to revolt.
We're out of Trader Joe's frozen blueberry waffles, and the kids have had it with my continual failure to hit up TJ's for a new stash.
They want answers.
Ok, I'm being a bit dramatic here, but it's true that they do ask, "Do we have any waffles yet???" practically every day.
I live a bit far from Trader Joe's to make it a weekly stop, so it's taking me a while to get there. Plus, with online shopping and drive-up groceries delivered to my vehicle at Safeway, I'm getting a bit spoiled.
But I'm running out of some key freezer items (in addition to the waffles) that I like to always keep on hand. So I'm going to have to go soon.
And who am I kidding? I LOVE to go to TJs. I'd just rather go alone than with any or all of my kids, so I've been putting it off. (Am I alone here?)
No more excuses! Must get waffles!
The Best Meals At Trader Joe's For New Moms
Today I'm giving you a list I created especially for new moms. (But I won't tell if you've been a mom awhile and you still want to peek)
I have a soft spot for new moms, because you have a huge time crunch when it comes to making meals. I've found that Trader Joe's frozen dinners are SO tasty and SO easy that they make any new mom's dinner prep a breeze.
Bon Appetite!
RELATED: PEEK AT MY TRADER JOE'S FOOD LIST SO YOU DON'T MISS THE BEST STUFF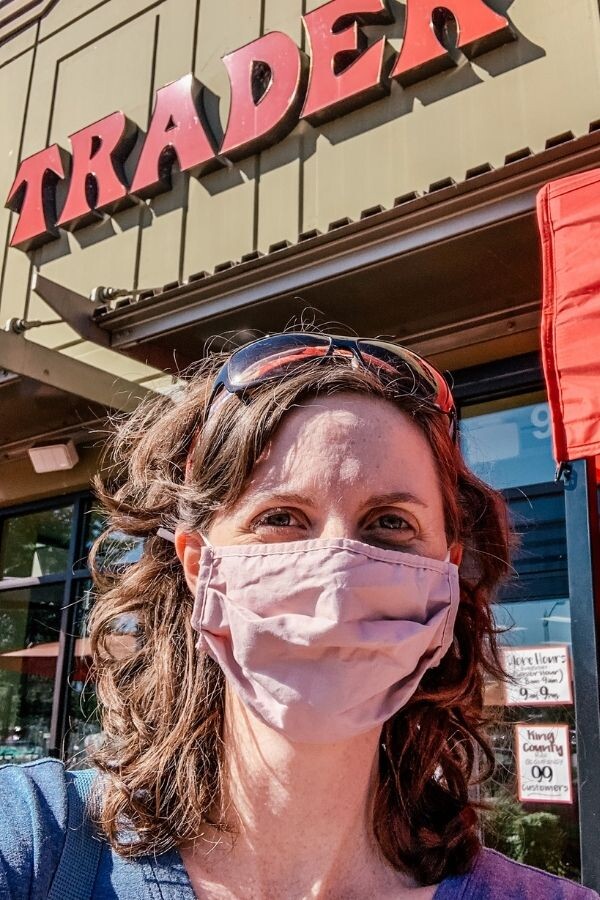 11 Trader Joe's Frozen Meals For A Super Easy Dinner
1- Blueberry Waffles
Of course Bluberry Waffles are at the top of my list. You might think these are just for kids, but they're great for adults too.
This isn't a three-course meal, but they're great if you need something to munch while you feed baby or if you need a late night snack. If you have some down time, I suggest cooking up an egg or heating some sausage to go with.
2- Mac and Cheese
What's easier than boiling noodles in water and stirring in a seasoning packet?
Heating up pre-made frozen M&C in the microwave.
You might be able to get away with one pack for two adults, but I remember how hungry I was as a new mom. Better get two.
3- Mandarin Orange Chicken
Great flavor with the tiniest bit of zing. And I mean tiny, because I can't handle spicy things, and I love this.
RELATED: WHY I ONCE MADE SPECIAL DINNER FOOD FOR KIDS, BUT STOPPED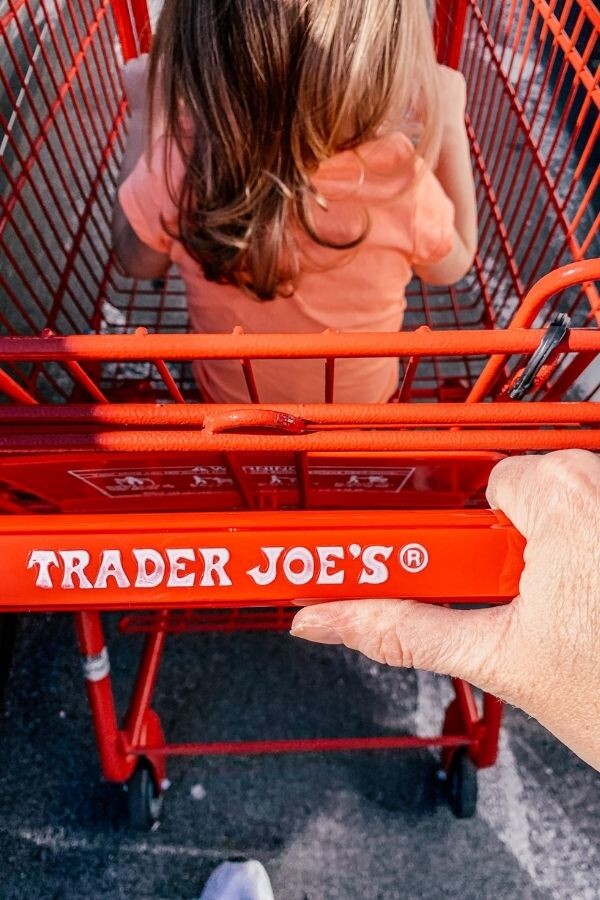 4- Chicken Alfredo Pasta
This is an easy heat-up-in-the-skillet meal. For our family of 5 now we need to get two bags, but for a couple one bag would work.
5- Fettuccine Alfredo
If you don't want chicken in your alfredo, you can get this bag and either add another type of meat (like cooked shrimp or sausage), add veggies like broccoli, or eat it plain.
6- Pesto Pasta
Frozen pizza (you can spruce up a frozen pizza with your choice of meat like canadian bacon or pepperoni. You can add more cheese (mozzarella and parmesan are great choices) and even add pineapple, diced peppers and onions, or whatever else sounds good to you. Or just keep it easy and cook it as-is.)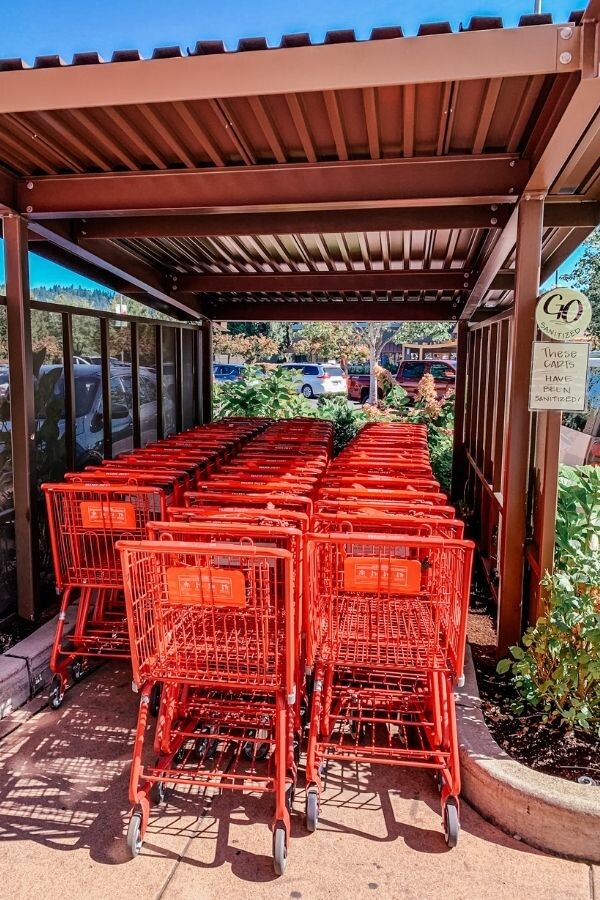 7- Tempura Shrimp
These are easy to bake super quick and come with a delicious dipping sauce. These would also be a great addition to the next meal on this list: Chicken Fried Rice.
8- Chicken Fried Rice
This dish is great on it's own, but it's also really easy to scramble up an extra egg or two into the rice.
I usually start the rice cooking to get it to soften up. Then when it's getting close to being done, I'll pour in one or two eggs (I stir them first in a separate bowl).
They scramble up quick and then I just mix them into the rice. You can also add more cooked chicken pieces if you have them on hand.
RELATED: HOW I ORGANIZE MY TRADER JOE'S SHOPPING LIST
9- Honey Walnut Shrimp
Back to shrimp for a sec.
The Honey Walnut Shrimp is yummy but it's quite sweet (no wonder my 3 year old loved it). The sauce is powerful, so I recommend trying this dish but maybe go light on the sauce at first.
You can always add more.
10- Mini Chicken Tacos
The mini chicken tacos are delish and our whole family loves them. They bake really fast so don't overcook them. Grab some sour cream or salsa and eat up!
11- Pizza Margarita
I love keeping frozen pizzas on hand. When you get this plain cheese version, you can doctor it up with extra toppings if you want, or just eat it as-is.
I'll often throw on some Canadian bacon and pineapple, or sometimes pepperoni for the hubs.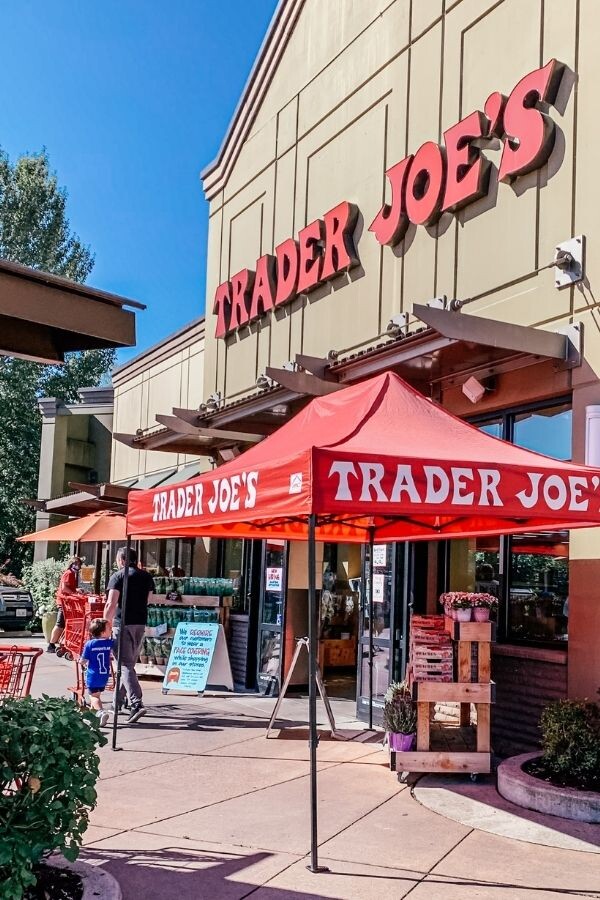 Making Dinner Easy With Trader Joe's Frozen Meals
So how do you make dinner prep go even more smoothly?
Don't forget to meal plan. It makes shopping and dinner prep so much easier when you prepare in advance.
If you decide you want to try a few of these Trader Joe's prepared meals, you can add them to your shopping list right then!
At the end of the day, think about what you'll be making for dinner the next evening. At the very least, think about dinner sometime in the morning. (You can set an alarm on your phone to remind you). This will help you thaw any meat or other frozen items. Of course, with most of these Trader Joe's frozen meals, you don't have to pre-thaw!
Check out this post for even more Trader Joe's Ideas: Peek At My Trader Joe's Food List So You Don't Miss The Best Stuff!
Now You:
Do you love any Trader Joe's frozen foods that I missed?
Have you tried any on my list?
Let me know in the comments!
PS- In case you were wondering, this was NOT a sponsored post. I'm just a fan of TJs. I love how much great stuff they have to make mom-life easier!