Moms, when motherhood feels isolating, don't miss these simple conversation starters to make friends as an adult. Start building friendships today!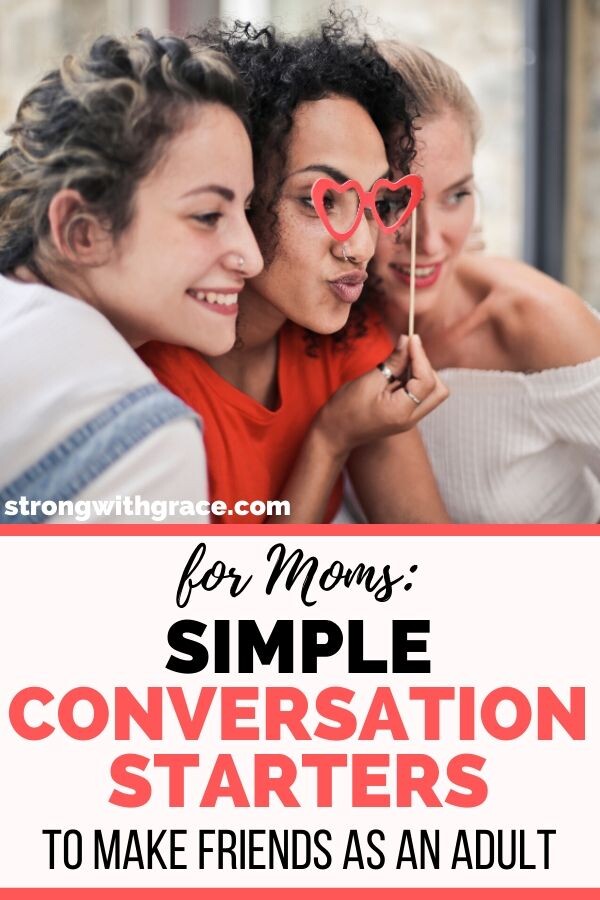 Motherhood can feel very isolating. One day you're stuck in the house like a hermit crab. The next you're running from grocery store to preschool to Target and back for nap time without much chance to interact with anyone.
To be honest, if you have time for a Target run, that's a win in itself.
But I've found that in order to make friends as an adult, I need to take initiative. For me, that looks like smiling, saying hi, and starting conversations. I've discovered that when I do those things, friendships develop faster.
Yes, sometimes taking initiative falls flat and I'm left feeling kind of awkward. But the times that it does work into a friendship, or even just an enjoyable conversation, are worth the effort.
I know sometimes talking to other moms can be overwhelming… because of that I created a free pdf download all about how to gain confidence as a mom. It's in my free resource library and you can sign up to get the password at the end of this post!
Conversation Ideas To Make Friends With Other Moms At Kids Classes
Ask yourself: When you take your toddler to a class, are you talking to the other moms?
When we lived in Virginia, I took Pippa to a Music Together class every week. The kids were between the ages of 6 months and 5, but I met mom named Peyton with an 18 month old daughter like mine.
As we chatted throughout the first couple of classes, we learned that we were both military families and Christians. I got up the courage to ask her if she'd like to do a playdate. After our playdate, she invited me to check out the Bible study she hosted at her house.
I joined the study and those ladies, including Peyton, became my closest friends over the next two years in Virginia. And it all started from chatting about the kids and our lives.
Simple Conversation Starters To Make Friends:
Are you from around here originally?
If not, where are you from?
What brought you to the area? (often this is how I could discover if someone was a military family, when we lived in military dense areas)
How old is your kiddo?
What part of town do you live in?
What other activities does your child like to do?
Do you have any other children?
Use Conversation Starters To Make Friends Based On Your Day To Day Situations
The other day after school drop off for my oldest, I let the younger two play on the indoor play structure at the school. Another mom let her little boy into the fenced play area, so I gestured out the window at the traffic and said, "holy cow, the traffic is terrible today."
The traffic in the parking lot was at a stand still, so we'd both had the same idea: let the kiddos play instead of getting road rage in the car, moving an inch per minute.
I asked her if she had another child attending the school, which was kind of obvious but it got the convo rolling. It turned out that she had homeschooled her oldest for a few years, so we had that in common.
As we talked, we discovered some commonalities and some differences. Since she lives in a different area than I do, and her kids are in different grade levels, we won't likely have too many interactions. However, if I see her in the hallways I can say hi. It's always nice to recognize people and feel more connected to the school community.
By the way, if this sounds a bit scary to you, I created a free pdf download all about how to gain confidence as a mom. You can get access to it at the end of this post!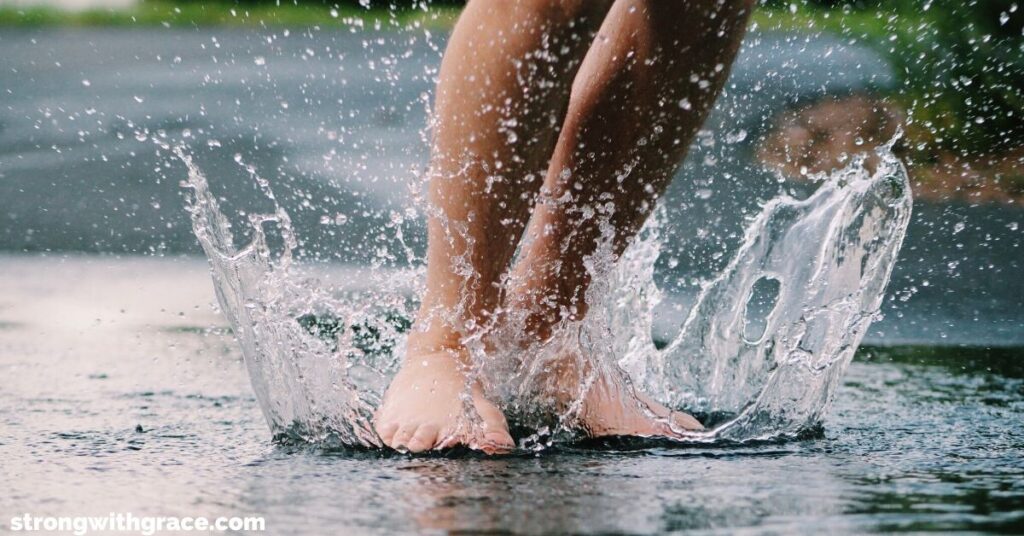 Conversation Ideas For Connecting With Moms:
Mention something unusual going on right then, such as:
bad traffic
an accident
smoke rising in the distance
snow
strong wind
workers digging up the parking lot
Other easy ideas:
What grade is your child in school?
How long have your children attended here?
How do you like the school?
Have you heard of any good toddler classes in the area?
Look at this horrible carpet! What's the deal with that?
Do you know of a good gym in the area?
How do you like your kids' teacher?
Take The First Step Toward A New Friendship
Starting a conversation can be the first step to making a new friend.
It's hard to slow down and take the chance to interact with other moms when we're rushing, trying to get our kids shoes back on (that they took off in the car AGAIN), or feeling unsure in a new environment.
But it's not as tough as it seems to start chatting with someone. Almost anything can be a conversation starter, and you never know what new friendships and adventures that conversation might bring you.
If you want to gain more confidence to start conversations like these, don't miss my free download below!