If you're a new mom needing friends, don't overlook Facebook groups as a place to meet people. Check out these 25 groups to make new friends online! Plus get "The Ultimate List Of Places To Meet People: 79 Spots To Make New Friends" You can get access here:
This is the 5th post in my "Make New friends" Series. Be sure to check out the other posts in the series- links at the end of this article!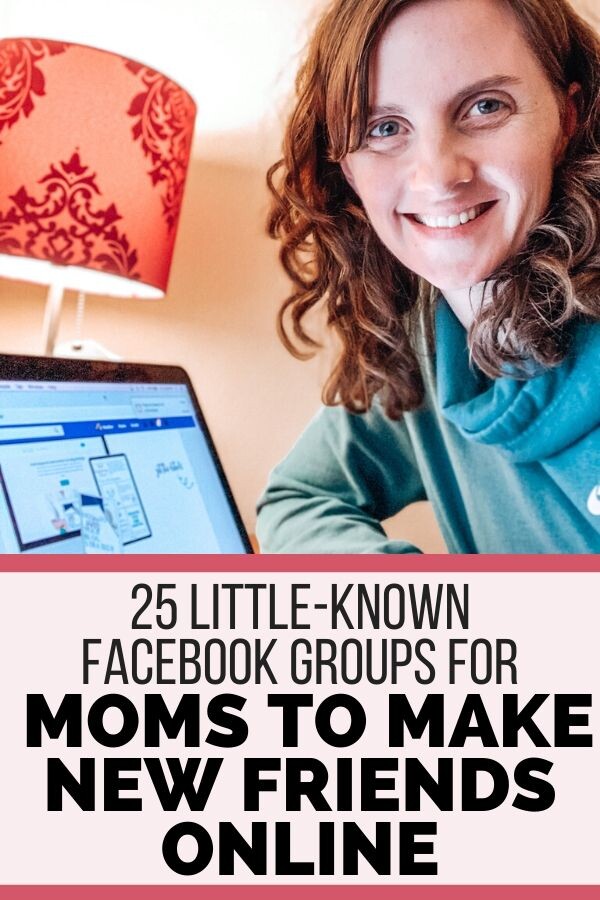 Several years ago, before launching Strong with Grace, I had a military spouse-focused blog for a few years.
The problem was, when I started that blog I didn't know too many military spouse bloggers at the time. I had a passion for developing it but felt a bit out of my league with how to get it off the ground.
Somehow I found myself invited to a military blogging group. I don't even remember how I got into it. I think someone I know invited me, but the details are blurry at this point.
All I remember Is feeling elated as I saw the amazing networking, exchanging of ideas, and genuine friendships developing in the group.
People I didn't know shared my posts, offered help and advice, and even answered military life questions not related to blogging.
The Power Of Facebook Groups For Moms To Make New Friends Online
After that point, I was sold on the benefits of Facebook groups. That group had not only helped my business ventures, but I gained connections with amazing, inspiring military spouses I never would have met.
Many of them I still consider friends, even though I've never met most of them in person and I'm not focused on the military spouse niche anymore.
Facebook groups can be a huge blessing in the lives of isolated moms who don't have many friends.
I've discovered that Facebook groups is one of the best sites to make friends online, especially for lonely moms.
Because when I moved to Virginia recently after starting that milspouse blog, that's what I was: a mom with only a couple friends and a baby that kept me stuck at home much of the time.
The group proved to be a much-needed connection point and tool of growth in my life.
I know it can be strange to try to make new friends online, and you might be thinking, "but I want to make friends near me."
I get that.
But sometimes, friends you meet online can become real-life friends. If you join groups that are fairly large, odds are there's someone close to you.
*if you do decide to meet up in person, always take caution, tell someone that you're going, and meet in a public place.
If you're interested in more places to make new friends online and off-line, don't miss my free list of 79 Places To Make New Friends! You can get it here: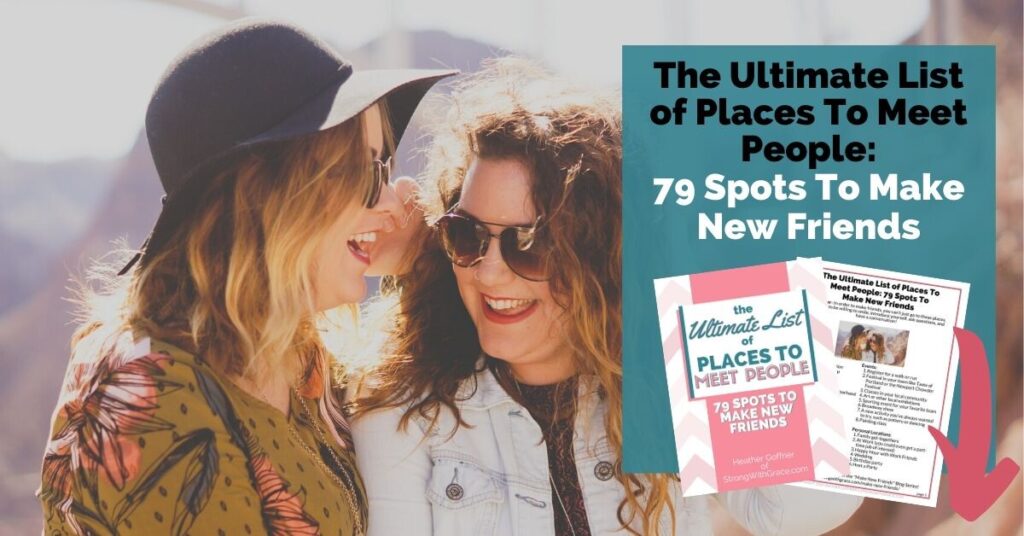 How To Find Good Friends In Facebook Groups
Before we jump into the list of groups, here are my tips for using a group to make new friends online.
Join groups with which you have a similar interest, stage of life, or career aspirations. I've joined many groups (probably too many!). My preferred groups are mostly for military spouse, mom and parenting focused, christian- based, or blogging groups.
Think about your interests and search for those terms in the Facebook search bar. Across the top you can filter your search down to "groups."
Next, look at a few groups and their "about" section. That will give you an idea if you would enjoy being in that group.
All that's left is to join the group and wait to be approved, if necessary. Some groups require you to respond to a few questions so they know whether you would be a good fit for the group.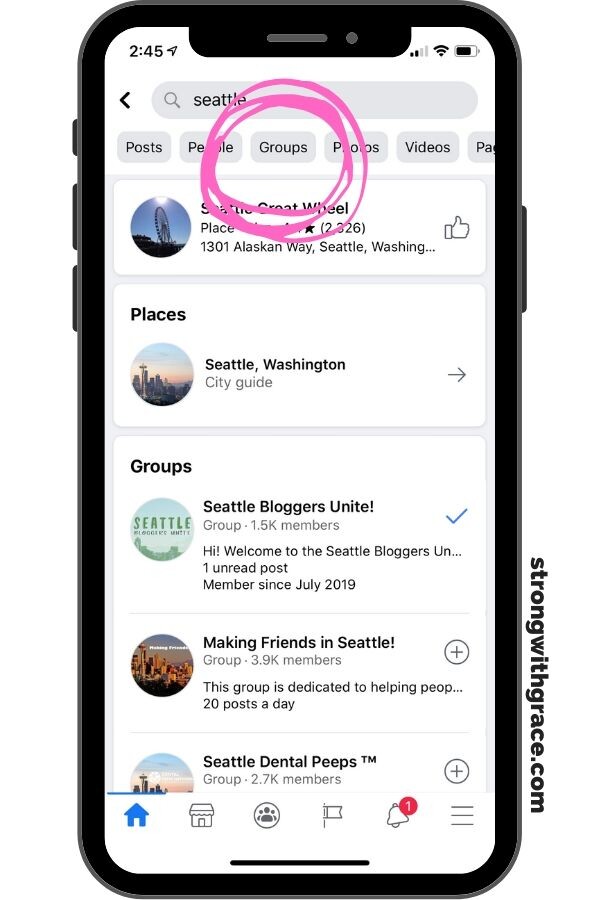 You may not know them yet, but as you interact with the group members, you can develop relationships from strangers into acquaintances, and hopefully even friends.
You may not know them yet, but as you interact with Facebook group members, you can develop relationships from strangers into acquaintances, and hopefully even friends. Here's how: #makingfriends
Click To Tweet
After you have some meaningful exchanges, you might add them as a friend or start a private conversation (if allowed by the group) to keep building your connection.
If you want more tech help on finding friends on Facebook, I give a lot more tips in this post on ways to make friends on Facebook.
25 Little-Known Facebook Groups For Moms To Make New Friends Online
Here are a few groups I've gathered to give you a starting place for your search, along with a snippet from their current "about" section if available.
Please keep in mind that I don't own these groups, nor do I endorse them specifically. They're here for your personal enjoyment, so join at your own discretion!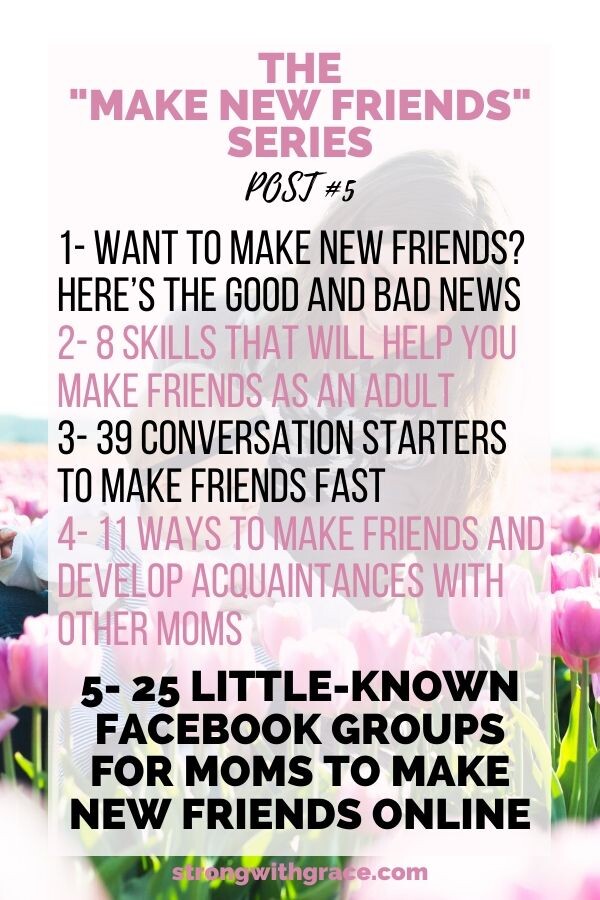 Non-Faith-Based Groups
The purpose of this group is for us to support each other, ask/give advice, share tips, ideas, coupons, deals, etc.
This group was created so that moms and new moms can get together and encourage each other in a positive manner. We're just a group of women trying to get it right.
Useful Tips and Discussion Related To Parenting and Grooming Of Your Kids
Parenting or child rearing is the process of promoting and supporting the physical, emotional, social, financial, and intellectual development of a child from infancy to adulthood. Parenting refers to the aspects of raising a child aside from the biological relationship.
New Moms – Newborn, Baby and Toddler is about new parents looking for advice for their special newborn created by Clever Parenting Tips. Each day we find high quality information that will help you tremendously in the long run for you and your family. The community here will also be a great place to get personal advice for you.
Child Development and Parenting Tips is a group for all things relating to child and parenting.
Being a parent in these busy times can be hard. Managing your time between a busy work schedule and a demanding family can sometimes seem overwhelming. Parenting Survival Guide is a group for those interested in all things about parenting. Here is a place you can share and learn from other parents about the day to day activities, problems, and troubles that may arise from being a parent. We encourage you to feel free to share advice, stories, recipes, questions and even venting as long as it pertains to parenting or family life in general. As always, please remember to take all advice with a grain of salt and do your own research whenever in doubt. And of course feel free to invite friends and family to join in on the discussions.
Welcome to ❤ Pregnancy, Parenting And All Things Babies❤ Our group is for everyone to join mothers, fathers, couples trying to conceive etc.
No parent should feel alone as they wander through the maze of parenting. Our online community is a safe place to ask parenting questions and find fun preschool activities!
Welcome to our online parenting group Love & Logic Parenting – a place to share ideas, theories, stories, the good and the bad relating to raising children using Love & Logic principles.
Christian-Based Facebook Groups
Let's support one another through Christ, while having fun, sharing quotes, recipes, church events, & more! Let's uplift each other and stay on fire for God…be sure to read the rules, which are pinned to the top of the group page.
🙂
<3 God bless you!
As beautiful and sacred as motherhood is, it's also incredibly hard. If you are anything like us, then you have likely felt terribly blindsided at one moment or another by just how challenging these little years can be. That is precisely why we began the "Christian Moms of Littles" FB group – we want this to be a warm, encouraging, uplifting, helpful place where you can come and share your heart, pouring out your struggles and frustrations, asking your pressing mothering questions, seeking prayer for when the going gets tough, and finding camaraderie in those who are in the same season as you…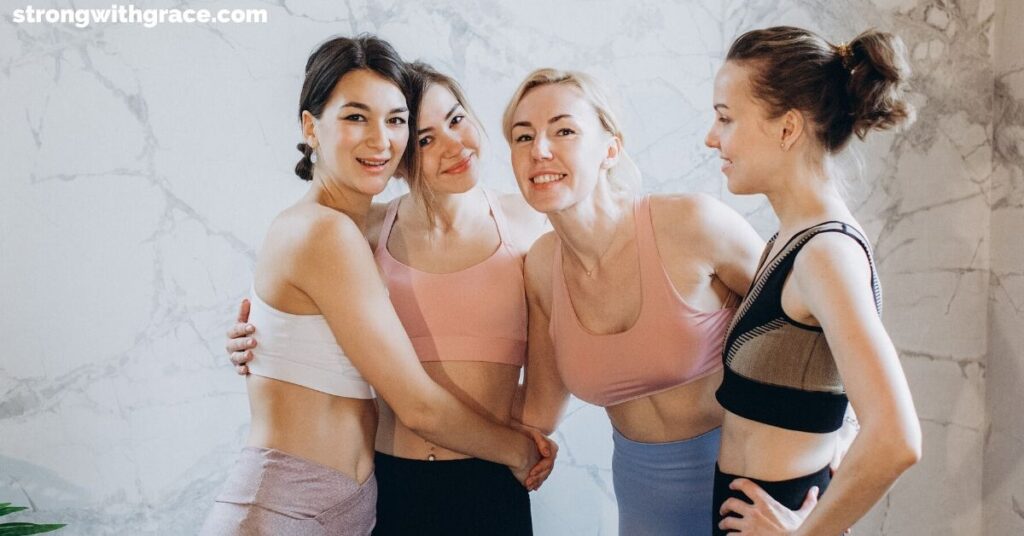 I have searched & have not been able to find groups for Christian moms. I wanted a place where I can share & receive Christian encouragement for parenting & marriage. Let's join together as sisters in Christ… help each other by being a positive, safe group.
I wanted to start this group as an outlet for us mom's for when things get tough, days get rough. This is a great place to post frustrations, prayer request, hurts and success stories! Please feel free to invite all of your mom friends!
WELCOME! This community is a place where Christian moms can be real, open and raw about their thoughts and lives without fear of judgement. This is for the slightly cynical Christian, the sometimes crass Christian, at the very least the Christian certainly ready for a laugh and able to handle some off color jokes.
But this is also for the desperate Christian, the Christian who at least has a sneaking suspicion that all they long for is really, truly, somehow going to be met in the person of Jesus Christ.
Welcome! Christian Moms – Crunchy Lifestyle is a gentle, Christ-centered support group for natural-minded mothers and mothers-to-be. This group is for women only. Topics of discussion include pregnancy, breastfeeding, co-sleeping, attachment and gentle parenting, non-toxic cleaning and beauty supplies, organic eating, green living, homeschooling, and alternative wellness remedies. Discussions frequently stem from a position of faith and are Biblically-based with scriptural references.
Welcome to the Christian Moms Group. Being a mom is not easy but its one of the most important roles that God designed. We are a community that sends out daily scripture to help and encourage you throughout your day. This is a safe, private place for Christians women to pray for one another and to encourage one another. We are a group of Believers who have asked Jesus Christ to be our Lord and our Savior because we recognize we are sinners in NEED of a Savior.
Hi Ladies! In my search to find a decent Mom group on Facebook that would offer wholesome and biblical support, I came across a whole lot of garbage. So I decided to start a new group dedicated to providing support and encouragement for stay at home moms who have a relationship with Jesus!
Don't miss this list of 25 Facebook groups to make new mom friends! Great resource! #makenewfriends
Click To Tweet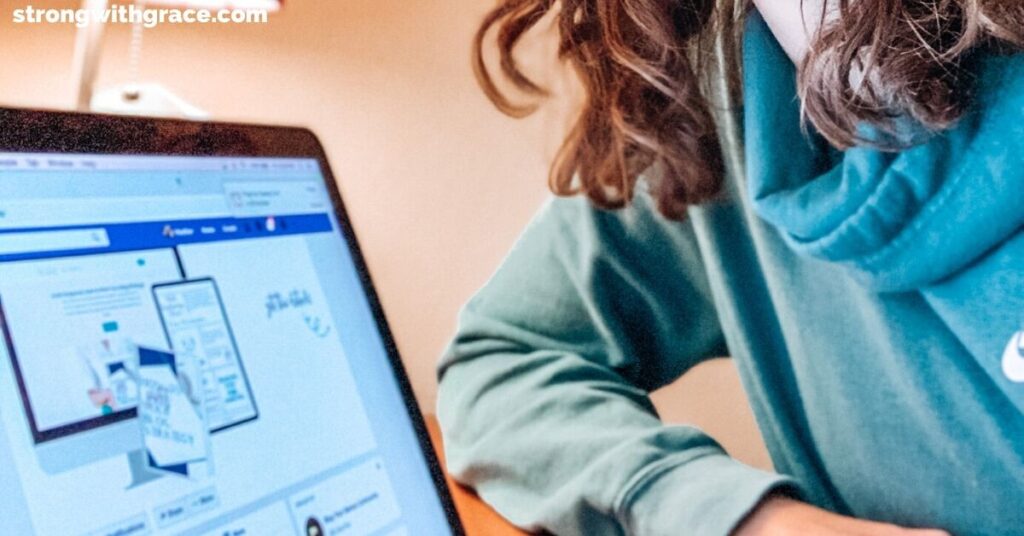 Recommendations From My Blogging Friends
I asked a few blogging friends to share their groups with me (and you), and here are their responses:
Embracing This Special Life is a group for Christian mothers who have children with special needs. Special needs parenting can be a challenging and isolating journey, but this group knows the challenges and can offer faith-based hope, support and encouragement.
–Jenn Soehnlin of Embracing Life
Imperfect Moms Seeking to be Intentional with God – is a group where you will find real life, Biblically based encouragement for growing in your Christian faith, marriage, parenting or homeschool! Equipping you to embrace the imperfect and radiate Christ ❤️It's also a group that I co-run with my dear friend Lee Felix from Like-minded Musings. We have an engaged group of sweet moms that encourage and pray for another.
-Jessica Anderson at Intentional In Life
Homeschool Planning Mama- is a group where we share practical tips on topics like routines, schedules, planning methods, organization ideas, planners, record keeping, etc. as well as shares encouragement as you plan for a year or purpose and peace. A new group I just started to help support homeschool moms.
I am biased as it is my group. However, my mission is to equip Christian mommas who are struggling as to how to navigate her child's more challenging behavior. For the mom raising and educating a child with special needs… ADHD, autism, sensory processing disorder, anxiety, trauma… hope and encouragement that the Lord has chosen her to raise her child on purpose. That He has a mighty plan for every child and that there is a Christ-centered way to equip these unique-thinkers to thrive as He intends. Such a wonderful community of moms. 💕
–Lindsay Leiviska at A Heart For All Students
Christian Family Living includes family issues, marriage, and parenting.
The Christian Parenting Lounge is just parenting. both have lots of ideas and help.
This group is all about empowering through our message of Know You Be You Love You®. It's real, raw and random – like life. We laugh, support, empower and love.
–Sybil Jones at Mamas and Coffee®
THE "MAKE NEW FRIENDS" BLOG SERIES
This post is the fifth post in a set of articles called the "Make New Friends" Series.
My goal in these posts is to help you gain confidence and take steps to actually make new, better, deeper friendships. You can check out the other posts in the series below!
THE "MAKE NEW FRIENDS" POSTS
25 Little-Known Facebook Groups For Moms To Make New Friends Online (this post)
DON'T MISS "THE ULTIMATE LIST OF PLACES TO MEET PEOPLE: 79 SPOTS TO MAKE NEW FRIENDS." Grab your free copy here: