If your feed is full of random pics and not relevant to your life, don't miss this list of Instagram moms who love Jesus! Get inspired and encouraged today!
This is the 6th post in the "Make New Friends" series. Be sure to check out the rest of the posts in the series! (They're listed at the bottom of this page.)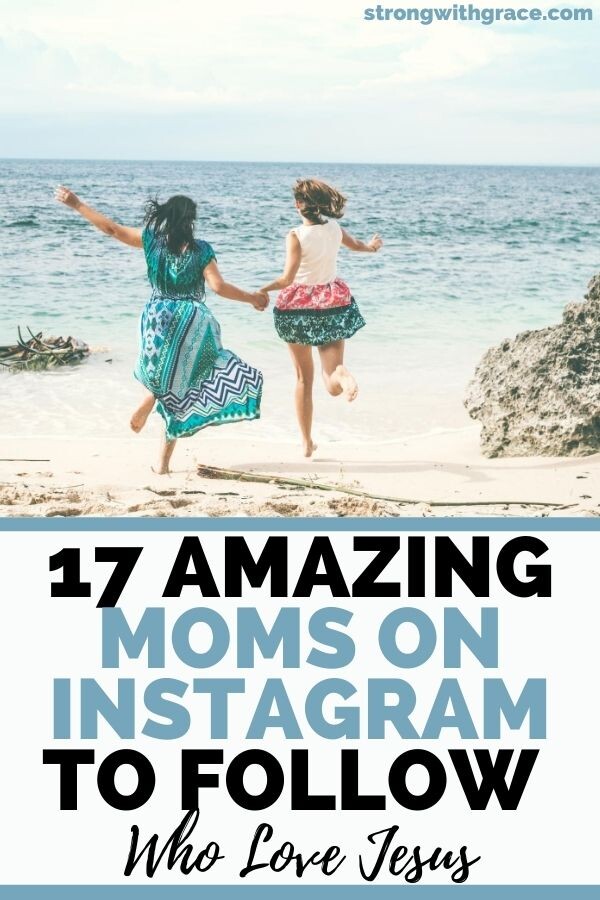 It's easy to feel isolated and lonely at home, especially when you've got kiddos to wrangle and not a lot of mom friends to vent to.
Sometimes Instagram can be a nice escape, but what about when the images flashing through your feed are discouraging, or make you feel more insecure than encouraged?
I've been there.
I've been spending more time over on Instagram lately and on some days I enjoy my feed. Other times it seems random and irrelevant, and that usually ends with me unfollowing a few people.
It's important and healthy to make sure you're not allowing a bunch of discouraging stuff into your feed– just unfollow or block if necessary!
One cool thing though, is I never realized how easy it is to connect with so many other awesome Instagram moms who love the Lord.
It's fun to get a sneak peek into their lives, in a self-paparazzi kind of way, and see that I've got similar struggles and similar passions to a lot of other women out there.
I have to admit, some people are better than others at the pretty feeds and staying true to their message. I feel like I'm still working on both aspects, but it's always a work in progress.
My pics are more real-life than anywhere near perfection!
But regardless of how the feed looks, it's important to get beyond the pictures to the Instagram mom behind the scenes.
A Curated Look At Some Stellar Instagram Moms
Reading the captions gives you a bit more insight, but if you're trying to fill your feed with inspiration, it can take awhile to find the right people.
That's why today I'm providing this curated list of amazing Instagram moms to follow who love Jesus– so you don't have to do all the research yourself.
That's why today I'm providing this curated list of amazing Instagram moms to follow who love Jesus– so you don't have to do all the research yourself…. And as moms in the trenches, we all need that! #instagrammoms…
Click To Tweet
Of course you could find millions more moms out there, but this list is a fabulous place to start.
Some of these accounts may be large, and some may be smaller. But they can all fill your feed with positivity, spiritual encouragement, and inspiration.
And as moms in the trenches, we all need that!
So head down this list, check them out, and follow a few or all of them. And of course, if you're not already, I'd love for you to follow my profile here too…
RELATED: 25 LITTLE-KNOWN FACEBOOK GROUPS FOR MOMS TO MAKE NEW FRIENDS ONLINE
17 Amazing Instagram Moms To Follow Who Love Jesus
Yep, this is my profile below. If you hang with me, you'll get some spiritual inspiration, encouragement for the day to day, a bit of humor, and tips for new moms. I'd love to connect with you!
A beautiful feed full of toddler activities intermixed with inspiration.
Inspirational t-shirts by a woman with a mission to help others start conversations about Christ. When you purchase it helps rescue children & women from sex trafficking, and the messages on the shirts are an encouragement in themselves when they show up on your feed.
RELATED: HOW TO OVERCOME NEGATIVE THINKING
Have You Seen These Awesome Moms To Follow On Instagram?
Lots of inspirational quotes and encouragement here!
Two sisters and moms blogging to inspire other moms.
A large community with beautiful pics and inspiring messages of hope.
Blogger and DIYer, you'll love these pretty pics and the perspective she puts in the captions.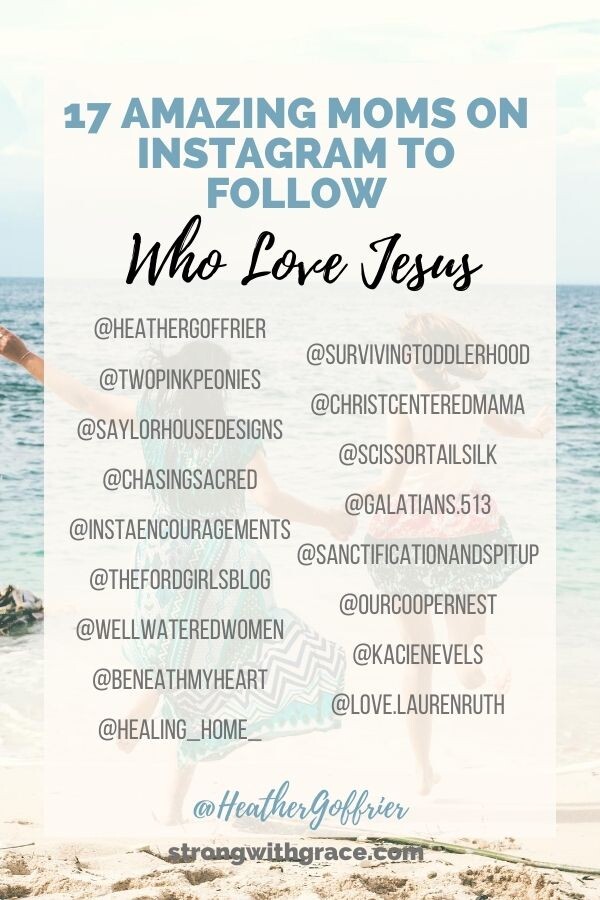 Don't miss this list of 17 amazing Instagram moms who love Jesus! Info and links to all accounts right here in one page. #makenewfriends #momsoffaith
Click To Tweet
Even More Of The Best Moms To Follow On Instagram
Rachael has a very pretty grid with scriptures and lovely outdoor and health-inspired shots.
Her current bio reads:
"Joy for ordinary days
Laughter for your spirit
Peace in the chaos
Motherhood for the glory of God"
I pretty much love all of that. Check her out!
As a young mom, Nicole provides encouragement to stay focused and move forward in grace. Great inspiration here!
Read this post about her house getting struck by lighting. It gave me the chills!
Love These Instagram Moms!
From her bio: daughter of Christ, wife, homemaker | homeschooling & joyful motherhood |simplicity seeker, blogger, & thrifty living in AZ.
Such a cute page!
From her bio: Lover.Friend of God☝🏾Wifey❤️. Mommy of 4. Friend👭.Doctoral Candidate/Life Long Learner 📚….
I love the way her relationship with her kids shines through her posts. I hope my kids and I can have that kind of bond when they get older. Check her out!
She has some spiritual birth resources as well as inspiration for moms!
Final Words
Regardless if you just need a little escape, or you're hunting for inspiration, these 17 profiles can give you that and more!
For more ways to meet new mom friends, check out the "Make New Friends" Series here:
"Make New Friends" posts:
17 Amazing Instagram Moms To Follow Who Love Jesus (this post)