The Free 5-Day Email Challenge is currently closed.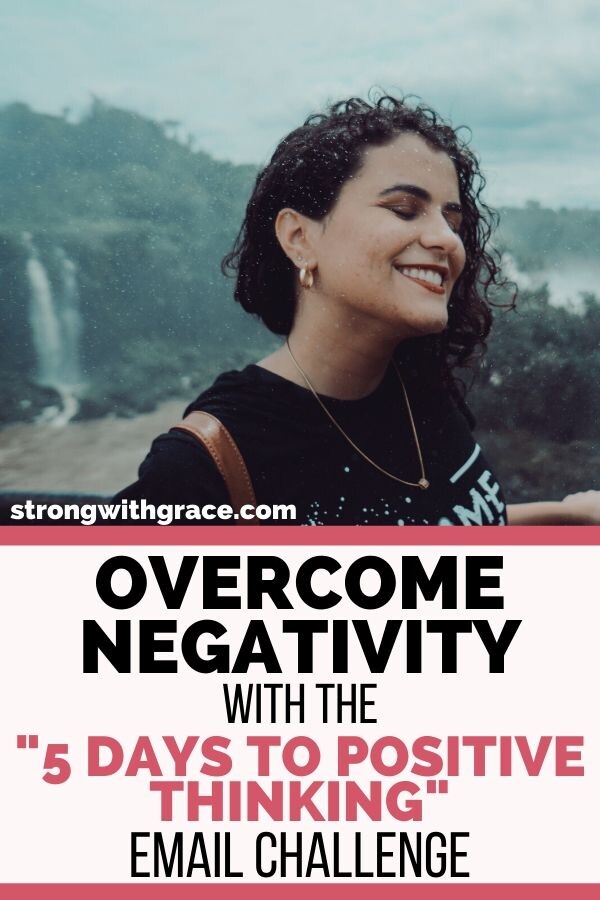 To the mom stuck in negative thoughts: I feel you.
One day I'm thinking about the beautiful rays of sun coming through the clouds, or my happy giggling toddler, when all of a sudden I'm thinking, "what happens if my oldest child chokes at school?" and my mind is off in a false, negative scenario to deal with the fake "potential" trauma.
Negative thoughts come floating into my brain from out of nowhere, but getting them to leave my mind is not so easy.
It's hard to snap out of it, to stop the freight train of terrible what-ifs or thinking about something I recently messed up… and change back to something positive.
It's really really hard. And I used to not know what to do. I don't think I even realized I could do something about it, more than just try harder.
But negative thoughts don't go away on their own. They don't go away when I simply "try harder."
Negative thoughts don't go away on their own. They don't go away when we simply "try harder." #positivethinking #emailchallenge
Click To Tweet
What I learned about conquering negative thoughts changed my life– so much so that I created a 5-Day Email Challenge for you called "5 Days To Positive Thinking." [challenge is currently closed]
What Words Do We Listen To?
I'm really big into the power of words and things we say out loud, but I didn't realize I was saying some pretty negative things to myself in my head. And actually, I believe the enemy of my soul was whispering a lot of the negative ideas to me, but I believed them.
I let them into my heart, which was pretty much like saying, "yep, this is true about me." Things like:
I'm a terrible mom.
I'm not good enough
I'm not a good wife.
I'm a failure
I'm a terrible example for my children in xyz way.
I can never change.
Something bad is going to happen to one of my kids.
What if someone said those things to me outloud? I would be shocked, and hurt, but also I would not agree AT ALL. Why was I agreeing with the inner voices telling me this stuff?
And when I agreed with those false ideas, the result was all kinds of negative feelings that would cause me to snap at my family members and feel like I was in a funk.
Changing Beliefs & Processing Feelings For Positive Thinking
Negative thoughts and feelings are real and we feel them deeply. We have to process those feelings, but we don't have to believe the ideas behind them. We have to examine our thoughts and find a way to change our mental habits.
But how do we do that?
We evaluate what is going on in our heads in a few key ways such as being attentive and writing things down
We use the True Source of strength to establish lasting change
We build new habits through repetition
In addition, here are some awesome truths I've found that help immensely with changing our mindset.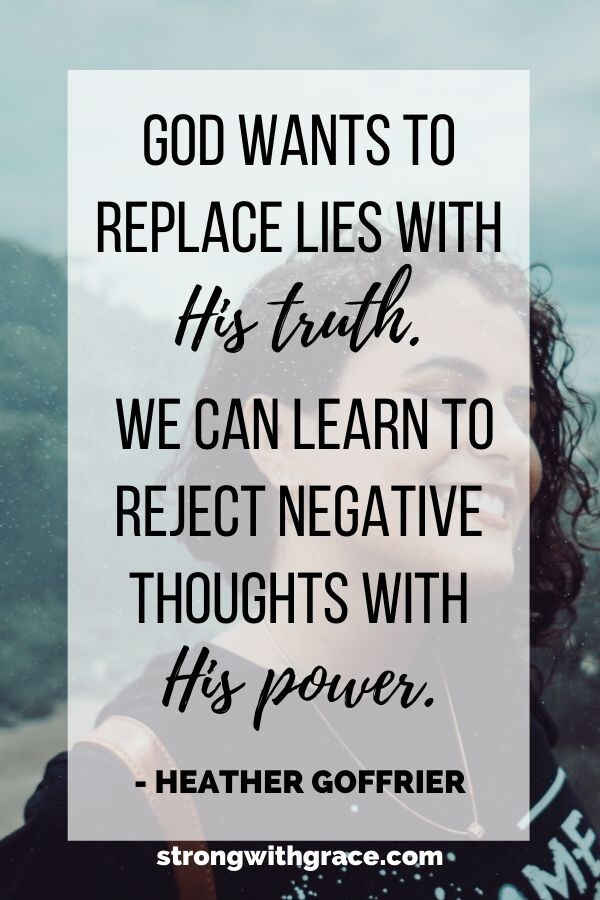 You Don't Have To Believe The Lies
I used to believe the lies that I wasn't good enough and that I was failing.
I learned that I don't have to stand for that. It's not true so why entertain those thoughts? Why let those thoughts rule my emotions and ruin my day?
I got sick of it and said "Enough!" thanks to someone pointing it out to me and guiding me through.
What I learned was that God wanted to replace those lies with His truth. I learned to reject the negative thoughts in His power. When I stopped believing the lies in my head, I found tremendous peace and my positive thinking skills grew.
You're Not Stuck- You Can Gain A More Positive Mindset
It's easy to feel stuck and like things will never change. It feels impossible. Like, I've always been this way and I'll always be this way.
Not so, my friend, not so.
It's easy to feel stuck and like things will never change. It feels impossible. Like, "I've always been this way and I'll always be this way." But it's not true. #positivethinking #momprobs
Click To Tweet
Did you know that when you change your thoughts, your brain actually changes physically? It's really amazing!
We have so much hope for change. Our bodies and minds are wired for it!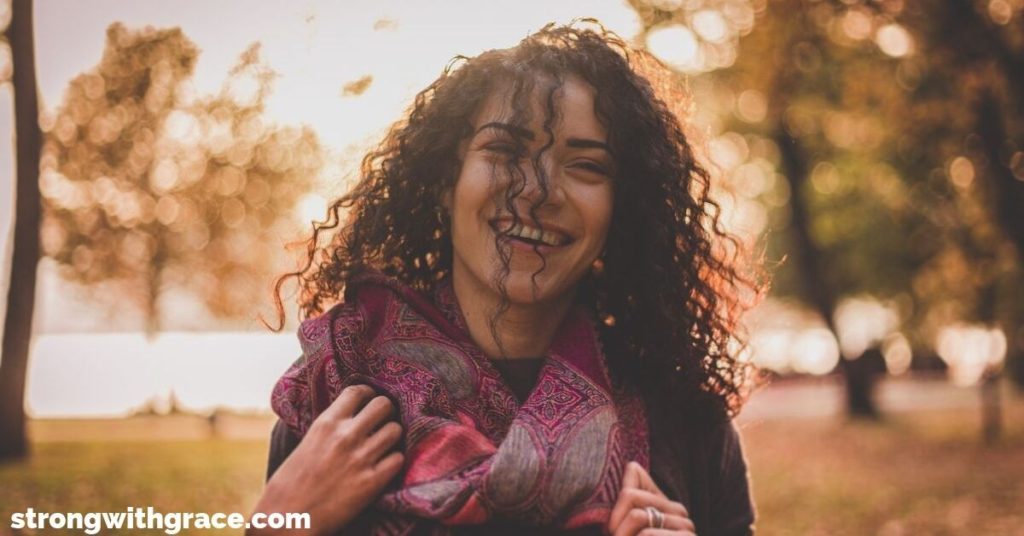 You Don't Have To Compare Yourself To Others
I'm me and you are you for a reason.
We don't have to be a better version of our friends or of the person we're jealous of. We don't have to let the opinion of our moms or dads or in-laws or friends or some critical stranger throw off our entire day.
Our value doesn't come from someone else's opinion of us.
Our value comes from God, who made us with purpose and loves us unconditionally.
Our value doesn't come from someone else's opinion of us. Our value comes from God, who made us with purpose and loves us unconditionally. #beyou #positivethinking
Click To Tweet
So we can ditch the idea of trying to live up to some impossible standard and being like someone we're not.
Are You Ready For Positive Thinking?
My mindset, my positive thinking, and my self-talk have drastically changed because of the above truths. I have so much more peace of mind and I have learned how to stand strong against the negativity that comes my way.
I'm still in the battle on a daily basis. It doesn't end when we start working on our mindset– often it gets harder for a while.
But it's worth it to make a change.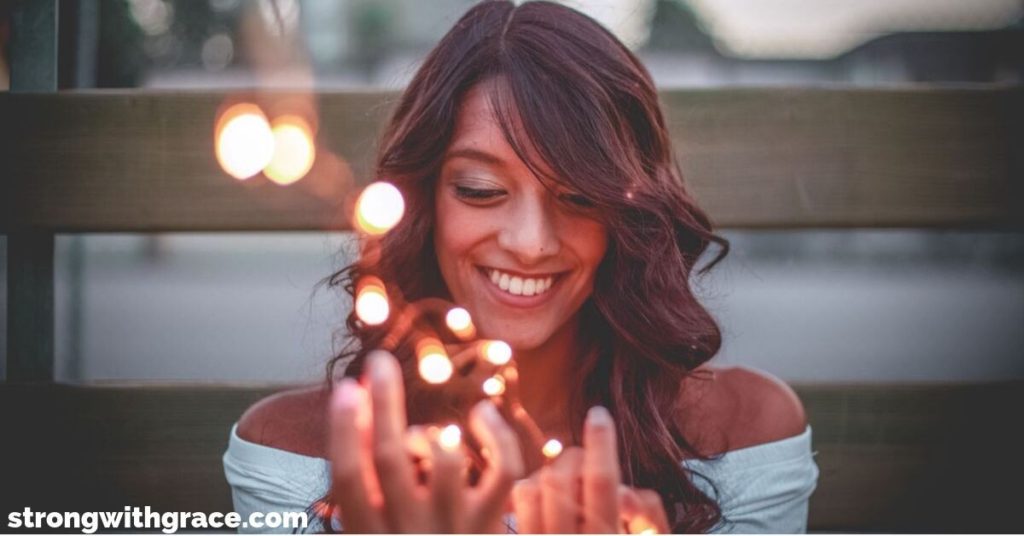 The 5 Days To Positive Thinking Email Challenge answers questions such as:
Where are you at with your current mindset and how could you be more positive?
How do you change your brain and what does that do for you?
What might be standing in the way of your positive thinking?
How can God's truth specifically help you break out of negative thinking?
How do you move forward, protecting your heart and building a new positive thinking mindset?
What You'll Gain In The Challenge:
Identify ways to change your mindset
Gain tools to fight off negative thoughts
Learn helpful steps to move forward into a better state of mind
Email Challenge Details:
One (1) Kickstart Positive Thinking (PTK) email from me each day for five (5) days.
A Daily Assignment
Printable pages for notes
Lots of inspiration, tools, motivation, and direction to help you start thinking more positively and begin living in more peace!
THIS CHALLENGE IS CURRENTLY CLOSED. THANK YOU FOR STOPPING BY!
Disclaimer:
The information offered in the Positive Thinking Kickstart For Moms and on StrongWithGrace.com are intended as anecdotal encouragement for managing negative thoughts, emotions. They are not a replacement for professional medical advice. Please discuss specific symptoms and medical conditions with your doctor. Any use of this information is at the user's discretion. StrongWithGrace and Heather Goffrier make no representations or warranties that any individual will achieve a particular result. StrongWithGrace and Heather Goffrier specifically disclaim any and all liability arising directly or indirectly from the use or application of any information contained in these materials.

Heather Goffrier is not a medical professional, and nothing on this page should be seen as individual medical advice. If you have a medical matter or emergency, please contact a local medical professional immediately.