As a mom of toddlers, are your mornings crazy and stressful? Don't miss Heather's hacks for making her daily routine flow smoothly and easily.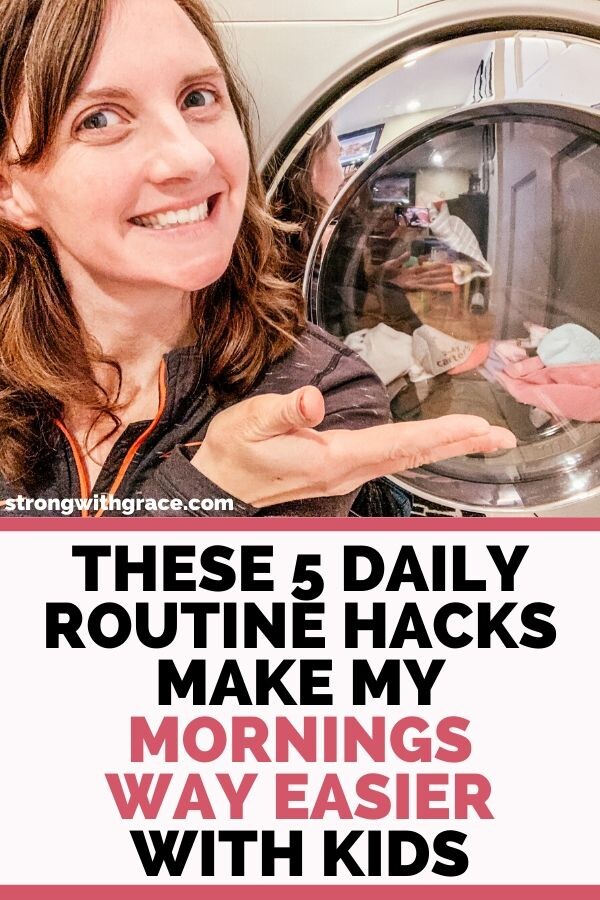 Just before my youngest daughter was born, I was a bit of a mess.
My husband was deployed, my youngest at the time had just turned one, and my oldest had preschool 5 days per week. I only got her there on time a handful of times.
Thankfully, the preschool teachers encouraged me that it was no big deal. The kids had free-play from 8:30 to 9, so if I got her there by 9 she wouldn't miss much.
Instead of allowing myself to feel frantic and worry about running behind, I allowed myself the leisure of being late. I needed that grace during that hard season.
Eventually I got into the swing of having three kids, had the chance to fully recover from my c-section, and had my hubby back home for good. At that point, I stepped up my organization and became more proactive about making my day flow better.
My Daily Routine And How I Prep For My Day As A Toddler Mom
Today I want to share those small but significant shifts with you. Hopefully, if you're at a point that you want to improve the flow of your day, you can learn from my experiences and glean these helpful tips!
1- Preparing Kid Food In Advance
I prep lunch sandwiches for my oldest the night before. Though she's not a toddler, my younger two are 2 and 3. They can be super high-maintenance in the morning, so prepping the sandwiches frees up time for me to give them the help they need.
To help your morning go more smoothly, prep lunch sandwiches the night before. #dailyroutine #momroutine
Click To Tweet
I try make sure we all start the day off right, but it can be a challenge!
I use an uncrustable sandwich maker and make 5 peanut butter & jelly sandwiches and put them in the freezer. Sometimes I rotate and do a few peanut butter and honey.
In the morning when I'm throwing the lunch together, I can grab a sandwich out of the freezer and pop it in a tupperware. Prepping the lunch sandwich ahead of time allows me to help all the kiddos when the morning feels rushed.
You could go nuts and prep 10 or 20 sandwiches if you wanted, as long as you had a good freezer-safe container to prevent freezer burn.
As of now, I don't have to prep any pre-school snacks. But I did make up this cheat sheet of toddler lunch ideas for when I need something easy.
As of now, we don't usually prep the whole lunch the night before. However, I can see moving that direction because eliminating that task would free up a lot of time.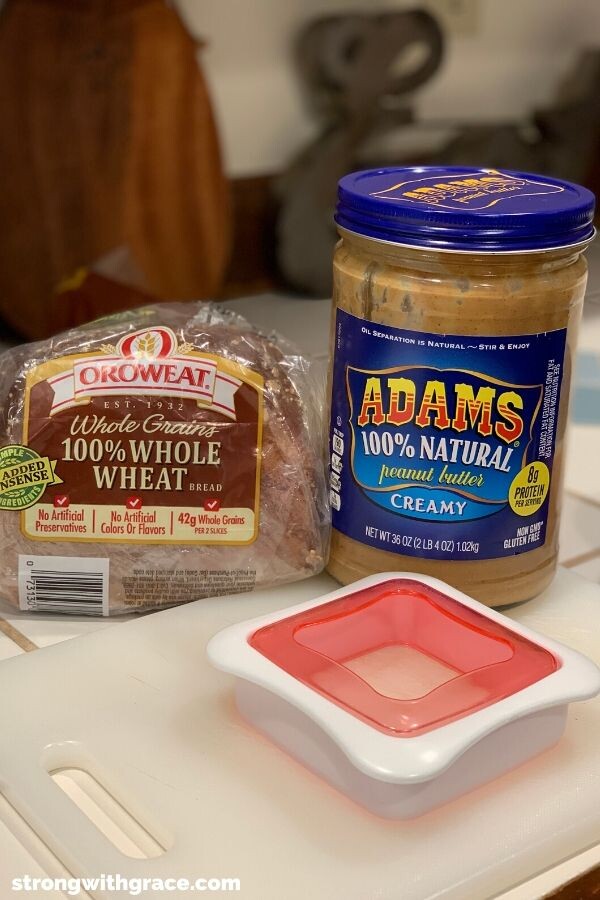 2- My Newish Showering Strategy
I started showering at night when my husband was on deployment and I had two, then three, little ones to take care of on my own. (I gave birth to our third when he was deployed).
Even after he got back, I maintained this routine because I loved it so much.
It was a total lifesaver for a few reasons:
I'm a night person and I love to sleep. I sleep as long as possible in the morning so waking up to shower before my kids woke up just wasn't happening.
I covet my downtime during baby naps, so I don't want to waste it on a shower. If I have to, I will, but I'd rather not.
It gave me time to reflect on the day and pray, ALONE. Showers during the day always included little heads popping in behind the curtain saying "I found you Mommy!!!" Cute, but not my idea of relaxing.
3- My Daily Routine For Getting Ready
I get dressed, do my makeup and hair before coming down to make breakfast. Anytime I don't complete this part of my routine before heading out to the main living area, I forget to do it later.
A Daily Routine Hack: Get dressed, do makeup and hair before coming down to breakfast. Otherwise you may not get to it. #parentingtoddlers #toddlermom
Click To Tweet
I can be out and about and realize I forgot makeup or even to finish my hair.
Not the end of the world but I like to at least look like I didn't just get out of an 80's workout video.
4- My Minimalistic Approach To Makeup
I stay minimalistic with makeup. Anyone who knows me well knows that I am extremely casual in how I dress and do my hair & makeup.
I wear foundation in a natural way to hide the red tints in my skin and to have a base layer of SPF. My belief is that makeup highlights the beauty inside, so I like using it but not overdoing it.
Makeup highlights the beauty inside, so I like using it but not overdoing it. #dailyroutine #momroutine
Click To Tweet
I use light blush and eye shadow, and mascara when my allergies aren't flaring up.
Having makeup on helps me feel prepared for the day and more awake and alert, so that's my approach.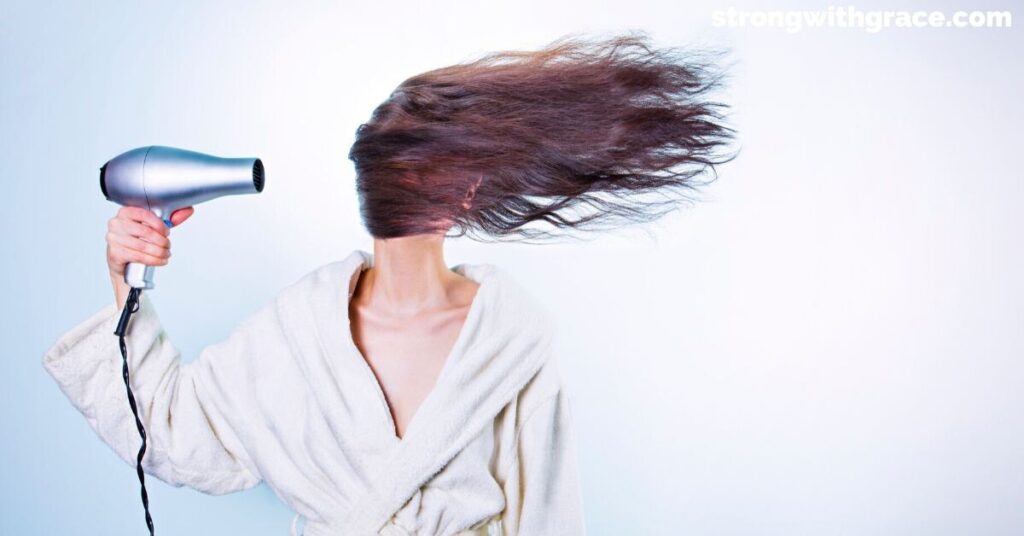 5- My Daily Laundry Routine
I try to start one load of laundry each week-day morning. I enjoy having a laundry routine because it helps me keep on top of the mounds of clothing falling out of our family laundry baskets.
My weakness is getting everything folded then letting it sit for several days in the basket on my bedroom floor. Not sure why I can't get past that last part.
Oh yeah, I have toddlers.
Staring a load each morning works great, because sometime during the day I can switch it over to the dryer. I have to do the dryer cycle twice, typically, then I end up folding it at night after the kids are in bed.
Yeah, sometimes things end up a little wrinkly, but not usually too badly. And if I really need to pull something out I'm pretty good at remembering, or I set a reminder.
Hows Your Daily Routine?
So if your daily routine is a bit of a mess, consider using one or two (or all) of these tactics to feel more organized and on track for a smooth-flowing day!
What are your must-dos in your daily routine? What can you live without doing?
If you're struggling with negativity and feel like you just get a handle on your daily tasks, consider starting my "5 Days To Positive Thinking" Email Challenge today!