Want to make a difference in the world, but feeling bogged down by the demands of parenting? Don't miss this list of 18 simple ideas to make an impact.
This is the ninth post in the New Mom Encouragement Series! Be sure to check out the other posts below!
---
How will I be able to make a difference in the world when I can't get basic tasks done?
I groaned as I lurched from the table for the 17th time, "rescuing" the baby from the basket she crawled into.
Closing my eyes and sighing, sweat dripped down my temples from the uncharacteristic heat. My endless to-do list cast aside, the house– and the world– would have to wait.
Will I ever be able to volunteer with causes I care about outside the home?
It felt like the answer was "not in this lifetime."
Sound familiar, mamas?
If you're like me, you're filled with longings to invest in your passions and use your talents. You have dreams and goals, but your adorable young kids seem to snatch them away out of thin air.
Parenting can suck every last drop of our desire, time and energy like a toddler downing a fruit pouch.
The thing is, we CAN make a difference in the world.
And we already are.
The problem is, we diminish the things we do, thinking "those little things don't count." Like helping a neighbor. Surely that's not anything special.
Taking a meal to a friend. Someone else would have if I didn't.
Donating old clothes. Everyone does that.
The real problem is…
It's not special in our eyes because we compare. I am guilty of this. I didn't singlehandedly save 100,000 orphans from a sinking boat, so what I do feels insignificant.
It's not newsworthy or awe-inspiring, so I believe it's not important.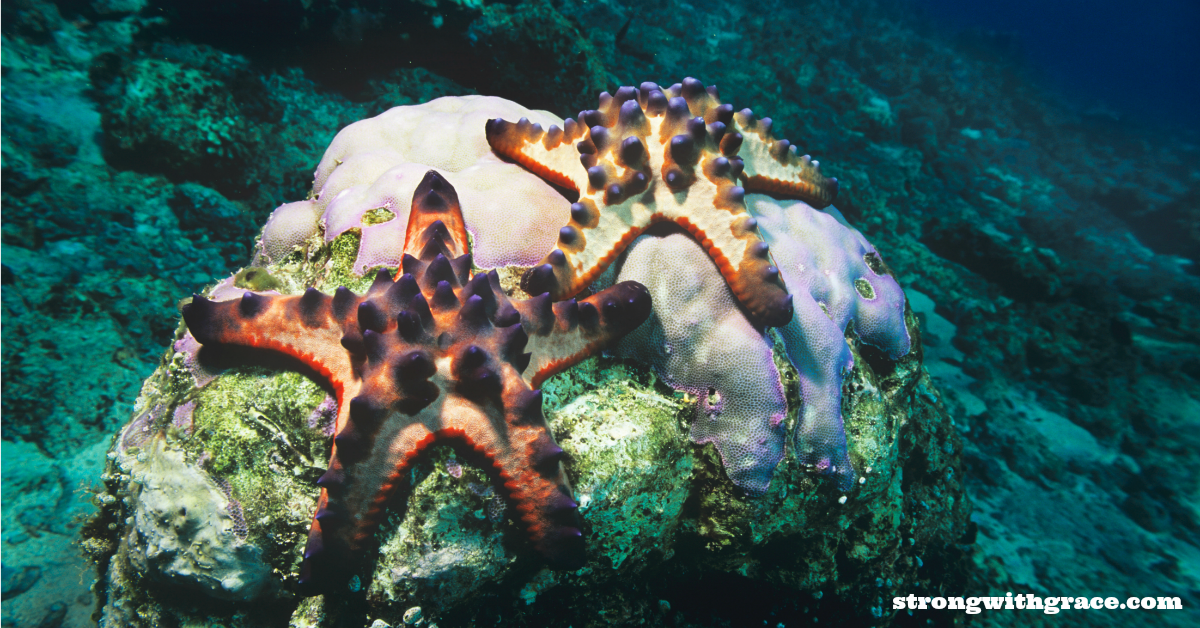 But it is important.
It's proven that consistency with little things over time makes a huge impact. The blog Little Things Matter shares:
"To illustrate the value of consistency, consider this amazing fact:
A single penny doubled every day for 31 days results in a whopping $10,737,418.24

A single penny doubled every

other

day for 31 days yields just $163.84. That's less than 1/100th of 1% of the ten million you would get if you doubled it every day!"
Consistency with little things adds up to a huge impact.
To take it further, if we could only double the penny every other day, but continued to do so for an additional 31 days, at the end we'd get that 10 million +. It would just take longer.
Slow and steady wins the race.
Motherhood is a slow trek. Many times we can only "double the penny" of investing in our favorite causes every other week (or month), so it adds up like a slow drip from a leaky faucet: barely anything in the bucket.
But hold on.
Wait just a bit longer. Leave that bucket under the faucet and it will start to collect water.
Hang in there and you'll see the impact you're making in the long haul.
Taking it up a notch.
The Bible says "you reap what you sow." (Galatians 6:7) It doesn't say, " you only reap what you sow fast. Otherwise, forget it."
Even more importantly, God is at work behind the scenes. He's able to make a difference in the world even when we're asleep (or occupied with our littles).
What a relief to realize we don't have to fill the entire bucket on our own. Sometimes I forget He's a big boy and doesn't need my help all the time. *Wink*
(But seriously, when I get discouraged I have to remind myself that He can take care of things without me)
Philippians 2:12-13 (Here's the Amplified version because it gives an in-depth explanation)

12 So then, my dear ones, just as you have always obeyed [my instructions with enthusiasm], not only in my presence, but now much more in my absence, continue to work out your salvation [that is, cultivate it, bring it to full effect, actively pursue spiritual maturity] with awe-inspired fear and trembling [using serious caution and critical self-evaluation to avoid anything that might offend God or discredit the name of Christ]. 13 For it is [not your strength, but it is] [c]God who is effectively at work in you, both to will and to work [that is, strengthening, energizing, and creating in you the longing and the ability to fulfill your purpose] for His good pleasure.
Let me repeat that last part: "it is God who is effectively at work in you, both to will and to work [that is, strengthening, energizing, and creating in you the longing and the ability to fulfill your purpose]"
God is at work in you. Isn't that a huge relief?
It is for me.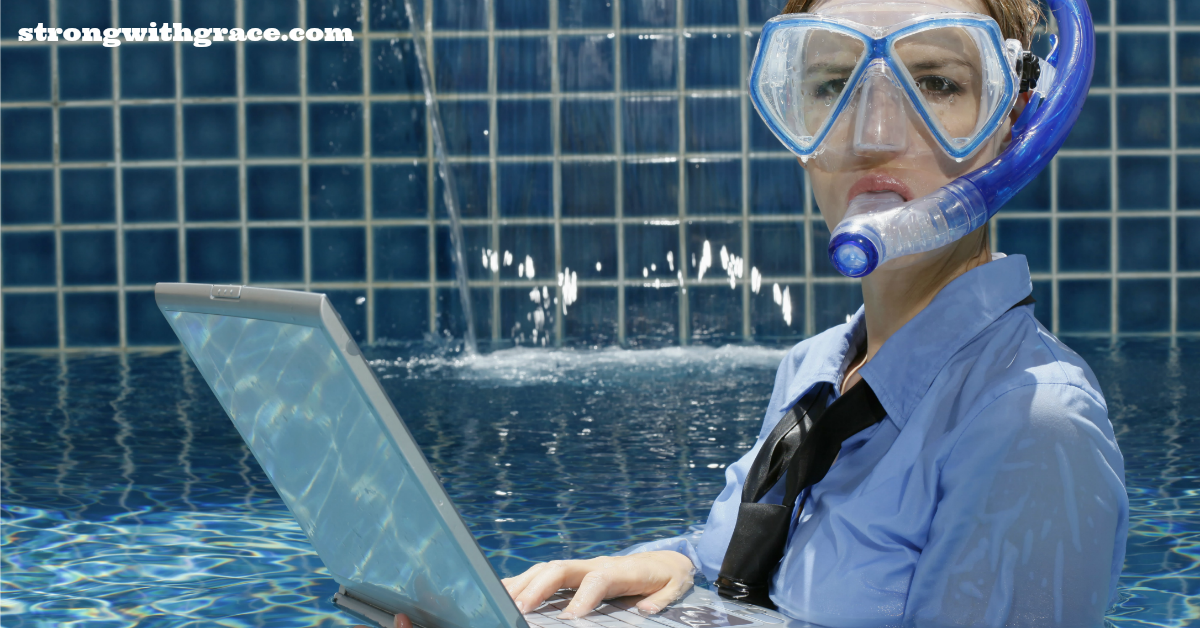 As moms with young children, we have limited time, resources, and energy. With kids in tow, we're probably not going to regularly take calls at a front desk, walk dogs at a shelter, or clean coral reefs in scuba gear.
But God is at work. And we are able to make a difference in the world, even in a small way.
That small way can add up to many full buckets if we're patient.
18 Simple Ways For Busy Moms To Make A Difference
Donate old clothes, diapers, toiletries, and other goods to a homeless shelter, pregnancy care center, or halfway house.

Pack

blessing bags

with items to give to homeless people

Pray each day with your kids for your favorite cause. This could be at breakfast, dinner, or bedtime.

Share social media posts that speak with grace and truth about issues close to your heart.

Start a blog to raise awareness

Start a Facebook fundraiser

Be friendly your neighbors (who might be hard to love)

Volunteer for your church. You could work with kids on Sundays when your kiddos are in Sunday school.

Parents.com

mentions that some churches and organizations provide childcare for volunteers during the week.

Support deployed troops- You and your kids can

send a package

to a deployed service member who may not typically receive gifts from home.

Enter data or stuff envelopes and newsletters while chilling on the couch at night.

Double a meal and take the extra to a friend who had a baby or to someone in need.

Register for a fundraising walk or 5K to raise awareness.

Get friends to run/walk with you!

Knit hats or blankets for a hospital NICU.

Cut and donate fabric or sew feminine hygiene kits for an organization such as

Days For Girls

Organize/host a play date. I did this during a deployment every two weeks to offer moms in our squadron the opportunity to socialize, build deeper relationships, and have adult time. It was fun!

Visit a nursing home with your kids. Many elderly people feel isolated and would adore a visit from children.

If going out is too much to handle, let the kids draw pictures and mail them to the nursing home.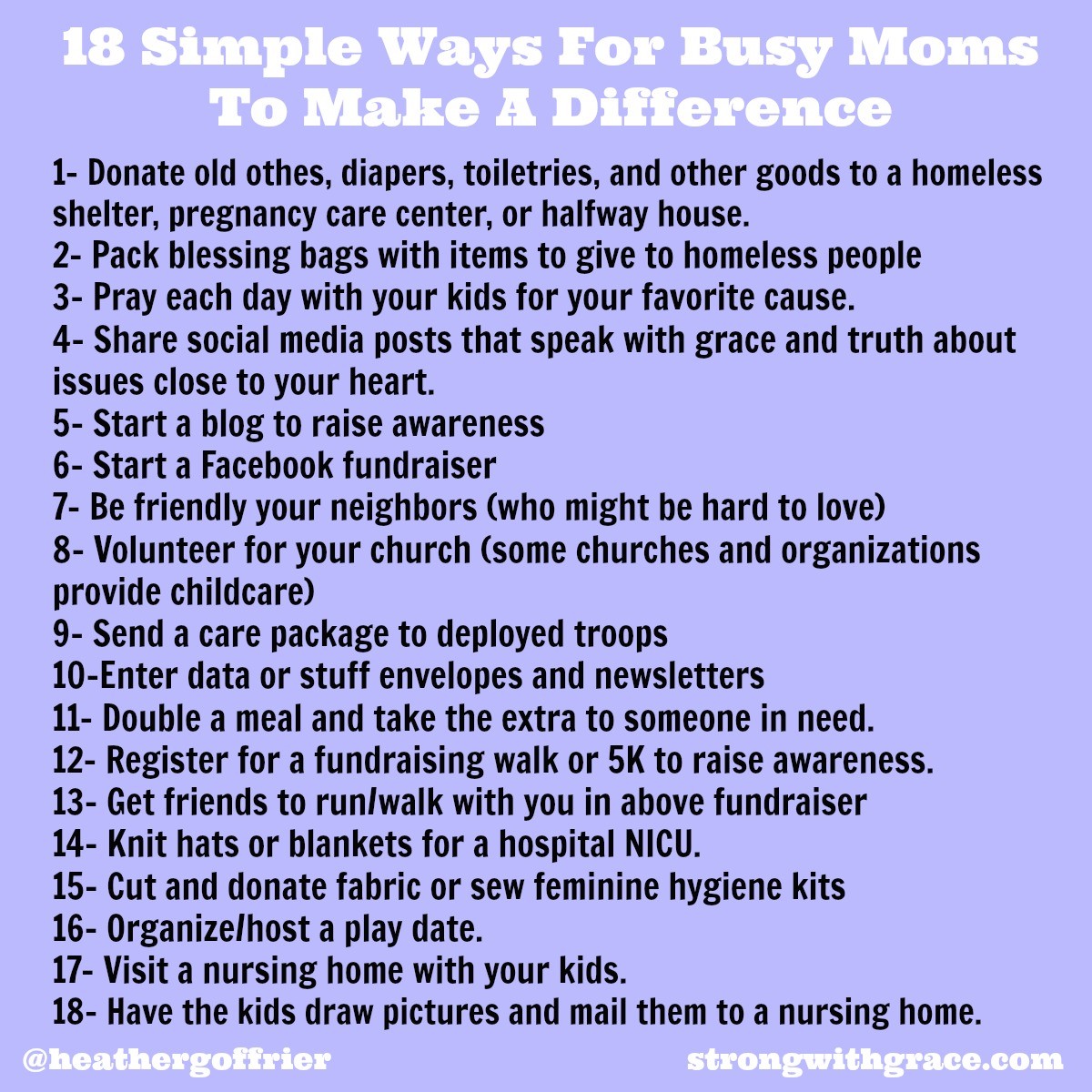 The "New Mom Encouragement" Series
This is the ninth post in the New Mom Encouragement Series! Be sure to check out the other posts below!