During times of stress and uncertainty in our lives and families, we can all use mom affirmations and Bible scriptures to help us think positively. Check out this encouraging list, plus start the free "5 Day To Positive Thinking" email challenge! Click this button to learn more: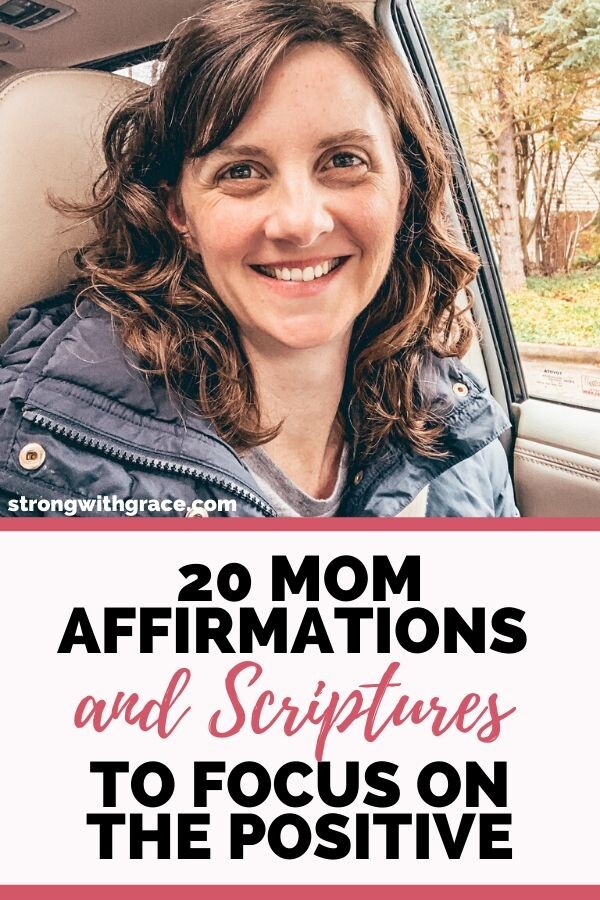 This weekend I was zoned out.
After a week of major schedule changes, my brain was processing it all:
shortening our trip to California by a day
then having our flight cancelled
starting a new routine with the kids
my oldest beginning online education
and my husband's grandmother nearing the end of life (not related to Covid 19)
I was wiped.
Though the week went well overall, when the weekend arrived I finally let down and felt the gravity of all that emotional output.
I'm sure you know what I mean!
And after reading too many news reports and updates about the current situation, a lot of fears and worries crowded out the few rational thoughts I had left in my head.
In times like these, cling to God's Word and the truths within it.
I desire to live in God's peace constantly, though I frequently don't meet that goal.
If you're like me in that, to get back to peace we not only need to read His words, but receive them daily, repeatedly, as our minds get off-course.
It's easy to get stuck in false ideas, such as thinking we need to worry about the future and health of those we love. But it says in Luke 12:25, "Who of you by worrying can add a single hour to your life?"
So true.
Worry does nothing for us, yet it's hard to step away from it.
Here are are combination of 20 verses and mom affirmations to help us all refocus on truth, and claim it for ourselves. We can be confident in His promises and walk in peace, as He replaces our fears with His Words of Life.
RELATED: 10 SCRIPTURES ON CONTENTMENT THAT WILL ENCOURAGE MOMS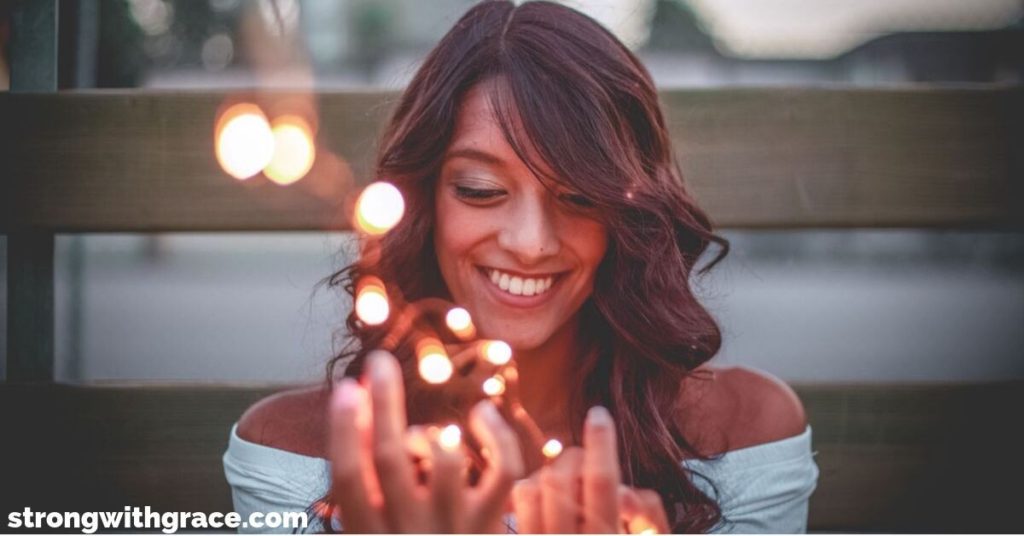 It's hard to focus on the good! If you're ready to overcome negativity and retrain your brain to dwell on truth, check out my "5 Days To Positive Thinking" email challenge. Click this button to learn more:
Mom Affirmations And Scriptures For Our Emotions
Affirmation #1- I don't have to be afraid because God is with me.
Isaiah 41:10 Fear not, for I am with you; be not dismayed, for I am your God; I will strengthen you, I will help you, I will uphold you with my righteous right hand.
Psalm 23:4 Even though I walk through the valley of the shadow of death, I will fear no evil, for you are with me; your rod and your staff, they comfort me.
Affirmation #2- I can be content in my circumstances, because even when I am at my weakest, I am strong in the Lord.
2 Corinthians 12:9-10 But he said to me, "My grace is sufficient for you, for my power is made perfect in weakness." Therefore I will boast all the more gladly of my weaknesses, so that the power of Christ may rest upon me. For the sake of Christ, then, I am content with weaknesses, insults, hardships, persecutions, and calamities. For when I am weak, then I am strong.
Psalm 73:26 My flesh and my heart may fail, but God is the strength of my heart and my portion forever.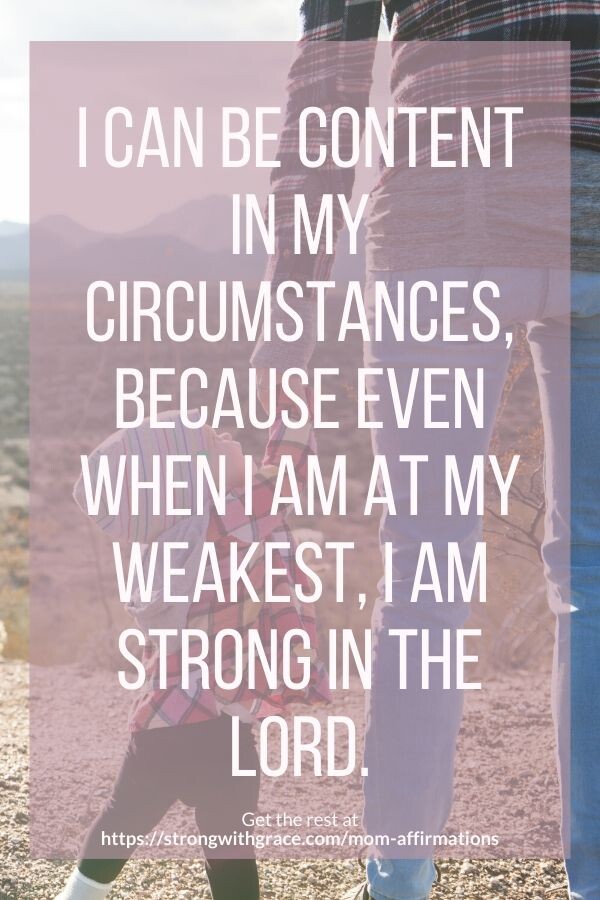 Affirmation #3- I have a spirit of power, love, and self-control.
2 Timothy 1:7 For God gave us a spirit not of fear but of power and love and self-control.
Affirmation #4- I receive the peace available to me through Christ. I choose to reject fear in the name of Jesus.
John 16:33 I have said these things to you, that in me you may have peace. In the world you will have tribulation. But take heart; I have overcome the world."
John 14:27 Peace I leave with you; my peace I give you. I do not give to you as the world gives. Do not let your hearts be troubled and do not be afraid.
RELATED: How Do I Trust God With My Family's Safety?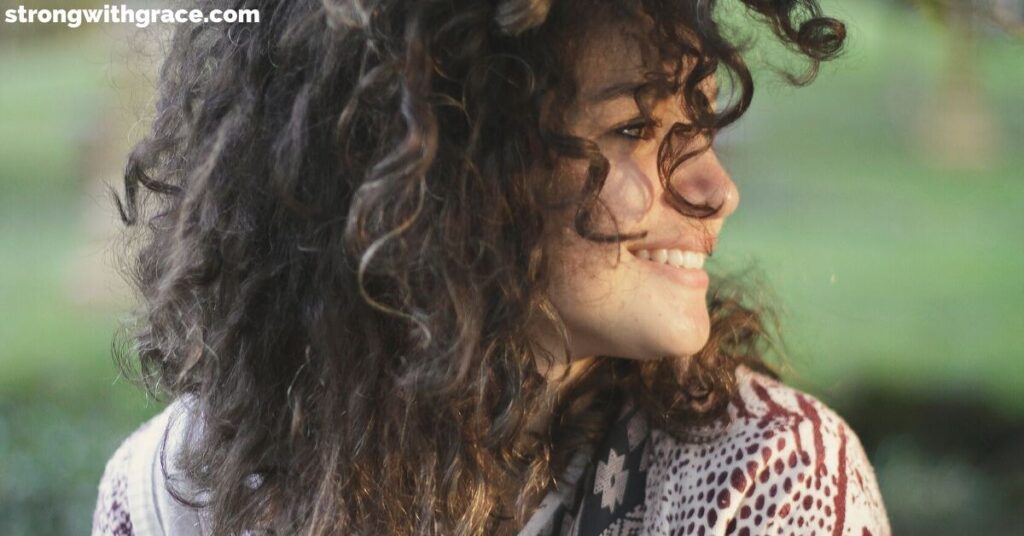 Mom Affirmations and Scriptures For The Future
Affirmation #5- I receive the comfort and rest God offers me. I will keep my eyes and heart open for those I can comfort.
2 Corinthians 1:3-4 Praise be to the God and Father of our Lord Jesus Christ, the Father of compassion and the God of all comfort, who comforts us in all our troubles, so that we can comfort those in any trouble with the comfort we ourselves receive from God.
Matthew 11:28 Come to me, all you who are weary and burdened, and I will give you rest.
Affirmation #6- My hope is in the Lord, and I will wait on Him and trust Him for my life and future.
Psalm 121:1-2 I lift up my eyes to the mountains— where does my help come from? My help comes from the Lord, the Maker of heaven and earth.
Psalm 31:24 Be strong and take heart, all you who hope in the Lord.
Luke 12:6-7 Are not five sparrows sold for two pennies? Yet not one of them is forgotten by God. Indeed, the very hairs of your head are all numbered. Don't be afraid; you are worth more than many sparrows.
Isaiah 12:2 "Behold, God is my salvation; I will trust, and will not be afraid; for the Lord God is my strength and my song, and he has become my salvation."
When the gravity of all your emotional output comes crashing down, and the worries of the day won't leave you alone, I encourage you to claim His promises and walk in His peace, minute by minute, hour by hour.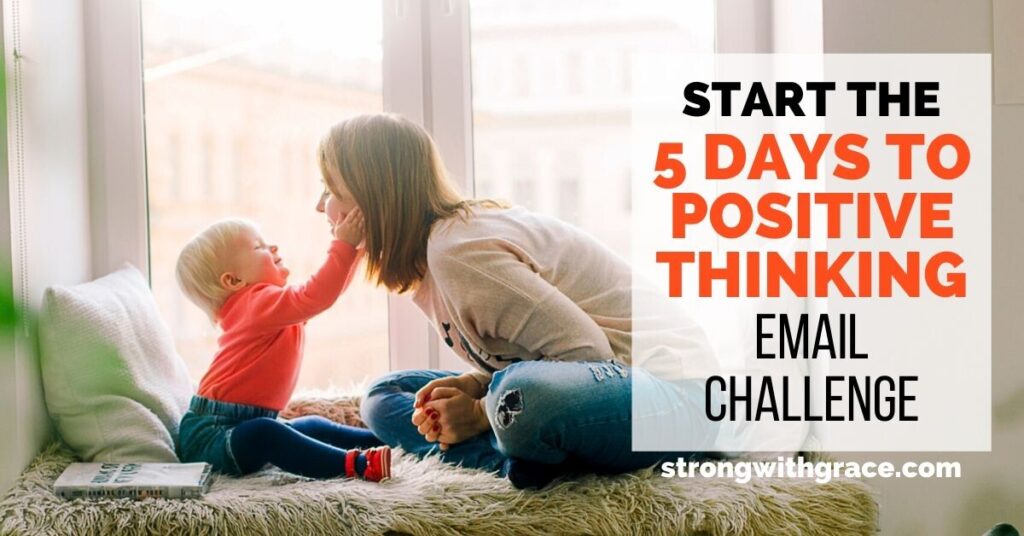 If you want retrain your brain and start to conquer negativity, check out the "5 Days To Positive Thinking" Email Challenge! Click this button to learn more: