As a new mom, do you ever envy others whose lives are more carefree? I did. Don't miss my fav scriptures on contentment plus a free email challenge! Learn more here: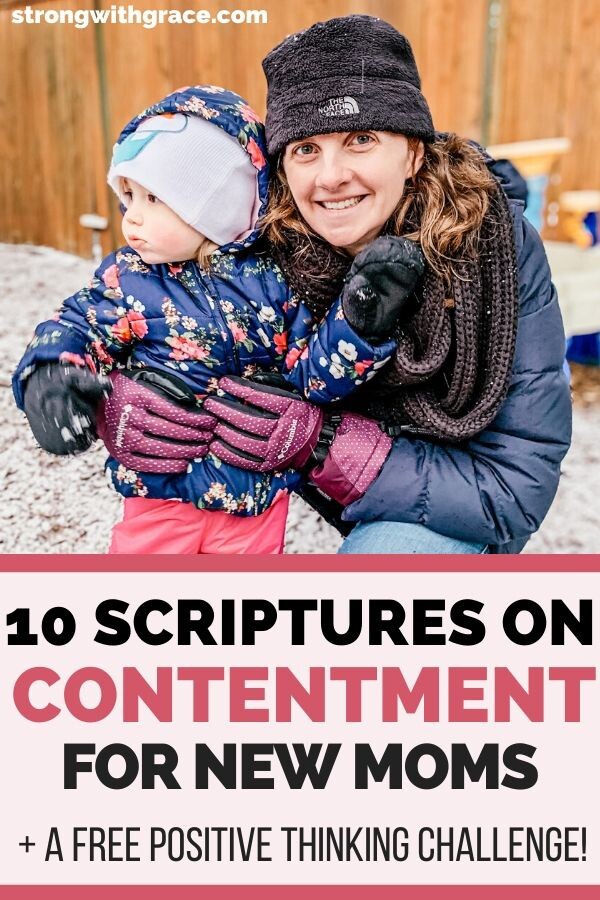 The last time I flew with my family, I sat helpless as a tiny human ate, wiggled, and climbed all over me for 2.5 hours in a 2×2 foot space.
In other words, I was flying with a lap infant.
In the moments where I could look away from my child, I found myself peering enviously up the aisle at a woman watching a movie.
A grown-up movie.
She looked so relaxed, at peace, and happy.
My staring was interrupted by the baby clamoring for something to chew on and hubby asking for the snack bag. He was across the aisle attempting to pacify our oldest and prevent our toddler from climbing on the seats and screaming.
I wondered how long it would be until we could read a magazine on a flight, or watch an actual (grown-up) movie with no one climbing on top of us or badgering us for treats.
It's not that I wish I didn't have kids or that I'm discontent with my life.
But I was a bit discontented with that moment, that flight.
Sometimes I need a reminder that I'm in a phase that's really not about my own comfort.
And that my life is not always about the simple pleasures of grown-up birthday parties, traveling with ease and going where I please (like when I'm house-bound during nap time or a global health crisis).
It's normal to want a bit of my freedom back for a few minutes.
One kid-free flight.
A night away from the kids.
An evening at home where they (who shall not be named) don't scream at the top of their lungs because they want Cheerios when they just had Cheerios 5 minutes ago as their pre-bedtime snack.
For the love.
RELATED: 20 MOM AFFIRMATIONS AND SCRIPTURES TO COUNTER NEGATIVE THOUGHTS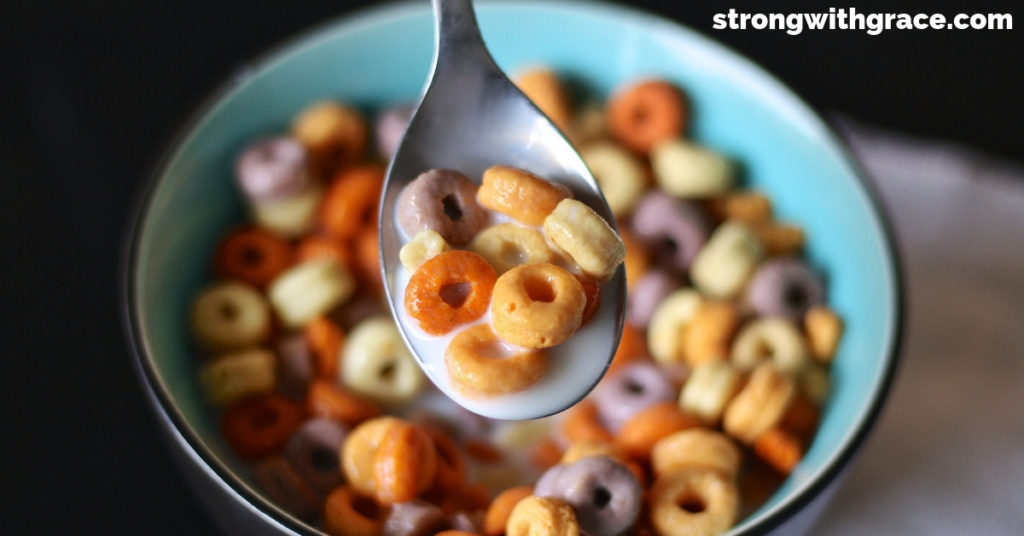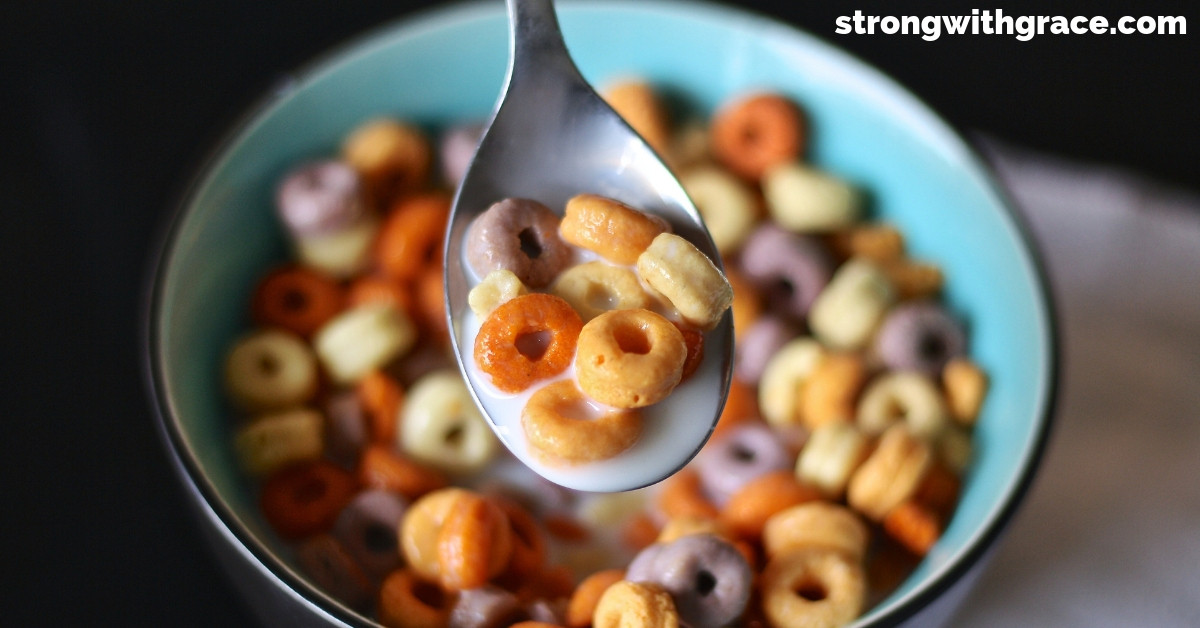 Choosing Our Pain
It's healthy to get out and away from the kids and take care of yourself first once in a while.
But when I'm with them, sometimes I need to remember that not everything worthwhile is easy.
Sometimes we have to, as this article from Quartz states, "choose our pain."
Joy in life isn't about chasing all the awesome things we want that those around us seem to have…
The people up the airplane aisle with the "stress-free" life who can watch movies all flight long.
The perfect Facebook and Instagram posts.
Other moms who seem to have it all together while I don't feel a good mother at all.
If I spend my time wanting what other people have, I'll miss what's right in front of me.
How many times have you heard an empty-nest mom say, "I miss those days!" or "The time goes by so fast! Enjoy it while you can."
And we all roll our eyes a bit and think, you must be forgetting how hard this is.
I think the reality is that joy is actually possible DURING the hard times. Peace is available IN THE MIDST of difficulty.
Life is bittersweet.
It's rarely all joy or all pain. The good comes hand in hand with the bad.
But when we can turn our hearts and minds to scriptures on contentment, and think about what is true and lovely, we can experience God's peace and presence (Philippians 4:8-9).
RELATED: 7 WORDS OF ENCOURAGEMENT FOR WOMEN ON HOW TO THRIVE AS A MOM
My 10 Favorite Scriptures On Contentment For New Moms
I've found quite a few scriptures on contentment that help me in these moments.
Even when I'm a trapped being strapped to a tiny human, if I can remember to turn to God's word, the Holy Spirit ushers me into the peace that is already ours in Christ.
1 Corinthians 7:17a
"Nevertheless, each person should live as a believer in whatever situation the Lord has assigned to them, just as God has called them."
God has purpose for you to be where you are… lean into Him and inquire of Him when you question your situation.
Isaiah 26:3
"You will keep in perfect peace those whose minds are steadfast, because they trust in you."
To learn more on how God can keep your mind (and imagination) at peace through scriptures on contentment and changing your mindset, check out my "5 Days To Positive Thinking" Email Challenge here:
1 Peter 5:6-7
"Humble yourselves, therefore, under God's mighty hand, that he may lift you up in due time. Cast all your anxiety on him because he cares for you."
It's amazing what happens when He lifts our burdens of anxiety off and carries them for us!
2 Corinthians 12:9-10
"But he said to me, 'My grace is sufficient for you, for my power is made perfect in weakness.' Therefore I will boast all the more gladly about my weaknesses, so that Christ's power may rest on me. That is why, for Christ's sake, I delight in weaknesses, in insults, in hardships, in persecutions, in difficulties. For when I am weak, then I am strong."
In motherhood, we come face to face with our biggest weaknesses. But that awareness doesn't have to crush us. Instead, it can help us walk into the loving arms of our Father who has power over our weaknesses and the ability to redeem any mistakes we make.
Proverbs 3:5-6
"Trust in the Lord with all your heart and lean not on your own understanding; in all your ways submit to him, and he will make your paths straight."
We don't always get the big picture, but He does.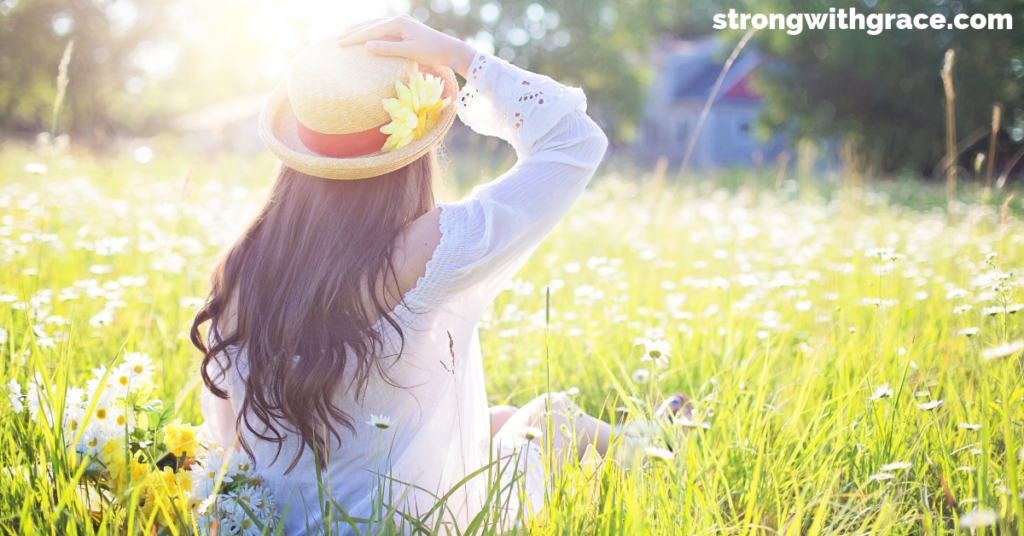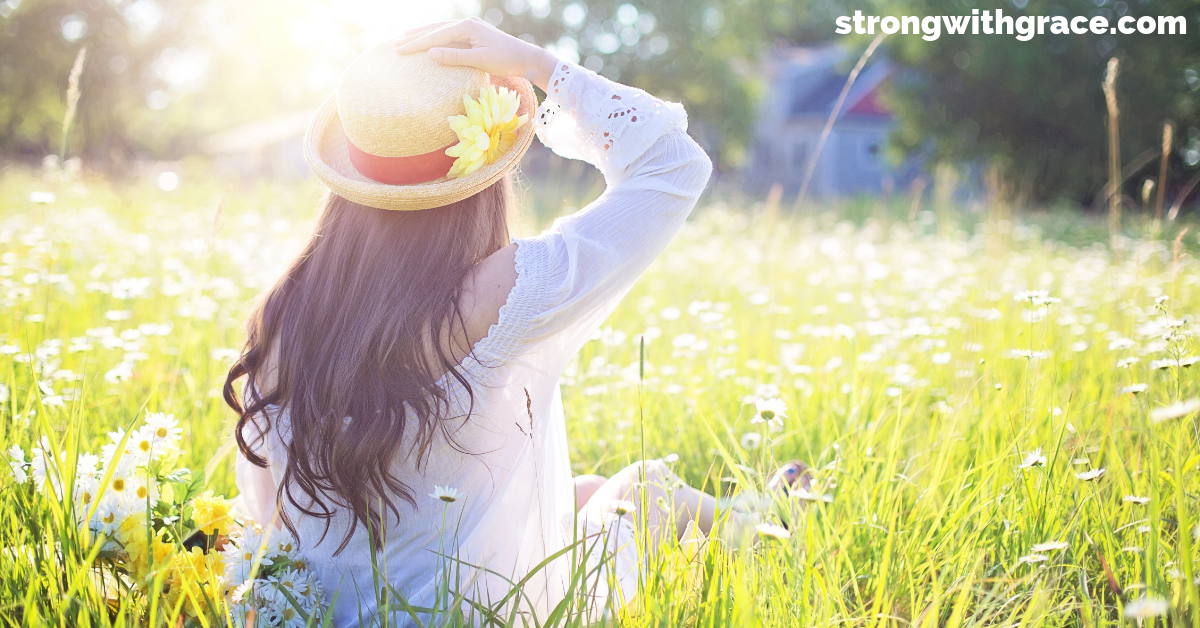 Let us rejoice today and be glad!
Psalm 118:19-24
"Open for me the gates of the righteous; I will enter and give thanks to the Lord.
This is the gate of the Lord through which the righteous may enter.
I will give you thanks, for you answered me; you have become my salvation.
The stone the builders rejected has become the cornerstone; the Lord has done this, and it is marvelous in our eyes.
The Lord has done it this very day; let us rejoice today and be glad."
When we focus on thankfulness, our mind can't continue to dwell on negativity. I like to think about 10 things I'm grateful for when I'm stuck in a rut and can't keep my mind of my struggles.
Hebrews 13:5
"Keep your lives free from the love of money and be content with what you have, because God has said, 'Never will I leave you; never will I forsake you.'"
He is our Provider. We can trust that what we have is enough for today.
RELATED: HOW TO FIND CONTENTMENT IN GOD (AS A TIRED MOM)
1 Timothy 6:6-7
"But godliness with contentment is great gain. For we brought nothing into the world, and we can take nothing out of it."
There will always people in this world who have more than us, and people who have less. If we aren't content where we are, we won't be content when we have more or less in the future.
Luke 12:15
"Then he said to them, 'Watch out! Be on your guard against all kinds of greed; life does not consist in an abundance of possessions.'"
It's easy to be envious of what "everyone else" has, like the brand new version of the double stroller I got on Craig's List, or when I get the "got a minivan" text from an excited friend.
I even have a minivan myself now, and while I love it, having it doesn't bring life.
Philippians 4:12-13
"I know what it is to be in need, and I know what it is to have plenty. I have learned the secret of being content in any and every situation, whether well fed or hungry, whether living in plenty or in want. I can do all this through him who gives me strength."
Paul is an amazing example of contentment here. Even through prison, persecution and separation from friends, he realized he could be content in the power of Christ. We can too!
The "5 Days To Positive Thinking" Email Challenge
I hope you enjoyed these scriptures on contentment!
To grow even stronger in your ability to focus on truth, don't miss my "5 Days To Positive Thinking" Email Challenge! You'll get tools and guidance for exchanging negativity for truth and a positive mindset! Get access below: