Trick or treating with toddlers can be tough, especially when you're rushing and they're bouncing off the walls. Grab these 6 tips for an easy Halloween!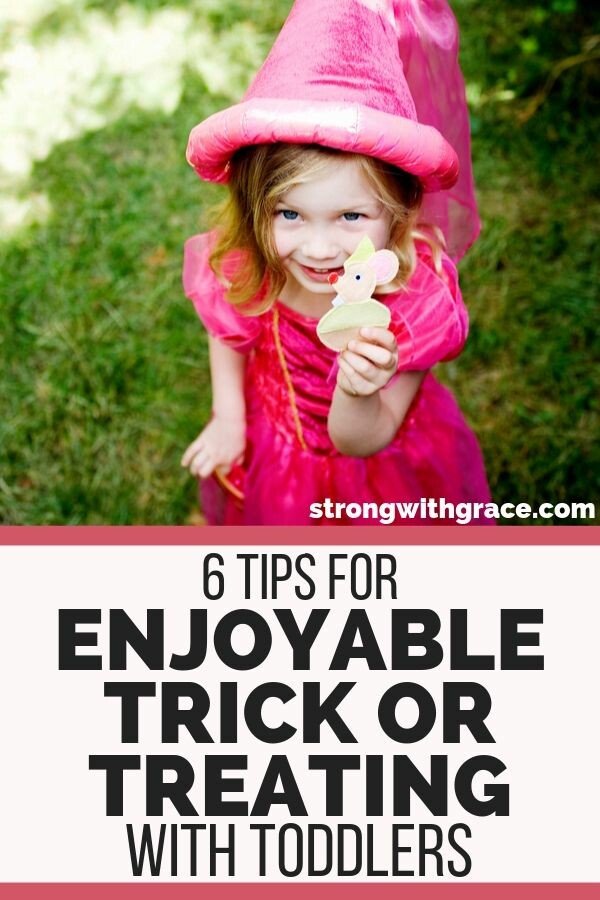 A couple years ago on Halloween, I disobeyed my doctor. I took my kids trick-or-treating while I was 8 months pregnant and on modified bed-rest.
My husband was deployed with the Navy, and it was on me to make Halloween happen that year. I couldn't stand the thought of not letting my oldest daughter trick or treat, even though I'd already been to triage once for contractions.
And yes she would be bouncing off the walls and probably not go to sleep until 10 pm after her sugar intake… and yes, Daddy was missing it and we were really missing him and his help… I wasn't going to let her miss out.
Plus, our community in Coronado had the cutest little Halloween event downtown. All the shop owners sat out on the sidewalk with candy to give away. Pretty much all the island residents (including all my daughter's friends) would walk down Orange Avenue dressed in adorable and creative costumes.
How could we miss it?
But trick or treating with toddlers can be challenging. Here are some tricks I used (or learned the hard way) to make the occasion go smoothly.
1- Plan Ahead When Trick Or Treating With Toddlers
We knew that we would be going downtown Coronado that year. Other years we have wandered our own neighborhoods, joined friends, and/or gone to special streets decorated like crazy for Halloween.
The key is to plan ahead.
Trying to figure out where to go at the last minute with excited, emotional and costume-obsessed children bouncing around your house… well, that's gonna drive you crazy.
2- Allow Plenty Of Time
Just like not deciding your plan at that last minute, don't stress yourself out by not allowing enough time to get ready.
Is it just me, or doesn't everything take FOREVER with kids?!
Plan enough time for the potty breaks or diaper changes, the outfit snafu or snack spill. And leave yourself enough time to get your own outfit on, whatever it may be (see point #5).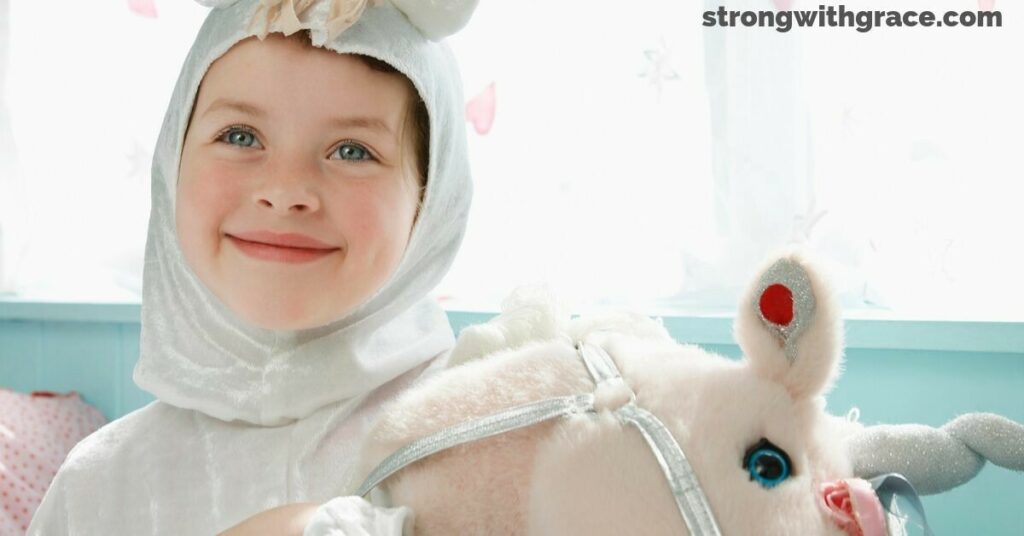 3- Feed The Toddlers Healthy Snacks Beforehand (Or Bring Some Along)
Ok so we know that your child is going to down several kilos of straight-up sugar in the next couple of hours. It helps to at least TRY to feed them a healthy snack before heading out.
Some dried fruit and nuts, PB&J, a scrambled egg, veggies and dip… basically whatever healthy item you can get them to eat to keep them feeling more balanced and not on huge sugar high (that comes later).
(If you need some ideas try these healthy options.)
4- Get Trick Or Treating Pictures Early On
Let's face it. After the trick or treating with toddlers begins, all bets are off on how long the costume lasts. Grab your pics before you head out or you might miss recording the adorable cuteness for all time.
5- Play Along By Dressing Up Yourself
The Halloween prior to the one I mentioned above, I didn't dress up with my family. And I regretted it. My husband didn't go full-on costume, but he sported a themed shirt.
I didn't feel too bad about it but I just felt like kind of a scrooge who didn't get involved. I wished I'd at least thrown on something easy. (See, I didn't plan ahead and it bit me in the booty.)
So the year after when my oldest begged me to get in on their Paw Patrol themed costumes, I indulged them. I hesitated because I'm so over Paw Patrol. But, I ended up hitting up Goodwill and found a decent blazer and red purse so I could be Mayor Goodway.
And in all honesty, I don't know if anyone actually realized I was Mayor Goodway. That itself was kind of embarrassing because if they couldn't tell I was her, then they just thought I was a hugely pregnant lady with a tacky red purse and a ginormous blazer (had to get it big to fit around my belly).
But that didn't even matter, because my oldest daughter was SO thrilled that I was dressed up. My younger daughter was only 1 and she didn't even realize she was Chickoletta, so I doubt she noticed my attire at all.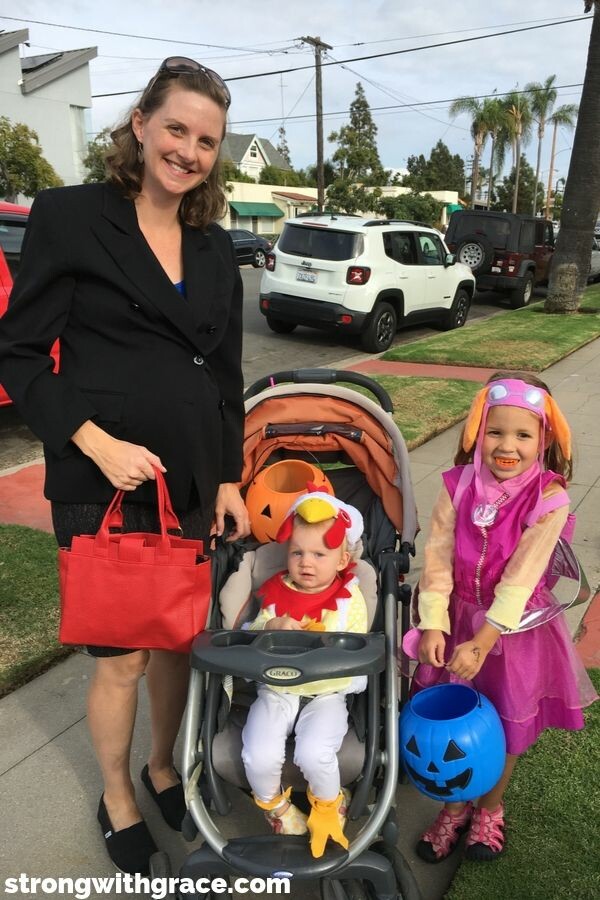 6- Don't Stress About The Small Stuff
Besides just getting out the door, probably the most difficult thing was that I was having minor contractions. I had gone into triage a few weeks earlier because the contractions had gotten closer together.
Thankfully it wasn't labor, but the doctor had instructed me specifically not to go on any long walks in the heat.
Hmmm. Trick or treating with toddlers downtown in the California sun? Well, by the end of one hour, we had covered several blocks and I was thinking I really needed to get home to the couch and put my feet up. Either that or baby #3 was going to come WAY too early.
Thankfully, around that time my oldest said, "Mommy, I'm ready to go home."
And you know, kids have so much fun but it wipes them out. And they don't worry as much as we parents do about all the little details. They just want to get some candy, see friends, and show off their costumes. I think. Actually I'm not 100% sure what all goes on in a small child's mind, but what I do know is that it's a lot more fun if we can just relax and enjoy the process.
So don't sweat the small stuff.
Trick or Treating With Toddlers Can Be So Fun!
If I can take two small kids trick or treating by myself (8 months prego), with everyone in costume, and STILL have a good time all while having contractions, then I know you can have an enjoyable experience trick or treating with toddlers too. Even if your kids are bouncing off the walls and don't go to sleep until 10 pm after their sugar intake… it will all be worth it.
Happy Trick or Treating!