Flying with baby on lap is a challenge. Grab these 14 essential tips for a peaceful, pleasant flight with your lap infant.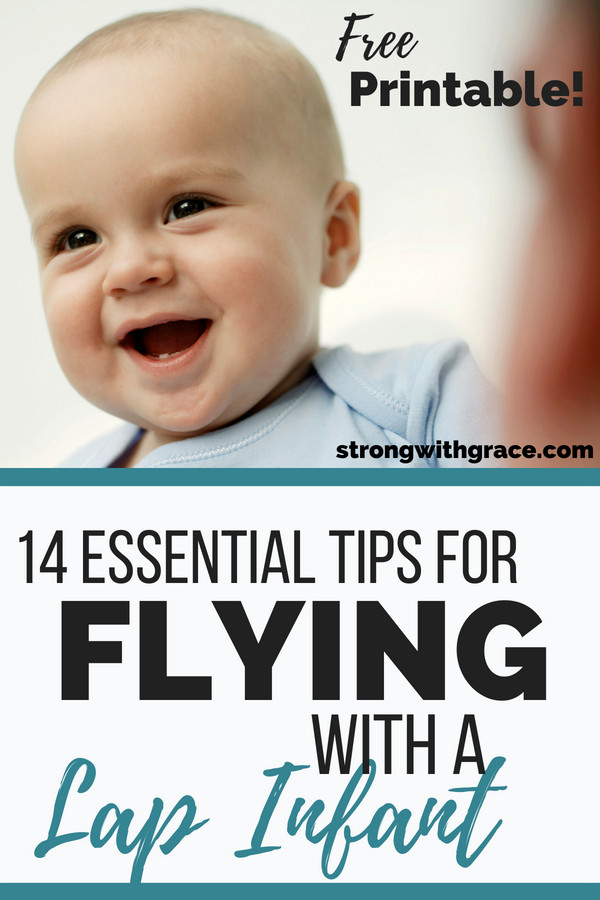 "Your baby was soooooo good on the flight! I didn't hear her at all!"
I've almost always gotten that comment when I've flown with my kids as infants.
You probably know, but babies are notorious for screaming on flights. 😉
I've seen "the look" as I'm stumbling down the aisle with a baby, carrying way more than appears possible. The look of "oh phew they're not sitting by me" or "oh crap they ARE sitting by me."
If I'm totally honest I've had those thoughts as well, especially before kids.
Everyone just wants to have a peaceful, relaxing flight.
No one wishes for a peaceful flight more than the parents flying with baby on lap!
To help you get that calm, relaxing trip, I'm going to give you one of my best tips for keeping the baby happy. (Plus 14 more essential tips in my free printable below!)
It's seriously a life-saver for you and your sweet little one.
It has saved me a ton of agony.
And if you've ever held a screaming baby on a flight (and I have) then you know that I do mean agony.
Keep your baby happy on a flight with this tip
Ok here it is:
Always feed your baby during takeoff and landing. 
Try to time it for the exact few minutes the plane is climbing through 5-15,000 feet. They usually ding the flight attendant bell at 10,000 feet to alert you that electronics can be used. You'll also recognize it as the time your ears start to pop.
Babies can't control when their ears pop. As the pressure in the air changes, their ears start to hurt.
Cue baby screams.
Instead, feeding your baby will allow them to naturally release the pressure in their ears by swallowing. They won't even know it's happening.
A few exceptions:
If you're baby is asleep, let him or her sleep. Their ears will release without them noticing. If they do awaken and seem fussy, feed them then. But otherwise, enjoy the peaceful snuggles!
Ok I'm a real mom, and I know it's not always easy to time when your baby is hungry. I've nursed my baby right before takeoff and she did fine during the climb. I've also had to nurse one of my kids about a half hour before boarding, so she wasn't really hungry at takeoff. But I fed her during takeoff anyway and she ate enough to let her ears pop. Moral of the story: Just do the best you can with what you got. 😉

14 Essential Tips For Flying With A Lap Infant
Feeding your baby at takeoff and landing will get you a long way toward that enjoyable flight.
However, you don't want to miss my 14 Essential Tips for Flying with a Lap Infant. It's a free printable that will make your trip SO much better.
I'll give priceless tips such as:
The best travel changing pad that I use personally
Tactics for preventing your diaper bag contents from being ruined (*hint: I once had someone spill a water bottle all over my things!)
Boarding logistics
Stroller strategies
Toy suggestions
and more!
Grab your free list today and enjoy the friendly skies with a smile and a happy baby!