Avoid these 7 newborn baby schedule mistakes to help keep baby happy and well-rested. Includes free printable with top 6 baby sleep tips.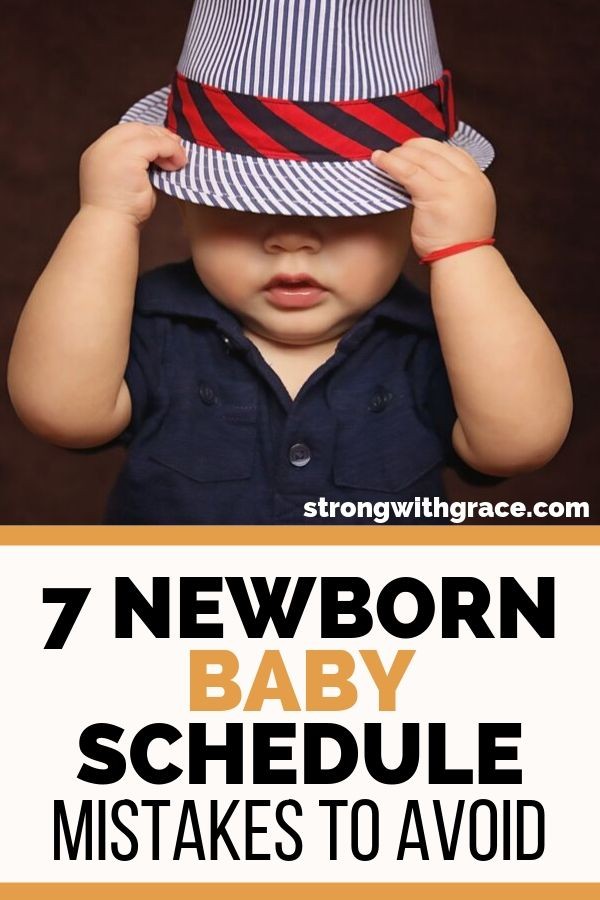 We hope you enjoy the products we recommend!  This post may contain affiliate links. That means we get a portion of the commission if you click through and make a purchase, but you don't pay a cent more. Thank you for supporting our small business as we strive to help you rock mom life!
My husband met our youngest daughter for the first time when she was five months old, due to a deployment with the US Navy. He also had left on deployment two weeks after the birth of our oldest.
Thus, I wanted to maximize the amount of sleep I would get while solo-parenting a newborn.
So I chose to use a newborn baby routine to help guide our little ones, pretty much as soon as they were home from the hospital (it started with the hospital's instructions to feed baby 8-12 times in 24 hours for the first several days… a great place to build from).
I was so glad I used a gentle routine, too, because all three of my daughters slept through the night between 10-16 weeks. Then I could get a good nights sleep as well.
Early Baby Schedule Mistakes
As a new mom, I certainly had a bit of trial and error as we figured out what worked. And each child was a bit different, so I tried to pay attention to each baby's signals (I LOVE the book, "Secrets of Baby Whisperer"… it teaches you how to read baby's cues!)
I learned what worked and what didn't, and through every disruption of her infant sleep schedule and every success, I gained confidence.
And, the better she slept, the more well-rested I felt and the better I was able to do my job as Mom.
I put my best infant sleep tips into a free printable– you can grab it here:
7 Newborn Baby Schedule Mistakes To Avoid
From the beginning, I started her early on a gentle sleep routine to help her settle into a predictable schedule.
I'd learned a few things– good and bad– from using a routine with my first two kids. The following mistakes come from personal experience, talking with friends and other research I've done.
I was able to avoid these pitfalls and help baby sleep through the night at an early age.
The routine resulted in a baby who happily and easily adjusts to most changes we throw at her.
Mistake #1- Not Letting Baby Eat When Hungry
When baby is hungry, for heaven's sakes, feed the child!
This is why infant scheduling gets such a bad name. People try to stick to an exact time at which they're "supposed" to feed the baby, so they don't feed them even though baby is wailing for a meal.
At no time should you ever deny food to a baby who is hungry.
One reason for trying to keep to a schedule is to prevent baby from "snacking." Snacking is when baby just nurses for a minute or two and doesn't take in a full feed. Then he or she gets hungry in 45 minutes (or sooner!) and cries for another snack.
Now you're feeding every hour or more. Yikes!
The goal is to encourage newborns to fill their tummies. Their stomachs are super small so they aren't taking in a large amount of ounces, but the more they eat the longer they'll stay full.
Two to three hours is the average between meals for a newborn in the first week (that equals 8-12 feeds in a 24 hour period).
Nursing or bottle feeding more often than that could push you to the brink of going nuts (wink). So creating a predictable pattern of activity and events that baby experiences will help you avoid constant feeding sessions.
Mistake #2- Nursing to Sleep
Nursing to sleep is somewhat inevitable in the first few weeks of baby's life. My third was born at 37 weeks, and though she wasn't a preemie, she was WAY more sleepy those first few weeks than my other two.
I didn't mind all the extra snuggles!
And they certainly didn't derail her ability to fall into a routine after she was a few weeks old.
The problem with nursing to sleep comes as the weeks go on (4th, 5th, 6th week), because the baby can become dependent on nursing to fall asleep.
Instead, start laying down awake during a nap to get them used to going down without sucking on you. Pacifiers help greatly with this!
The earlier you start laying them down awake, the easier it can be for them to learn to fall asleep on their own. This paves the way for easy bedtimes in the future.
I talk more about pacifier use in my "Top 6 Newborn Sleep Tips" printable. It's in my free parenting resource library and you can get the password here: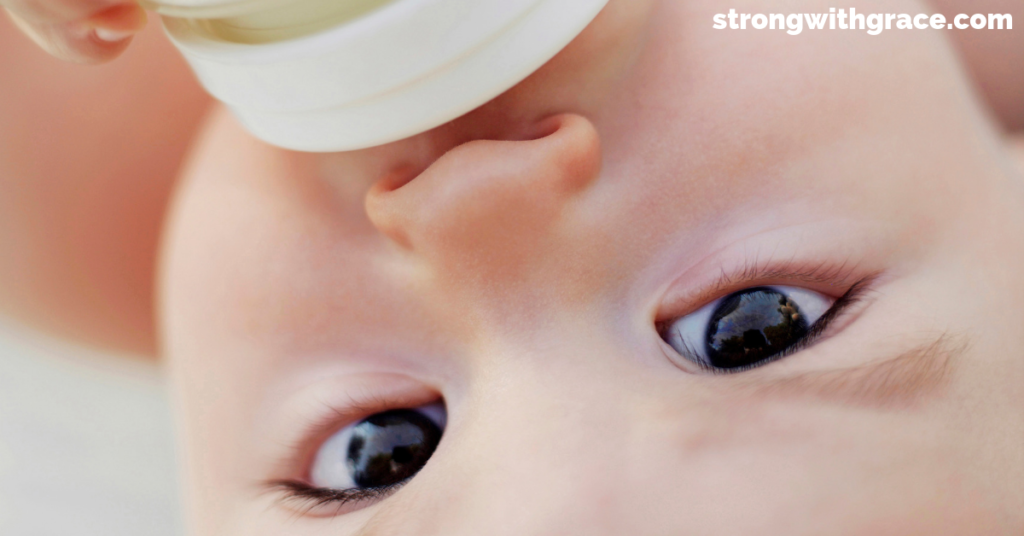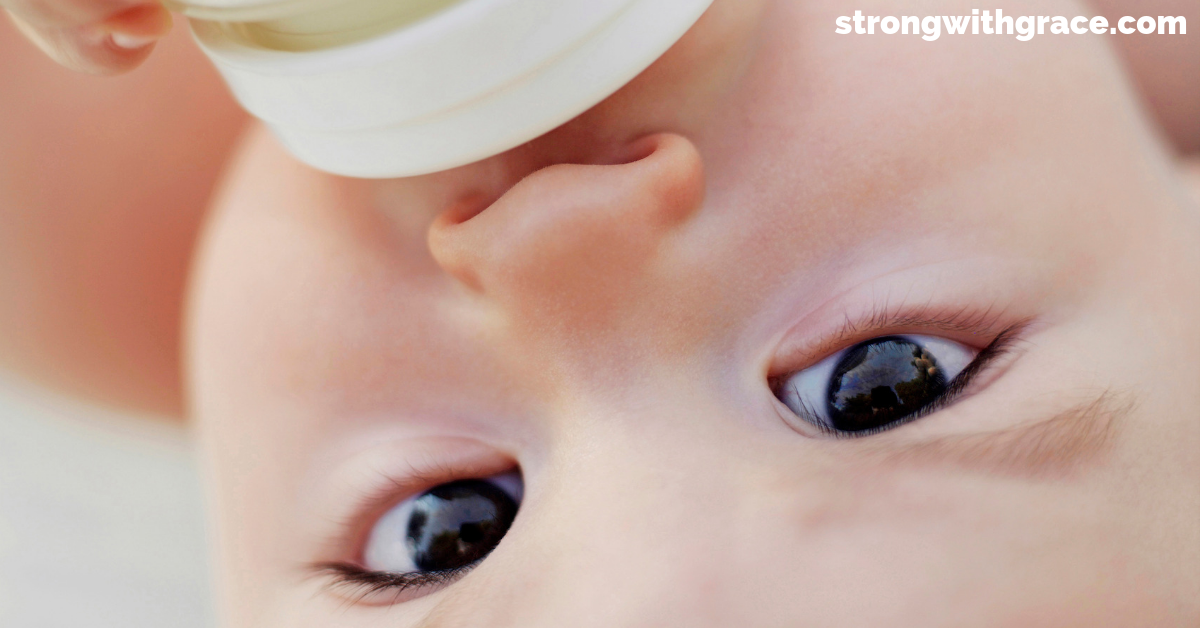 Mistake #3- Regularly Holding For Naps
Holding a sleeping baby is a wonder.
So sweet.
So snuggly.
But pacing the halls in the middle of the night as your baby's screams pierce your eardrums… is less glamorous.
When baby can only fall asleep touching you, you're chained to their every whim. It's important they learn to lay down awake (drowsy) and fall asleep on their own.
That way, nap time = you time.
Mistake #4- Inconsistency With The Newborn Baby Schedule
It's important to be consistent. If you hold them or wear them for all their daytime naps, then expect them to go down on their own at night, you will likely be disappointed.
If you sometimes feed them to go to sleep, then other times you feed them when they wake up, baby won't be getting into any sort of rhythm.
This erratic activity doesn't promote the lengthened nighttime sleep that you are hoping for!
Mistake #5- Not Giving A Routine Enough Time To See Results
If you start early with a 2- 3 week old baby sleep routine, or anytime in the first few months, your baby will start to fall into a predictable pattern. But if you stop after a few days, you'll miss out on the results.
You'd think it wouldn't be hard to notice your child's patterns. But when you're a sleep-deprived mom, you can only remember so much. LOL.
That's why I recommend charting your baby's sleep and eating times so you can start to see patterns.
You can use an app such as MammaBaby (the app I used) or use a notepad tracking book like this one.
For example, you may notice they're sleepy around 10am, they eat every 90 minutes between 4pm and 7pm, and they sleep 4 plus hours from 10pm-2am.
It can take a couple of weeks for you to discover your infant's extra-hungry times or where their sleep is lengthening out.
Mistake #6- Caregivers Not Being On The Same Page
If one parent is doing a routine and the other is feeding bottles at random, you can see how that would be a problem. [wink]
Be sure to discuss your routine plans with everyone caring for baby.
I know that it can be complicated if you're going back to work and someone else is watching baby, or your trading off with your partner. But do your best to communicate with everyone involved.
That way you'll have the best chance for more predictable sleep patterns.
Mistake #7- Letting Baby Sleep Too Long During The Day
The biggest mistake I see is when parents let their newborn sleep too long during the day.
If you let daytime naps go too long, your baby will be more wakeful at night. Which is exactly what you don't want. (I'll tell you how long is "too long" in my Top 6 Sleep Tips freebie below- plus, you'll get my fav swaddle trick and nursing strategy)
Keeping the daytime eating and sleeping schedule on track will help prevent those painful nights pacing the halls.
The Extra Benefits Of A Newborn Baby Schedule
When hubby first met our youngest, I had flown her to Hawaii to meet his aircraft carrier as it returned from deployment.
Our newborn baby schedule was key in helping her stay on track when we got to Hawaii. When you have a baby on a gentle routine but you have to deviate from it, the baby can bounce back and adapt to changes more easily.
We tried to keep her on west coast time, though we did keep her up a bit later than her normal bedtime. Even with the disruption to her sleep schedule, she happily went with the flow.
For example:
She slept in the car when we crossed the island to go to a famous breakfast place.
When we got there, she woke up and I fed her.
Then she sat in the car seat awake and happy while we ate breakfast.
After we finished, it was about time for her nap and she nodded off again.
Her infant sleep routine made our special reunion so pleasant not only for us but for those around us!
GET MY "TOP 6 NEWBORN SLEEP TIPS THAT YOU CAN USE RIGHT NOW TO ESTABLISH AN INFANT SLEEP ROUTINE"