What do pregnancy dr appointments look like these days? Are you fearful to be pregnant right now? Don't miss the timely tips in this insightful interview! Plus you'll have the chance to start the free "5 Days To Positive Thinking" email challenge. Click this button for more info: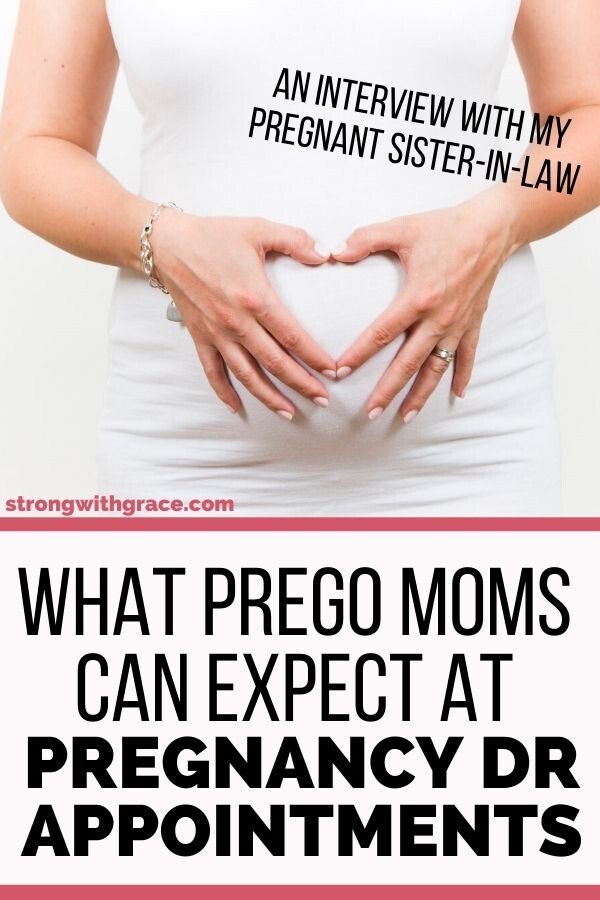 Today I'm thrilled to have my lovely sister in law, Stephanie, sharing on the blog. As I write this, she is literally preparing to be induced tomorrow if all goes as planned!
I'm so excited to be an auntie again!
Since Steph has been facing our global health situation throughout most of her pregnancy, I couldn't think of a better person to interview for this topic.
She can give you, my readers, some incredible insight into what pregnancy dr appointments are like and what is different for her this time around. (She has another son the same age as my oldest– my girls all love him!)
Here are her answers to my questions on all things pregnancy dr appointments, spouse and partner rules & regulations, and digging into her fears and how she processes through them.
What Prego Moms Can Expect At Pregnancy Dr Appointments
How have your pregnancy dr appointments been different during this season than your last pregnancy?
The main difference has been the frequency of in person visits, and who can attend visits.
There have been no visitors allowed at my OB's office since March, and we've been asked to wear masks in the office since April. I had my 28 week dr appointment in person and I had to have an ultrasound. Matt couldn't be there, so I FaceTimed him during the ultrasound.
Also, since I was considered healthy some of my regular appointments were moved to tele-health visits with my doctor.
That was kind of a bummer, because you miss out on hearing the baby's heartbeat which is always my favorite part of my visits.
What are the rules concerning your spouse attending appointments and delivery?
Matt hasn't been able to attend any appointments with me since mid-March. He will be able to be present for delivery, and in fact, our hospital isn't testing support persons for illness, only the mothers.
Are the doctors/nurses telling you anything different to do related to the current health situation?
My doctor just highly recommended not traveling and to practice social distancing.
Since I work in an essential industry, and I couldn't be properly socially distanced from other team members and customers, she advised me to work from home, so I've been doing that since March.
RELATED: 12 MUST-HAVE BABY CARE BASICS FOR YOUR MEDICINE CABINET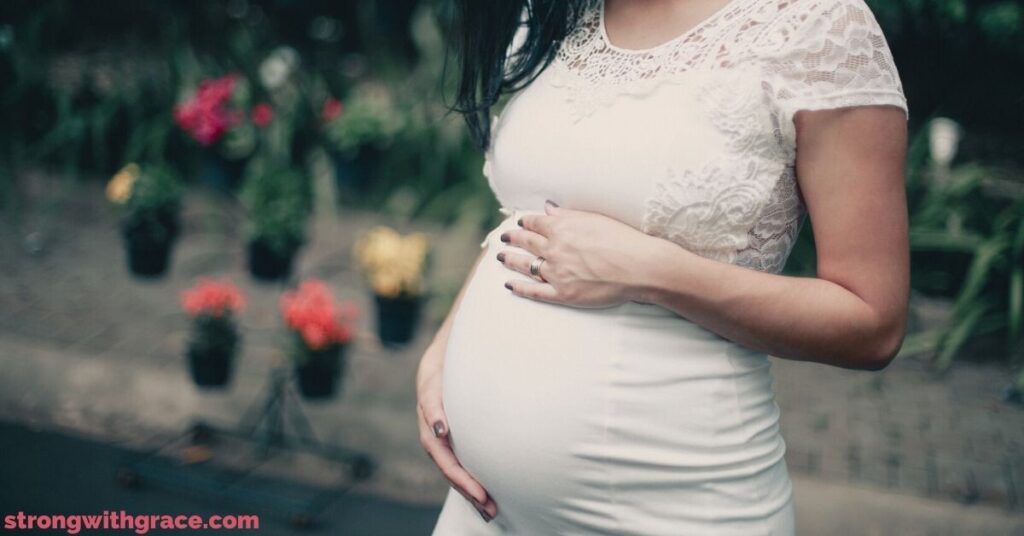 Did the current health situation affect your decision about where you want to deliver, or how?
The thought of home birth crossed my mind, but the peace of mind of being in a hospital if something were to go wrong during delivery outweighed my fear of illness or exposure.
I truly believe that the maternity wards are a safe environment for moms and babies.
Any mom that tests positive when she gets to the hospital is sent to a separate area than other healthy moms.
Did the current health situation affect how you packed your hospital bag? Was there anything you added to it or left out?
It didn't really affect how I packed for the hospital.
What fears/concerns do you have that you didn't have in your previous pregnancy?
I think overall just fear of the unknown if I were to contract the virus. What would it mean for me and for the baby?
The CDC classified pregnant women as "others at risk" since the beginning but never really defined what that meant. It wasn't until recently that they stated pregnant women that contract the illness were more likely to have to be placed on ventilators than non pregnant women.
I think overall it's made me be more cautious than if I was going through this experience as a non-pregnant woman.
I've always thought I need to take into consideration my health and the baby's health when making decisions about where I go and who I interact with.
What has helped you alleviate those fears/concerns?
~Talking through concerns with Matt so he knows how I'm feeling and can support me in decisions we make as a family about who we interact with and where we go.
~Remembering too that I'm not in control and that ultimately my health and the baby's health are in God's hands. He's our ultimate Protector and Healer.
~Verbalizing my fear and worries in prayer has been super helpful throughout this entire experience. By that I mean really getting to the root cause of my fear and asking myself, what am I actually afraid of?
Each time I feel like God has taken that weight or burden I've been carrying around and set me free of it.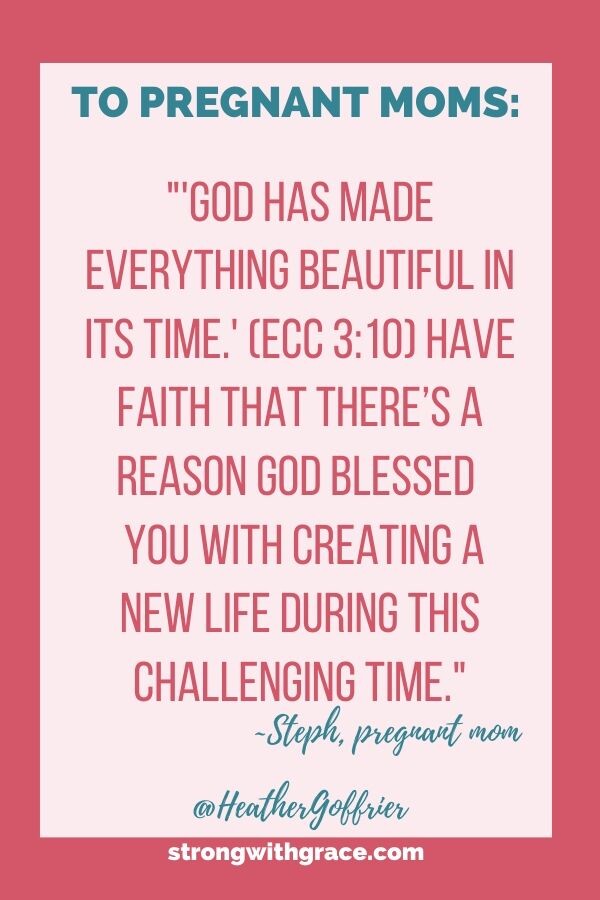 What would you say to any new mom who learns she is pregnant during this season?
Everything will be ok, different but ok. God made us resilient and adaptable creatures—especially us women.
I often remind myself that "God has made everything beautiful in its time (Ecc 3:10)." I have faith that there's a reason God blessed me (and you) with creating a new life during this challenging time.
Take time to listen to what God's saying to you and about you through your pregnancy. He's reminded me several times throughout my pregnancy of my courage and power, when I was feeling out on control and powerless.
Lastly, remember to express your emotions. Confess to your family, friends, and God how you're truly feeling, don't pretend you're ok if you're not.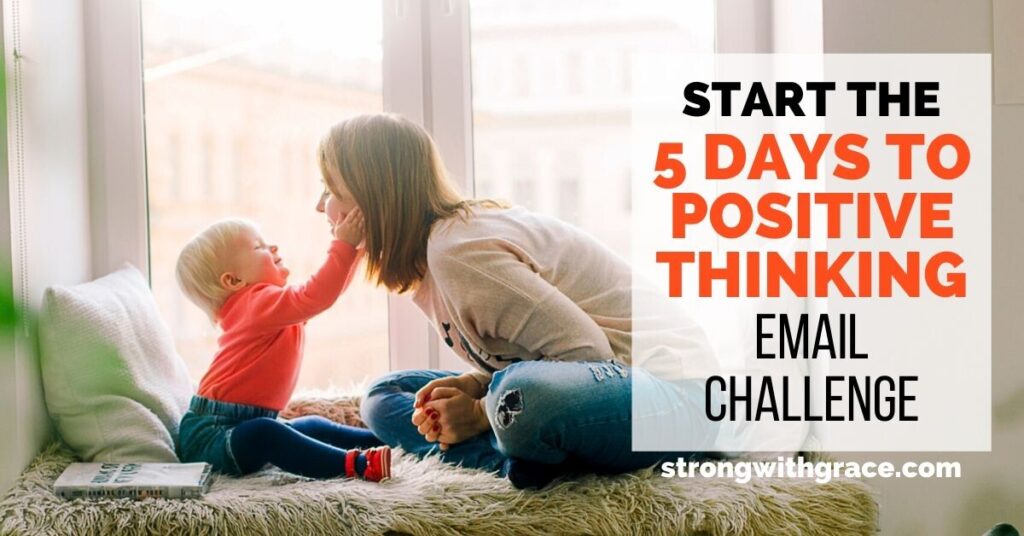 How To Conquer Fear And Negativity
Thank you Steph for your heart-felt words and perspective on your current pregnancy.
Friends, if you're experiencing a pregnancy during our global health situation, or concerned about your upcoming pregnancy dr appointments, remember that God is still in control.
Hopefully hearing from Steph has helped calm your fears.
If you want more help moving past your fears and staying strong in what God is saying to you, check out my "5 Days to Positive Thinking" email challenge. Click this button to learn more!