Don't miss these 12 creative storage ideas for a tidy playroom. You can get the whole family involved with these easy tips! Plus get my free "How To Declutter" Checklist. Click this button to download: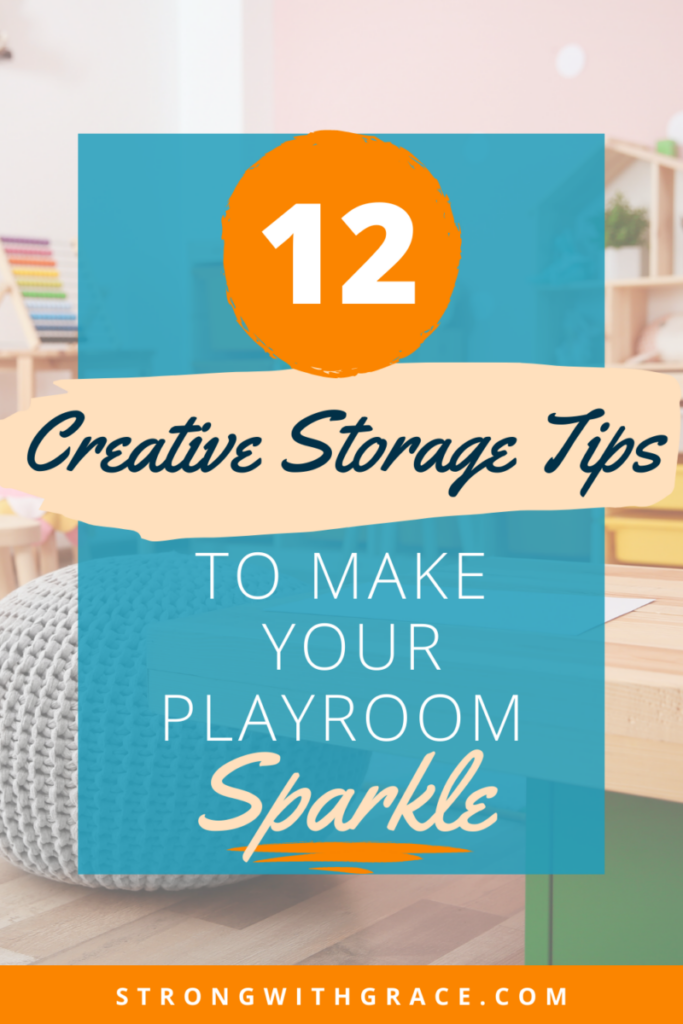 My kids have a knack for turning a freshly picked-up floor into a disaster area with 5 seconds of cleaning it up.
I've watched them dump out bins of legos, spread their favorite board game to all corners of the room, and drag out all the pillows in the house into one big pile with the determination of an Olympic sprinter.
I'm sure all this creativity and focus will get them places, but for now, I've wondered how in the world do I organize and find creative storage ideas for a tidy playroom? Especially knowing it's going to look like a tornado came through within 7 seconds of being tidied.
Here are 12 creative storage ideas to make your playroom sparkle and get you started organizing the disaster zone.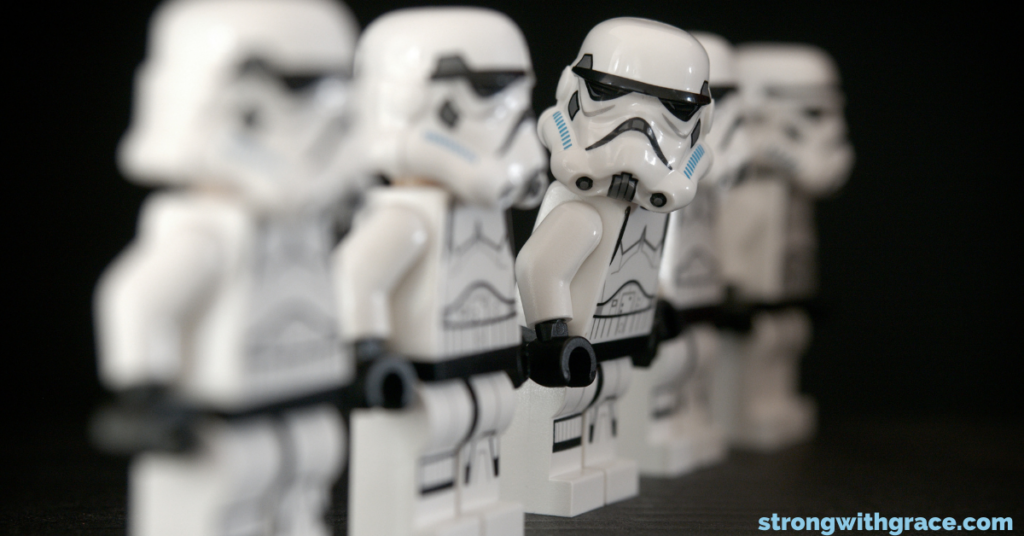 We hope you enjoy the products we recommend! This post contains affiliate links. Please see our full disclosure policy here.
1- Bins and Baskets Provide Creative Storage
When everything has a home, it's so much easier to corral chaos. With cupboards, clear bins are best. You can just pop open the door and see all the toy options in their stackable containers. If you have open storage, then cubby bins are a tidier-looking option.
2- Invest In Cube Storage Shelves
If you don't have a shelving unit yet, consider a cube storage shelf. The standard size is cube 12″ x 12″ cubes, and you can get decorative soft-sided cube bins to match almost any decor.
The shelving units themselves are handy because you can get them in a variety of configurations, such as 2×4 (holds 8 cubes) or 3×3 (holds 9 cubes).
We have both sizes, and as a military family that moves frequently, we have shuffled around these shelves from closets to our bedroom to the playroom. Each bin has held different items as the kids have grown out of their toys or when we're using it in a new room.
They're so versatile!
You can find more trendy options, though they can get pricey fast. If you're on the hunt, look for a shelf that fits 12in x 12in cubes and could hold 2, 3 or 4 across.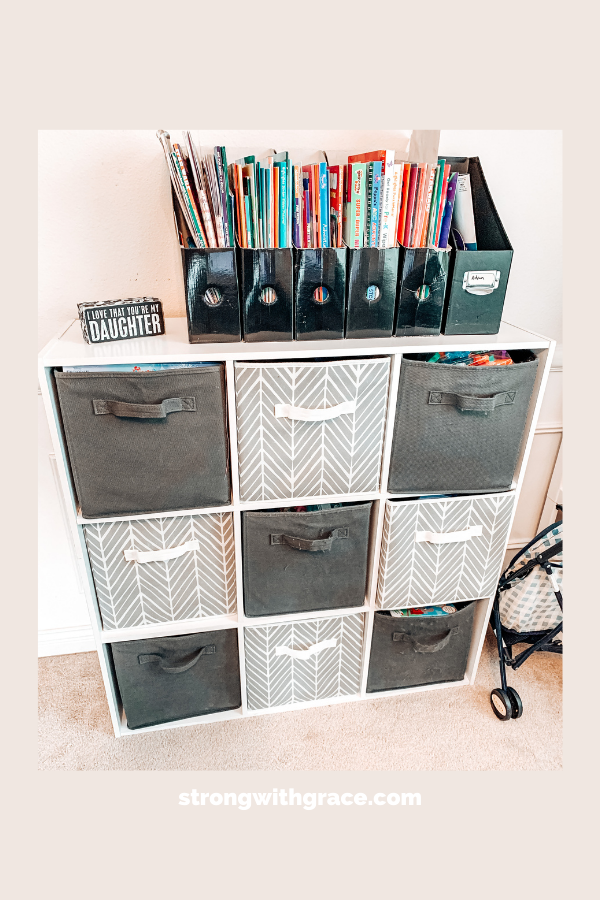 3- Store Like Items Together
Nothing creates chaos like a pile of random things all tangled together.
It's important to store Legos with legos, marble tubes with marble tubes, and small games like Frozen 2 Uno, Bingo and Feed Fuzzy with other small games. It's easier to find things as well as a breeze for kids to clean up!
4- Add Some Floating Shelves
If you're seriously lacking storage, add a few inexpensive floating shelves in an open wall area. You can add a basket, a cube or some decorative art supplies to make it pop as well as create space to store items.
5- Creatively Store and Rotate Toys
One of the best ways to keep the playroom tidy is to limit what is actually in the room. Keep some of your toys in storage bins and baskets in the room, and remove the rest from the space.
What do you do with the extra toys? Read on:
6- Store Extra Toys In The Garage
Heavy duty bins are great to storing those extra toys I mentioned above in the garage.
I've pulled out quite a few toys and stored them in clear bins in the garage. Every so often I pull them out and swap them for others. It keeps the kids enjoying fresh "new" toys.
And if they don't miss the toys in the garage at all, sometimes they end up getting donated!
7- Use Cute Containers For Storage And Decor
Tidy up your playroom with cute holders for pencils and twisty crayons. (think Joanna Gaines.) Pretty always looks more tidy!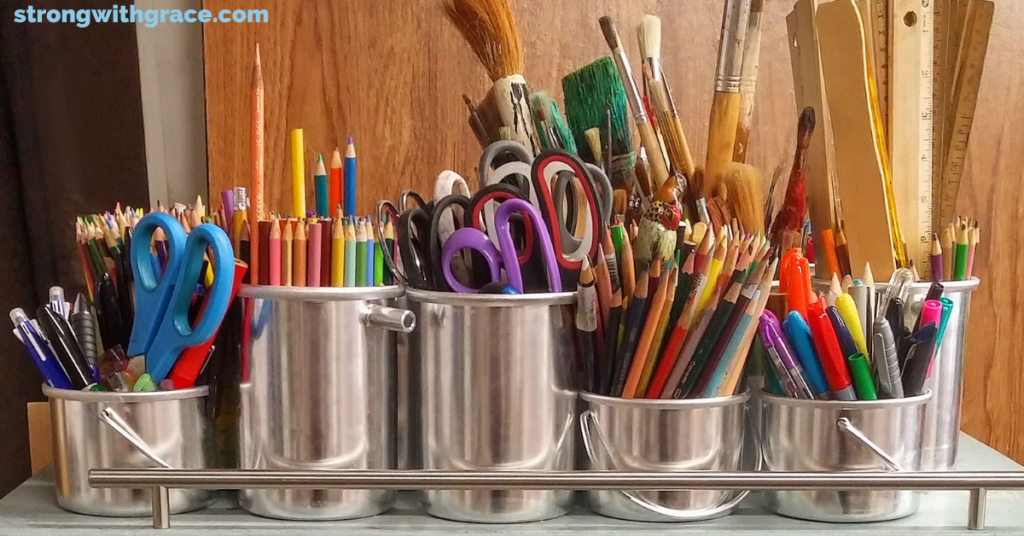 8- Creatively Dump The Junk
Dare I say PURGE? If you're overrun with figurines, game pieces and dress up clothes, it might be time for a Goodwill run. (You can see how to get started with purging here)
9- Turn A Nice Piece Of Furniture Into A Secret Toy Holder
You can use a decorative piece of furniture to store toys. We have a white Ikea console that hides toys and doubles as our entry table.
To hide the contents, I picked up some black and white bins from Target and each bin holds something different.
And the best part is, guests don't see toys popping out at them when they walk in. Unless the toys are all over the floor, because ya that happens in our house too!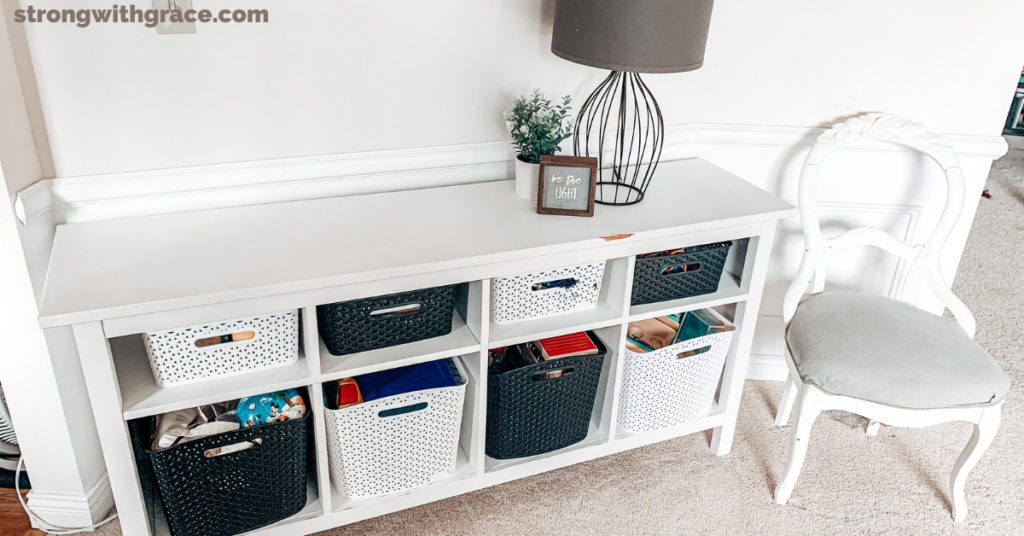 10- Creative Storage For Playrooms: Add A Table
Find a small (or whatever size fits your space) table and add it to the room. Then, store a few supplies on top in a decorative caddy. It not only adds a bit of storage, but it keeps craft and art chaos to the playroom by providing a dedicated workspace.
This prevents your kitchen table from becoming a disaster, and you can help kids learn to clean up one project before dumping another one out on the table. Speaking of kids cleaning up…
11- Require kids to clean up… before getting screen time.
There's not a lot that motivates my kids more than screen time. So I use that to my advantage by telling kids, sure you can watch TV…. after you clean up the playroom. It's like magic!
12- Keep It Clean By Having Kids Pick Up
You can teach everyone in the family to use the creative storage bins, shelves and baskets you add to your playroom. Even the small Cindy Lou Who's of the family can participate in picking up toys and putting them into their proper bin.
It's nice to start the morning fresh with a clean play space. And, if you don't have the kids help, you might end up doing it yourself when you could be relaxing with a glass of wine. Heaven forbid!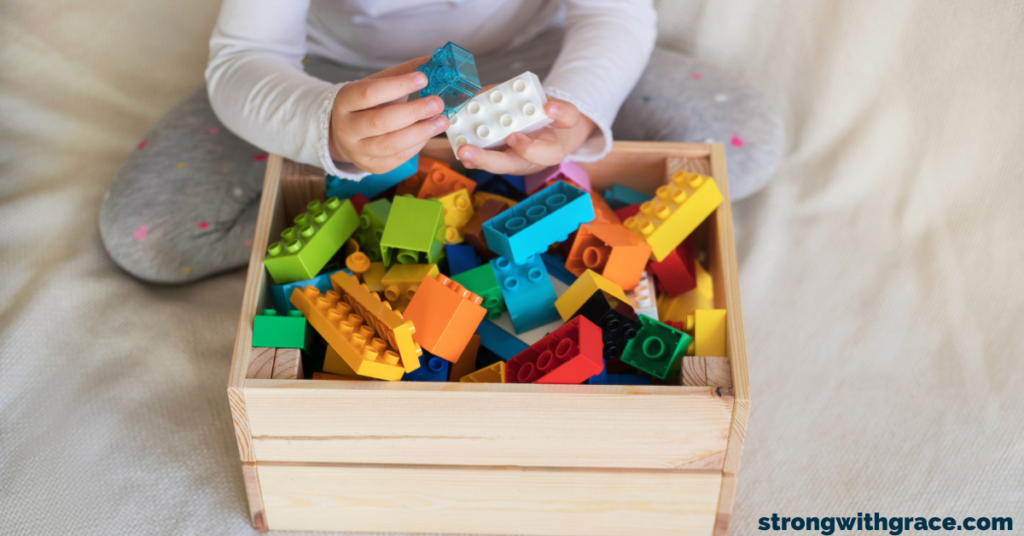 Using Creative Storage Ideas To Avoid That Playroom Disaster Zone
It's important to take a realistic view of the playroom– we want kids to play and have fun, but we want to have a mostly-tidy home. Kids are kids and they need a place to go wild. If not the playroom, where? (besides outside- but in the PNW the winter/spring rain is legit).
That said, it's important to not let the room completely go, unless you're postpartum or in a deployment, or… well, there are seasons my friend!
Overall, a huge mess adds stress and creates problems, such as finding the toy your child NEEDS exactly when they "need" it, stepping on a Lego for the billionth time, or not being able to walk through the room to get your child unstuck from the tub they tried to crawl into.
The solution? (and a side benefit)
The key to making this work is letting your kids play and have fun, and then teaching them to clean up after themselves.
It sounds like a lofty goal, and it does take perseverance, repetition and a bit of our own blood sweat and (hopefully not) tears. But the side benefit is that teaching kids they need to clean up (and how to do it) makes a great life lesson.
And, cleaning up with your kids is a huge time killer and a way to avoid more screen time, too.
The Creative Storage Cleanup
Adding new storage options can seem overwhelming, and that's not what i'm here to suggest. Make sure you're only implementing the tips that work for you and your family.
Maybe you only need a few cute baskets, or you want to rotate some toys to the garage. You might need to rearrange and start storing all the Disney princess figurines together, or possibly invest in some wall or shelf storage.
Whatever you choose, take it slow and steady. Take baby steps and little by little, you'll have some amazing storage goin' on at your house!
GRAB YOUR FREE "HOW TO DECLUTTER" CHECKLIST BELOW!