Is my living room the only one that's always being turned into a fort?
I doubt that this is unique to me, but sometimes it feels like everyone else's living room must look like a magazine, while mine looks like the couch got caught in a blender.
The corner of our L-shaped couch has been dubbed "the cozy spot" where our kids burrow under pillows and build up mounds of other pillows and blankets. And while I love their creativity, it's a task every night to tidy up and get the room ready for us grown ups. I do make the kids clean up, by the way, but sometimes items don't make it back to quite the right spot.
As a result, keeping a living room tidy is a constant job, but I've found some organization tricks to make it tons easier. That way, I can get comfy fast and enjoy my wine with Hubby without worrying about a mess.
Here are 11 tips for keeping your living room beautifully organized.
1- Maximize space by combining uses
Combine furniture or decor with storage with pieces such as an ottoman or bench with storage inside. Hiding items inside can make the room look more tidy faster than it takes for a kid to dump out Legos. I scored some neutral grey ottomans at Target. We use them to store blankets and dvds, and also they're convenient foots rest during veg time.
2- Use your cute decor as storage
In any decor style, you can find baskets, buckets, canisters or many other types of containers that can both look cute and store things. You could store remotes, dvd player manuals, cords, and the multiple sets of coasters we've gotten as gifts or memorabelia.
How cute is this ladder with blankets stored on it?
3- Remove extra furniture
We took out a bookcase (as I mentioned in this post) and it looks so much less crammed. I didn't even realize it was so cramped until I took a good look at the space and realized we had too much going on in the small area.
Now that it's gone, the area looks way more tidy, partly because of the white space it created.
In case you're wondering, Dictionary.com defines white space as:
the unprinted area of a piece of printing, as of a poster or newspaper page, or of a portion of a piece of printing, as of an advertisement; blank space.

Dictionary.com
So in home decor, "white space" just means the areas where you don't have decor, art or furniture filling up space.
4- Ensure that art is hung properly and proportionately
When we took out the bookcase I mentioned above, the art that was surrounding it suddenly looked off. (see below) I've been annoyed by it for a while but we haven't gotten around to rearranging it yet. I'll share an update on my Instagram when we do.
It's so much more soothing to the eye to have it hanging in a way thats proportionate to the space, so I really should get on that! Maybe I also need to read my own post on motivation to organize to get that oomph to get 'er done.
5- Use decorative baskets and bins
A pile of blankets on the floor looks messy. But, a cute basket or crate with a blanket popping out the top looks intentional and decorative. For example, under this crate are the weights hubby uses with his T-25 workouts. Everything looks better in a bin!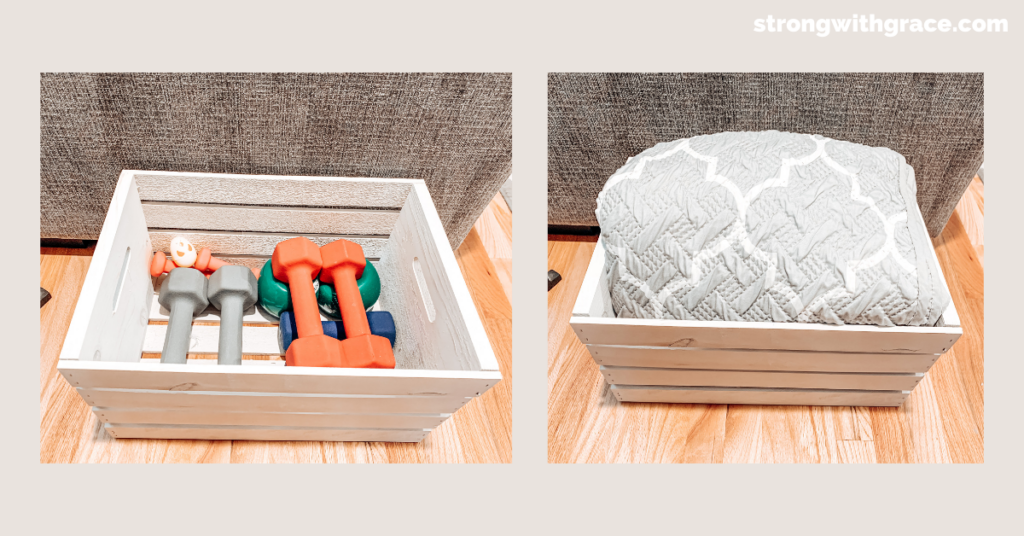 6- Pick up the area every night before bed.
I know this can be a huge pain. Since I'm not OCD and I can deal with a bit of mess, I don't make this a hard and fast rule.
The people with "no item out of place" syndrome would probably say this is a must-do. But I know that there are nights it just doesn't happened. You have to weigh how you'll feel in the morning and when you'll be able to pick it up, if you don't do it at night.
I will say, it's so nice to come downstairs in the morning to a tidy living room rather than to a tornado of blankets and couch pillows.
7- Put things where they belong
Similar to the above point, don't let clutter build up. Put things where they belong. Do I sound like your mom yet?
When we send kid toys and stuffies to their proper places and tidy up clutter, it makes the room so much more beautifully organized– even if we don't have gorgeous on-trend decor. It's like giving your living area it's morning cup of coffee– just the boost it needed.
8- Don't leave food out
I can't think of anything that can make a living room more untidy and disgusting than leftover food and dishes. That takes your beautifully organized room downhill fast to untidy disaster.
I know you might eat that one last Cheeto later, but instead of leaving food out, get wine glasses, snack bowls and hubby's beer stein to the kitchen right away.
9- Add baskets to glassed in areas
If you have any cupboards or a TV console with glass doors, utilize that space to make it look pretty.
I confess I also need to do this in our space. Right now we see randomly colored DVD cases sticking out. It's on my to-do list to measure those spaces and be on the lookout for bins to stick in there. I also need to grab another dvd sleeve to get rid of as many of those plastic cases as possible.
10- Pull furniture (such as the couch) away from the wall
Pulling furniture away from the walls makes the area look more spacious and adds white space. As I mentioned above, white space is just blank areas in the room (they don't have to be white). The empty space adds calm and visual interest, instead of a cluttered, crammed look.
11- Keep remotes in one spot
This sounds simple, but why is it so hard? I think the remotes party all night and don't quite make it back to their home. A while ago, I found a remote caddy at Goodwill and spray painted it white so it can sit out without looking like the 80's.. It corrals the remotes really well if the TV watchers put them back.
Wrapping Up
It may seem daunting to keep your entire living room together, but if you start small you will have it organized in no time. Pick one of these tips at a time and make little tweaks to your space. You don't need to overhaul the entire room to make significant improvements! You'll be enjoying a more tidy, relaxed space in no time!
Which of these ideas is your favorite? What did I miss that works for you?