If your little one is making diaper changes difficult by kicking and squirming, avoid a mess with these toddler entertainment ideas for the changing table.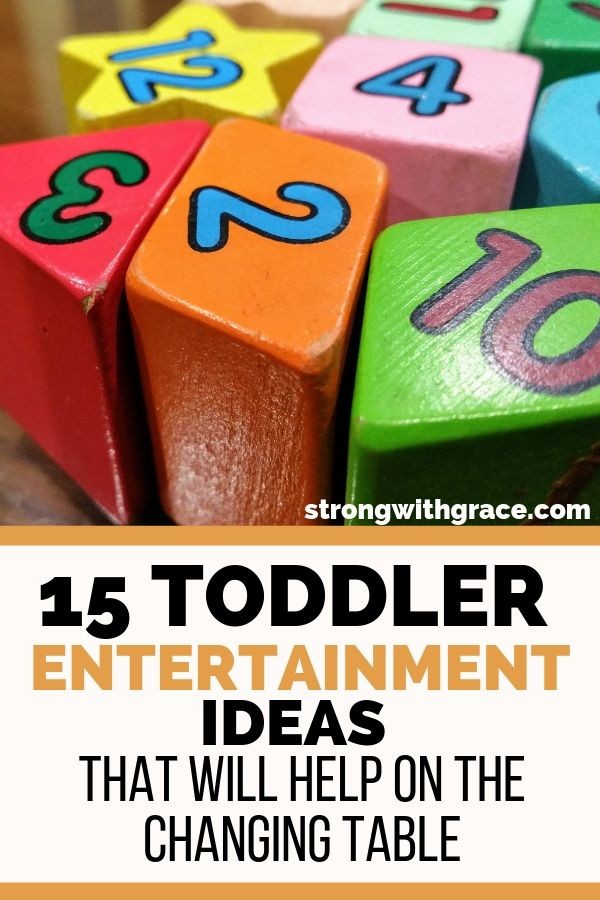 It's that awful, slow-motion moment when my toddler starts squirming and kicking in the middle of a diaper change, and the mess in the diaper is now the mess on the changing pad, on baby's feet, and on me.
A small problem just became a very large problem.
And of course, this happens when I'm running out the door somewhere, trying to load three kids into the minivan and hoping not to have kid-poop all over me.
(Seems like a reasonable goal).
As someone with a fairly busy schedule and a lot of kids to wrangle, I have tried to build up a ready supply of toddler entertainment ideas. They have served me well, and many of them were developed after disasters.
RELATED: ACTIVITIES AND IDEAS FOR KIDS: MY DAILY SCHEDULE
There's not much worse than having your child kicking and screaming and making a mess while you're simultaneously thinking, "man I wish I had grabbed that crinkly book to entertain her."
Too little, too late.
Even though I just graduated from two kids in diapers down to one (happy dance!!), I can assure you that I still use many of these with my youngest. Thus far she is fairly agreeable on the changing table, but she is rounding the corner on two.
All bets are off at that point.
RELATED: WHICH OF THESE CRUCIAL TODDLER BEDTIME PRODUCTS DO YOU USE?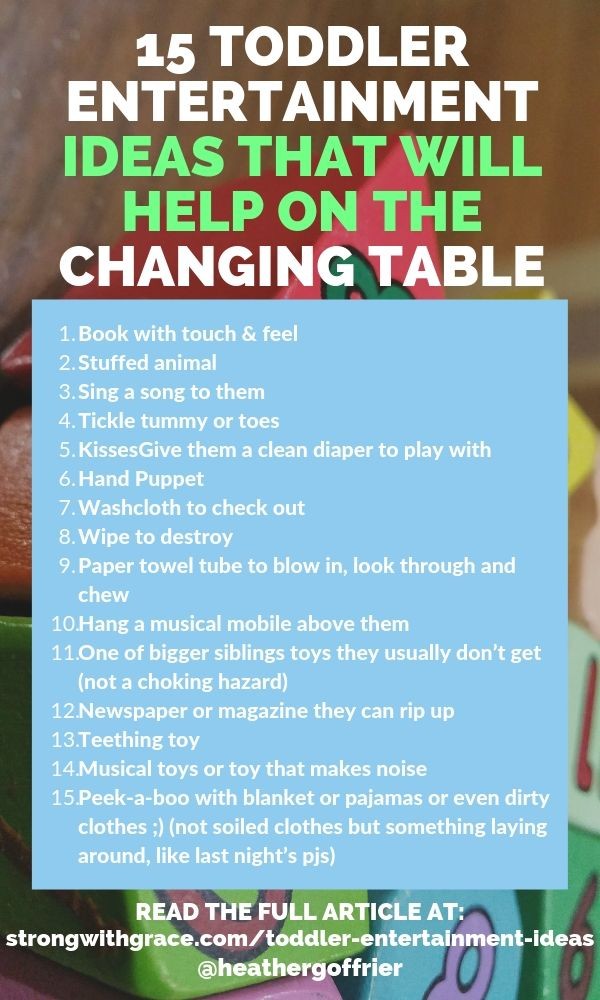 15 Toddler Entertainment Ideas That Will Help On The Changing Table
Use these toddler entertainment ideas to save your sanity and prevent huge, inconvienient messes during changing time.
Book with touch & feel
Sing a song to them
Tickle tummy or toes
Kisses
Give them a clean diaper to play with
Hand Puppet Washcloth to check out
Wipe to destroy
Paper towel tube to blow in, look through and chew
Hang a musical mobile above them
One of bigger siblings toys they usually don't get (not a choking hazard)
Newspaper or magazine they can rip up
Teething toy (this bacon waffle teether is hilarious!)
Musical toys or toy that makes noise
Peek-a-boo with blanket or pajamas or even dirty clothes 😉 (not soiled clothes but something laying around, like last night's pjs)
If you're looking for more toddler entertainment ideas, be sure to grab my FREE list of 42 Activities To Do With Babies And Toddlers below!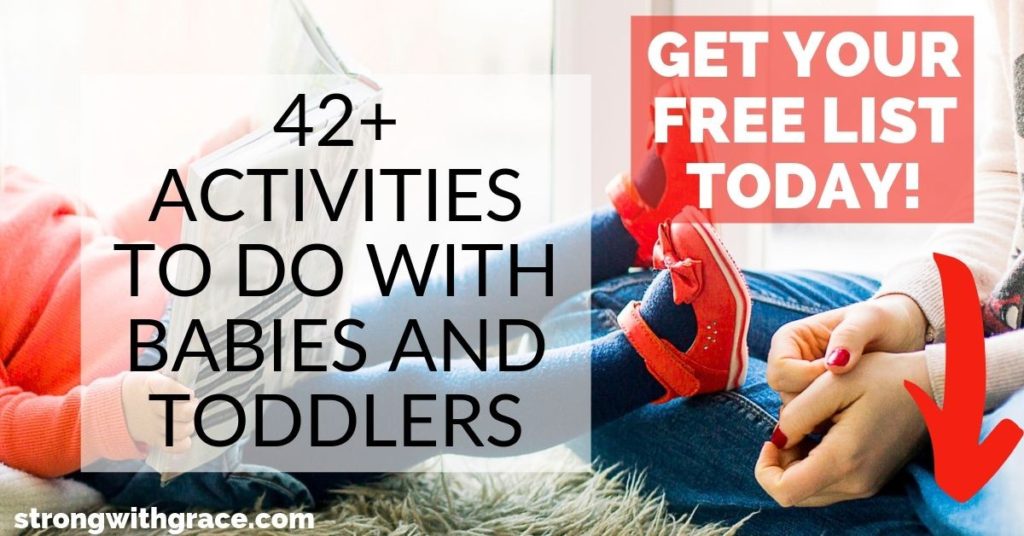 *this post may contain affiliate links. That means I get a portion of the commission for the referral, but you don't pay a cent more– thank you for supporting my small business!