Here's our updated progress on moving girls rooms from sharing to having their own rooms. Check out photos and find out what we have done and what's left.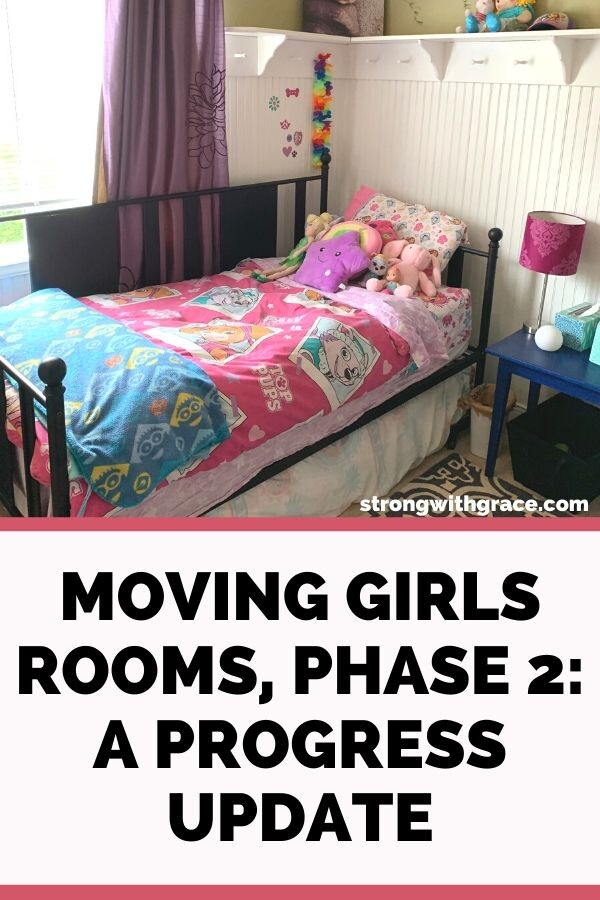 We hope you enjoy the products we recommend! This post may contain affiliate links. That means we get a portion of the commission if you click through and make a purchase, but you don't pay a cent more. Thank you for supporting our small business as we strive to help you rock mom life!
In case you missed it, over the past month we have been moving our oldest daughter out from the room she shared with your younger sister to a room of her own.
I'm not sure we were prepared for the domino effect that created multiple projects from one simple plan, but we're still moving forward.
I discuss the first phase of this project here, showing some "before" pics and our plans to redecorate her new room.
We've made quite a bit of progress and the older girls (we have three daughters) seem to be enjoying their new spaces. While our oldest got a new room, our middle upgraded from a twin mattress on the floor to her sister's old trundle bed.
She's in 3-year-old heaven.
Our Middle Daughter's Room Updates
We've made minor progress on our oldest's room, while the majority of changes happened in our middle daughter's room this past weekend.
As I mentioned in the first post, hubby added an additional clothes rack in the former guest room closet for our oldest's to use. Now it was younger sis's turn to have her closet updated, and she's been waiting excitedly for a new lower clothes rack.
All her clothes have been way too high for her to reach, so she's needed help picking out her clothes, even though she desperately wants to do it HERSELF.
She now bounces triumphantly into our room fully dressed in the morning, so in love with picking out her own outfit.
As she used to be the one running around naked constantly, this is a huge improvement.
Her closet now has a ton more extra space on the upper rack. Our youngest will eventually move in, and when she does, we'll give them both a side of the closet with some upper and lower hanging space.
For now, the middle child is queen of the closet and she relishes every moment.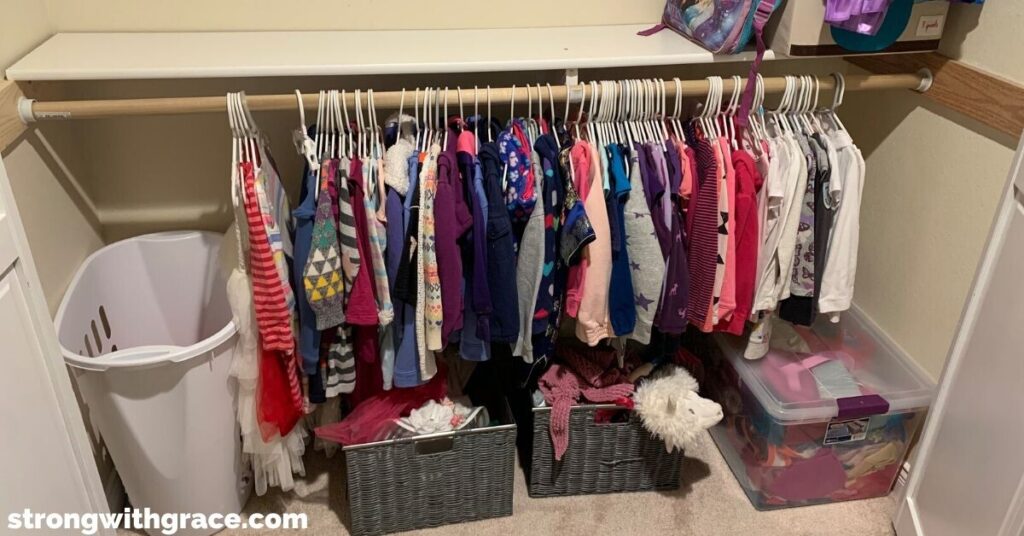 Goodbye to the "Dresser In The Closet" Strategy
The other main thing we did when moving the girl's rooms was rearrange the dressers. We moved one dresser out from the closet into the main part of the room.
We have used the "dresser in a closet" strategy ever since our oldest was born. It saves so much space in the room, which comes in handy in many different set-ups and room sizes.
But we finally realized we needed a different strategy in this house.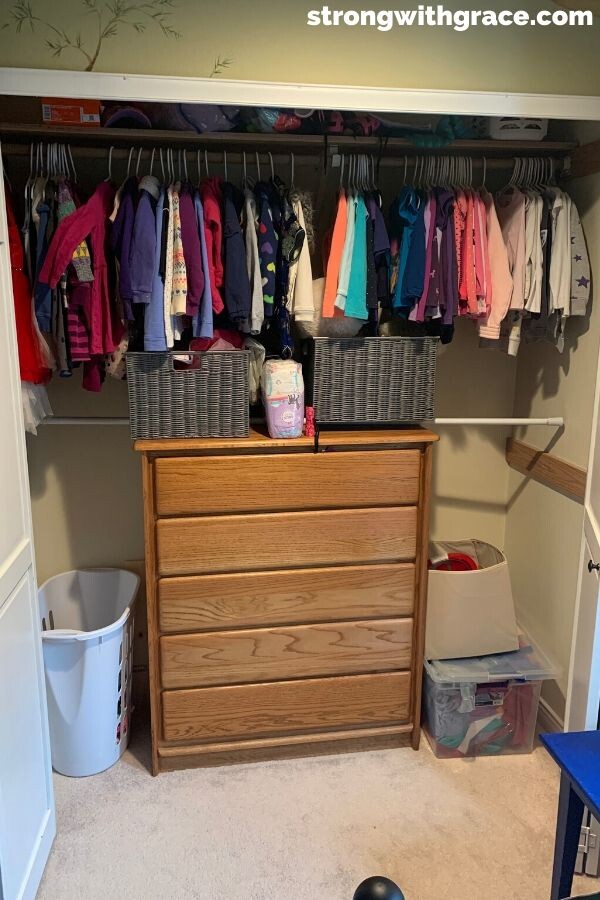 However, now that the kids are growing and their clothes are getting bigger, they need more hanging space. And thankfully, I've found kids hangers at Target for only $2 for a pack of 18-– seriously the best deal I've come across!
Having two dressers in the room takes up more wall space, but for now it works. Here is our middle's room now: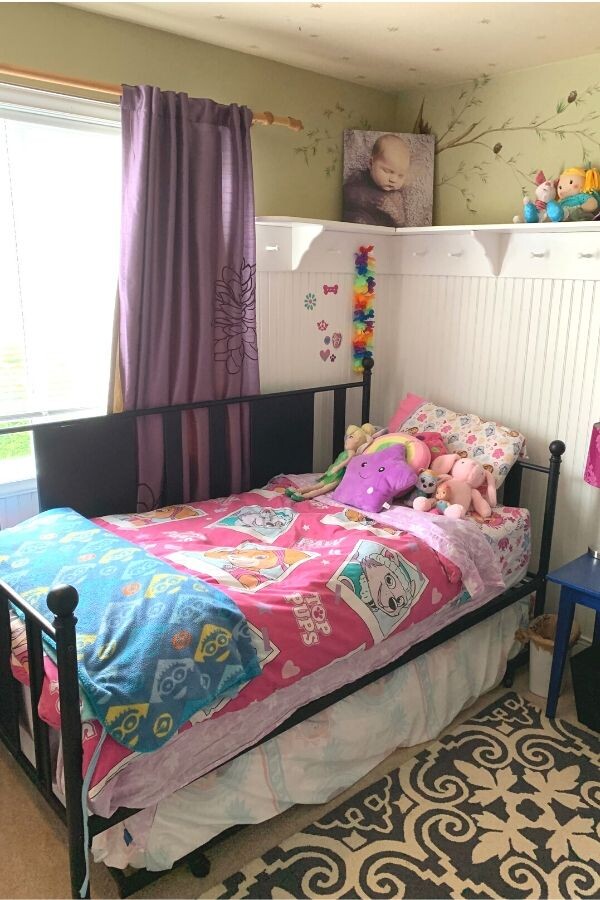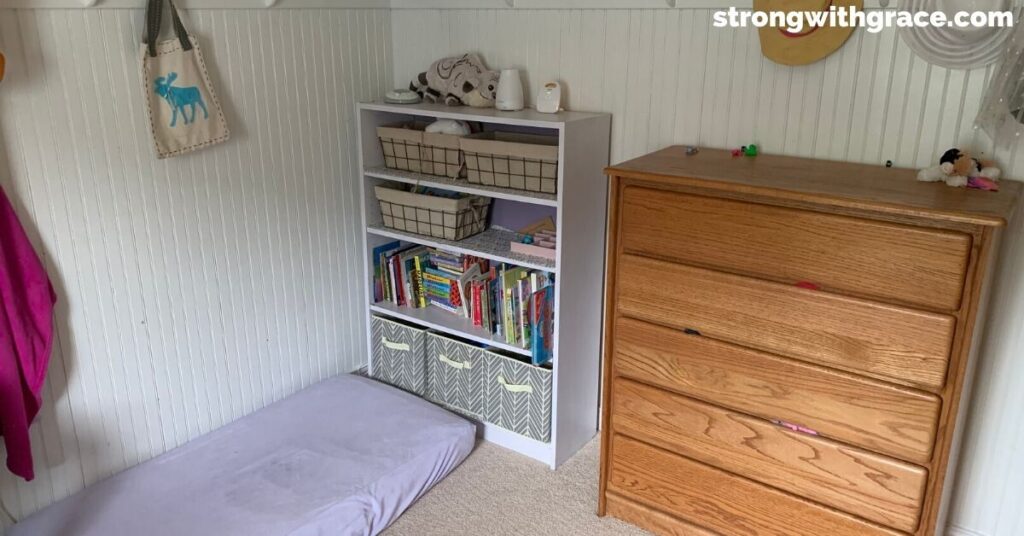 Progress Update on Our Oldest's Room
In our first phase of moving our oldest into her own room, hubby built a clothes rack and shelf in her closet. He also fixed two out of three dresser drawers from a dresser some friends gave us.
This past weekend, he was able to fix the third dresser drawer. We're still making a final decision on the drawer pulls. We picked out these ones but may need a longer screw because the drawer is thick.
I've had my eyes peeled for artwork for her room in line with her Frozen 2 obsession. However, I'm subtly trying to steer her to slightly more grown up decor that can last when she tires of Frozen.
We already have these Frozen 2 pillowcases and this Frozen 2 blanket.
We found a cute unicorn mirror at Ross. The exact one is not online, but here's a similar style cut-out at Walmart.
Trading Spaces… And Shoe Racks
Other updates include a rotation of shoe racks. We got an awesome new rack for the back of our master bedroom door: The Whitmor Over the Door Shoe Rack
Filling our new rack emptied one of our low shoe racks. That was perfect because then we could pass it on to our 6 year old. Now she can stop piling her shoes in a square cubby and set them out in an orderly way.
You can still see the old cubby I shoved under the rack in the pic below. We'll find another use for you Cubby, don't worry!
Thankfully, my oldest loves to organize, so it was fun watching set up her shoes all on her own.
She's getting so grown up. Sniff.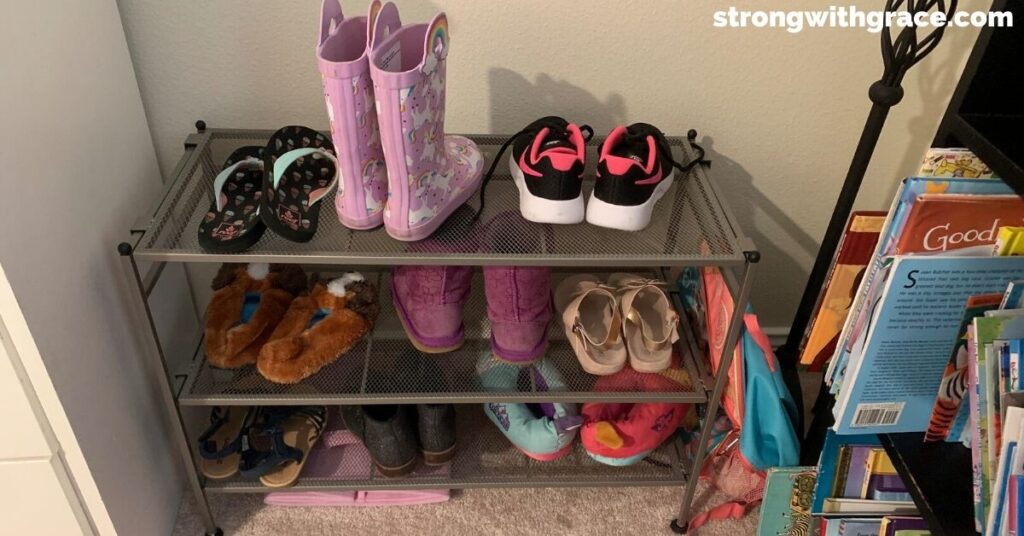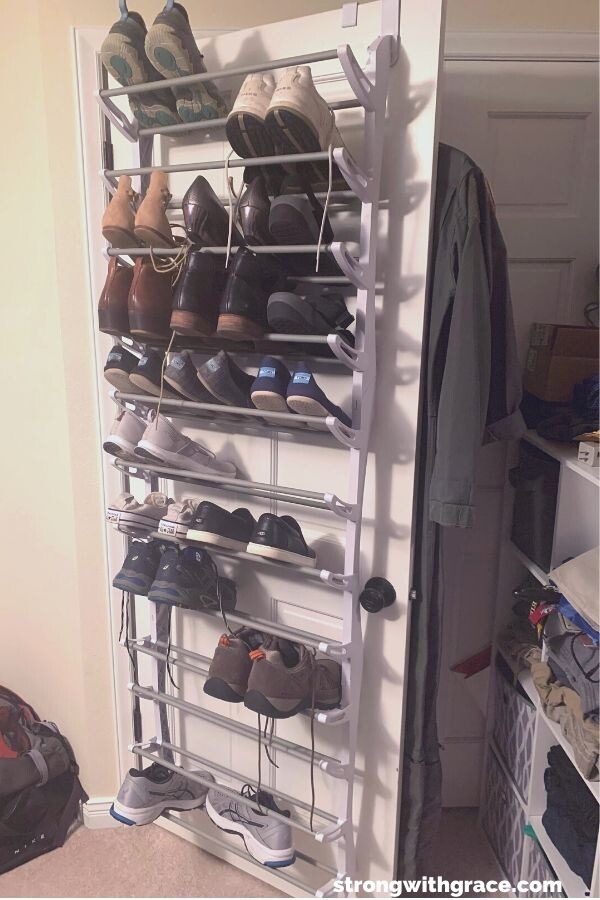 We took a couple of hubby's P-3 Orion art pieces down (the plane he flies), so now I'm more motivated to get her something to fill the empty spaces. We also cleaned up some clutter from her floor, especially several more pieces of art without a home.
She's been doing a great job keeping her room tidy, too. Very proud of her!
Ok, stay tuned for the next phase of completing her art decorations and getting the other two girls situated.
Tools and Products for Phase 2:
If you've wanted to make some changes around the house but feel bogged down with negativity about your ability to do it, don't miss the "5 Days To Positive Thinking" Email Challenge!