Discover six tips for having hard conversations with your kids. You'll learn ways to support them and strengthen your relationship long term.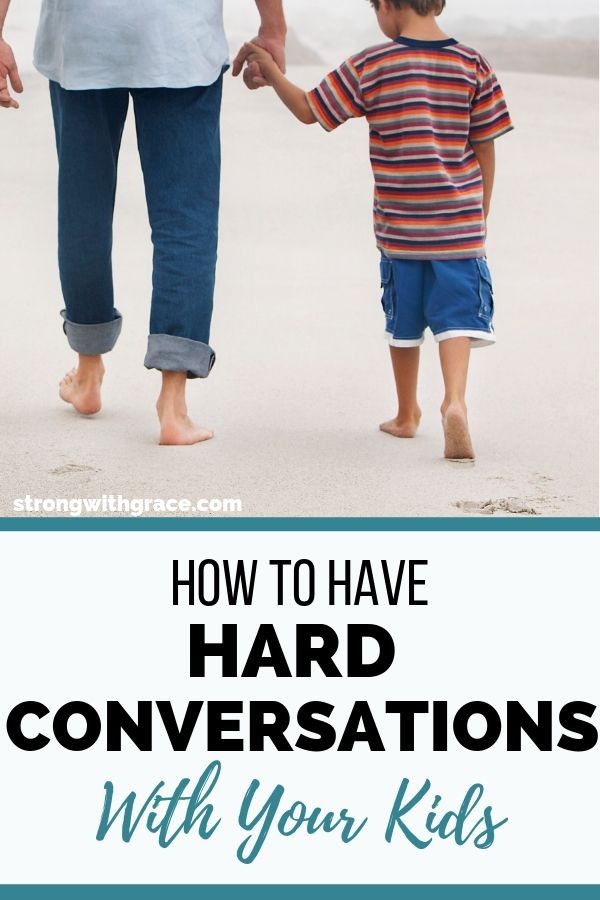 "Mommy, when are we going to stop moving?"
The question hit me like a dagger in the heart. I looked into her pleading eyes and didn't exactly know what to say. We were about to move to another state, leaving her friends and familiar neighborhood far behind.
Again.
By the time she would turn six, she would be living in her sixth house. Daddy's job with the Navy had moved us across the country multiple times, and we were about to move again.
I dreaded the conversation because it's so hard to explain to one so young. And it's agonizing to watch her go through the pain.
Hard conversations with kids can come out of the blue, out of sweet curious minds trying to make sense of their world. And we as parents have to be able to bring peace to their little hearts and as much understanding as we can, even when we don't know all the answers.
Address Your Fears First
I'm guessing we're all terrified on some level when we realize we are responsible for shepherding these small humans. It's humbling to admit that we don't know what we're doing.
How are we supposed to make sense of the world for our kids when we can't understand the craziness ourselves?
I experience fears all the time, but I'm learning that living in that fear is not necessary thanks to Jesus. We can take our fears to Him immediately, and He can reveal His truth.
We can be DONE with that fear. And if it comes back, we take it straight back to him.
The Bible says in 1 John 1:9 (AMP), "If we [freely] admit that we have sinned and confess our sins, He is faithful and just [true to His own nature and promises], and will forgive our sins and cleanse us continually from all unrighteousness [our wrongdoing, everything not in conformity with His will and purpose]."
Sin is just the ways we have separated from God's perfection and His true purposes for us. Living in fear is not of Him. So, when we admit (confess) to Him that we're afraid, as the verse says, He will forgive us and "cleanse us continually."
In other words, He can remove our fears when we confess them. He replaces our fears with His truth and we can walk in light of that truth.
Are we afraid? He is with us.
Are we weak? He is strong.
Is our child asking why so many people are dying every day in third world countries, or down the street? Even in the hard questions, God can speak to our spirits and give us the words to say.
He may not answer the exact question, but He'll give us what we need. It may be a sense of how to direct them, where to go for answers or just the awareness that our kids need reassurance in the moment.
Let The Conversations Begin
Once we allow God to remove our fears, we can approach the tough conversations from a place of peace.
Here are six tips for how to have hard conversations with your kids in a way that strengthens your relationship with them and leaves the door open for future chats.
Be Open To Questions
Think through your own willingness to talk. Do certain topics make you uncomfortable? As their parent, you have an amazing opportunity to shape them and help them. Sometimes we have to put aside our own feelings of discomfort and face the challenging topics.
Kids often just need to be reassured that they are going to be ok. They need a safe place to go to get that reassurance. You can set yourself up to be a person they trust just by being willing to discuss the hard things with them.
Some Questions May Be Avoided
Depending on your child's age, you may be able to ignore or divert the question until later. When an extended family member got divorced and my oldest was only 2-years-old, we didn't have a long sit-down conversation about it. In fact, we didn't even talk about it at all.
The ex-family member faded from our daughter's mind as we stopped mentioning her. It was sad, and it is something we'll have to revisit in the future. But at age two, she was oblivious to the whole thing.
If she had been older like 5 or 6, we would have had to address the topic directly, though still using simple explanations. It's hard to predict what exactly I would have said, but I probably would have said something like this:
"A really sad thing happened and (these two relatives) had such a hard time forgiving each other that they decided not to be married anymore. Daddy and I promised each other we'd always stay together, and that's why we always forgive each other whenever we hurt each other's feelings. God helps us forgive each other espeically when it gets really hard."
Yes, it's very simplistic. But young kids need most to know that they are safe and secure, so in explaining what happened it would be important to offer reassurance about their world.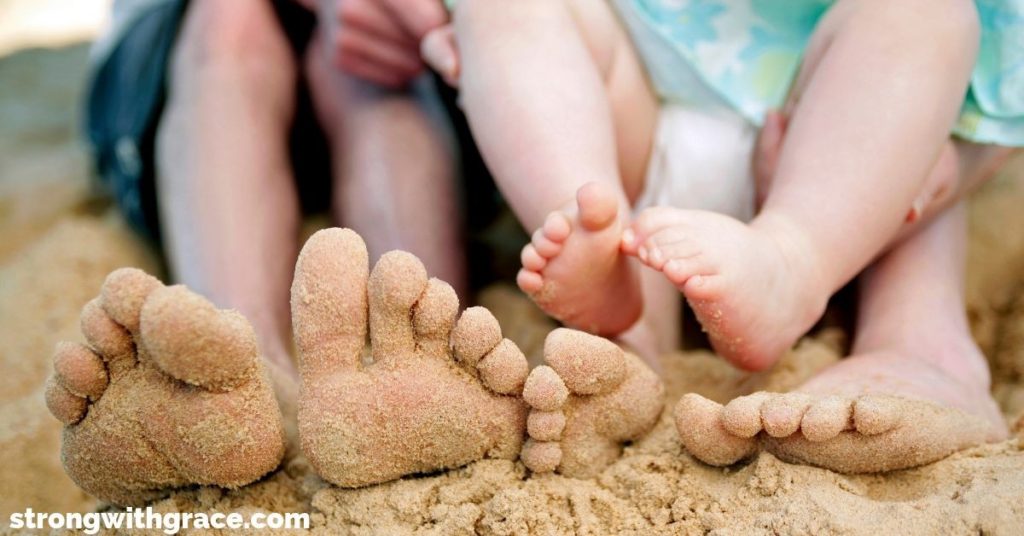 Be Honest
As my oldest is now school-age, we have begun to be more direct about difficult life situations. She has to find out about them at some point, and we'd prefer to be the first ones to explain things to her.
If you decide you're not going to divert the question but answer it and engage with the topic, don't lie to your kids. They are looking to you for the truth, and even if it's a simplified version, it's a good idea to provide that truth.
Honesty builds trust with your kids and helps them see you as a source to turn to with their questions and concerns.
Sometimes it's hard to come up with an honest, appropriate way to explain things that a kid can process. Keep it really simple. Being honest doesn't mean you have to give every detail, for example, about someone's stage 4 cancer. But death and disease are realities of life, so at some point challenging topics will come up.
Here is another opportunity to allow God to work. Ask Him for wisdom and how to say things in a way your kids will understand.
Let Them Express Their Emotions
Feelings are a human emotion. Kids have a hard time recognizing and managing their emotions, just as we adults do at times.
It's important to let kids feel ok to express how they feel to you. It allows them to feel safe and you can help them discover why they feel the way they do.
Feeling are real, but they aren't always based on truth. When we can communicate that we care and are listening, then their logic can kick in. Then we can help clear up their understanding, often it will allow their feelings to change as well.
(As a side note, the above paragraph is based off suggestions in The Whole Brain Child by Daniel J. Siegel and Tina Payne Bryson. This book takes a look at brain science and helps parents understand what is going on in kids' minds. It gives practical advice on how to help kids through their strong emotions. I love how it takes you step by step from the emotional outburst to how to get the kids to start reasoning. I used a few strategies with my daughter and noticed an immediate difference. So I highly recommend this book!)
You Don't Have To Know Everything
This relates back to the honesty point, but it's ok to be transparent with your kids when you don't know the answer. Kids will see that you care when you do some thinking or research and come back to the conversation again. They might come back with a new perspective on it too.
Use Outside Resources
Be a role model for your kids by teaching them how to get answers to their questions. You can seek help from a wise person you trust, look up scriptures in the Bible, or do a Google search. Saying "Let's find out together" can involve them in the process too.
Hard Conversations In The Day To Day
I pulled my oldest in close and said, "Oh Honey, I'm so sorry we have to move and leave your friends behind. It's hard, huh?"
She nodded, and we had a tender conversation about moving, daddy's job, and about how I was sad to be leaving my friends too. We also talked about the fun things and new friends ahead.
The moving conversation keeps coming around, and I'm doing my best to be available and supportive each time. I want to keep the door open for these talks and let her know that we'll get through it together.
As you implement these tips, you'll get better with practice. And when the next hard conversation comes out of the blue, invite God into the conversation and you'll be ready.