Is it tough to get your husband to talk about his day after work? Would you like more details? Try these really good convo starters for a meaningful chat. Plus, get a free worksheet to plan a simple at-home date night!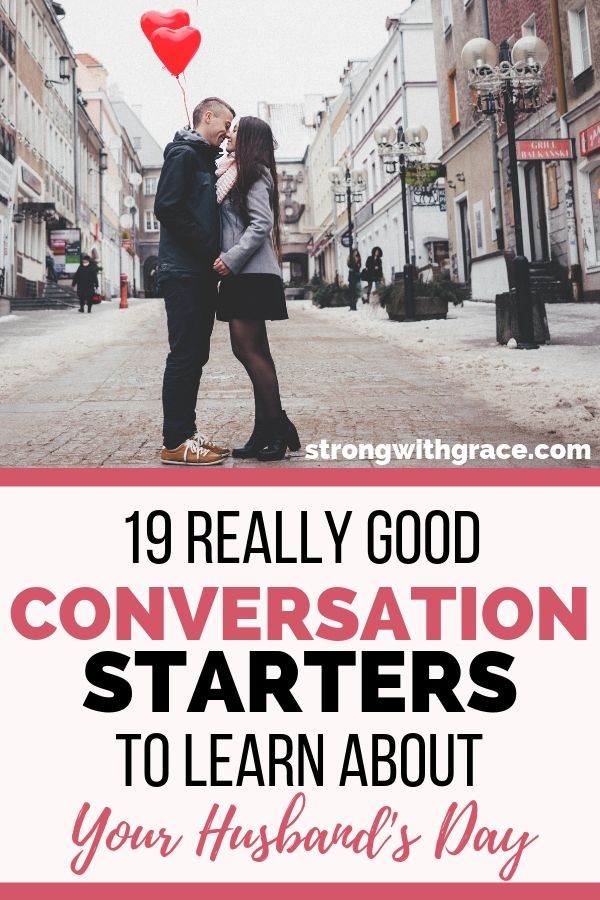 My husband has one answer for the question, "How was your day?"
His answer: "Not bad."
If he has a good day, it's a chipper "not bad." If it's more of a boring day, he says it in more of a somber way.
I've learned to decipher his tone of voice so I can tell what kind of day he's had.
It works pretty well, but as I'm a woman who wants more details, I've learned to ask him more specific questions to get a bit more out of him. (I always say that I've helped him open up over the years… He says I pried him open. Ha.)
According to Thought Catalog, "Upgrading the question is a great way to upgrade your intimacy and connection. Asking better questions can get you richer responses."
I like the idea of upgrading the question. However, sometimes when my husband gets home, he's not in the mood to have a deep conversation. He just wants to get settled, play with the kids, and relax. I get that, so I try not to bombard him with tons of questions.
But even one well-crafted question can push past the basic "how are you?" into a more open conversation (with more details!).
And if I learn a little snippet more about what makes my husband tick, I consider that a win.
If you want to connect more with your partner, grab my free "Plan A Date" Worksheet here. You can plan an at-home date quickly and easily in 3 simple steps!
19 Really Good Convo Starters To Learn About Hubby's Day
If you've lost intimacy or are wanting a deeper connection with your husband, maybe it's time to upgrade your questions. Doing so helped me a lot, so here are 19 really good convo starters for when hubby gets home from work:
Interesting Questions To Ask About Work:
What was the mood at the office today?
How were your boss and/or employees acting today?
What's new at the office?
What was your best moment at work today?
So you can brag on your self for a minute, what were most you proud of today?
What frustrated or bothered you today?
What projects are you working on?
What's the hardest task you have right now?
What do you enjoy about your job lately?
What do you wish you could change about your job?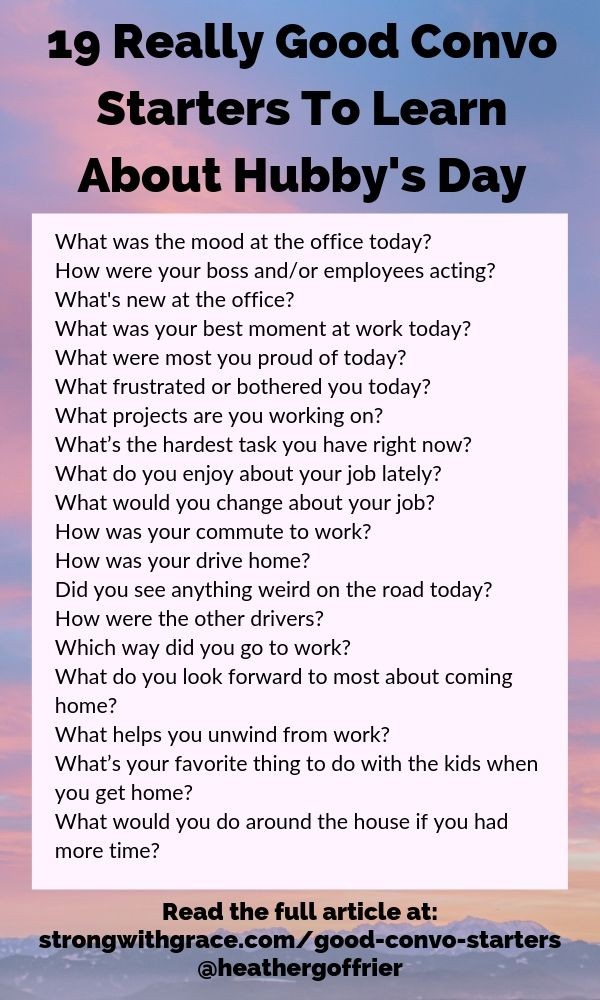 Helpful Conversation Starters About His Commute:
How was your commute to work?
How was your drive home?
Did you see anything weird on the road today?
How were the other drivers?
Which way did you go?
Good Convo Starters About Home:
What do you look forward to most about coming home?
What helps you unwind from work?
What's your favorite thing to do with the kids when you get home?
What would you do around the house if you had more time?
Create Your Own Questions
These 19 questions should give you a good launching pad to start your own conversations. Tweak them to what works for you, and then hopefully, these good convo starters spur you on to create your own questions!
Like me, you can go from "not bad" to a more meaningful conversation with a well-crafted question. Have fun!
To take your relationship to the next level, grab my FREE "Plan A Date" worksheet below!