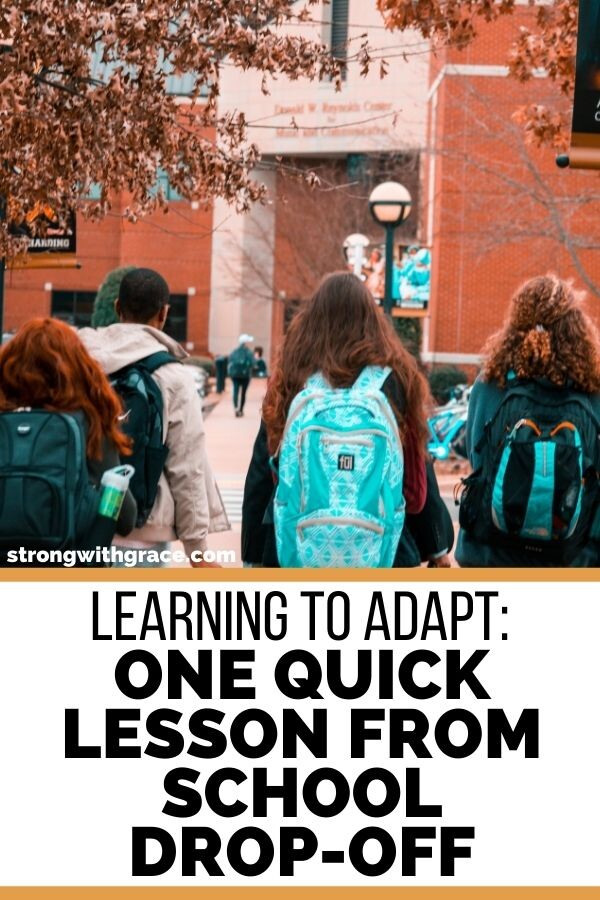 Over the past few weeks I've been waiting in lines a lot. Actually, one particular line.
The drop off line at my daughter's school.
(Let me just pause and say that I'm super grateful she's actually IN school, and not required to be at home like the majority of kids in the country. But I do have a point here, so please read on…)
Parents aren't allowed to walk their kids into the building, so they've set up two loops where parents can drop kids off in a safe way. The kids are temperature scanned and they ask the "token questions" about any illness symptoms, and the kids scamper off to their waiting teachers.
It makes sense.
However, for the first few days the drop off line took 30 minutes. It was a lot of sit, wait, and creep up slowly until it was our turn to get scanned.
And even though I knew it would get better in time, I found myself getting annoyed. My brain started churning with all the ways they could make the process better. I sighed in exasperation at the kinks and bumps in the process.
On my better days, I sat back and watched. This was a process that needed fine-tuning. Each day I tried to look at my clock to see if there was any improvement.
Day by day, they worked out the kinks. The wait time got shorter, and the frustrations all but disappeared.
As I thought about it, this process is mirroring my transition into Fall right now.
Bumps, changes, and frustration followed by lots of brain-bending problem solving, then adjustment, and finally a big sigh of relief as things start to flow again.
I'm learning to adapt things like:
You get the point.
It seems like nothing is untouched as the new season of Fall 2020 rolls in.
QUOTEABLE
Roy T. Bennet said, "If you want to fly, you have to give up what weighs you down."
Sometimes the old way of doing things is like a heavy weight. Our old routines, old habits, the previous way of doing things– we need to let go of them in order to move forward.
I encourage you to take time for readjusting and learning to adapt.
Notice what needs to change, how you can be more productive, and what's not working anymore. The change can be bumpy, the wait can seem annoying… but the result is a more smooth and enjoyable school drop off into the final quarter of 2020.
We can do this, Mama!
What about you?
What has your adjustment to Fall been like?
Are you finding bumps in the road like I have?
How are you finding your way through them?