Should we be arguing in front of kids, or keeping our disagreements private? Heather shares the pros and cons and what kids can learn from each one.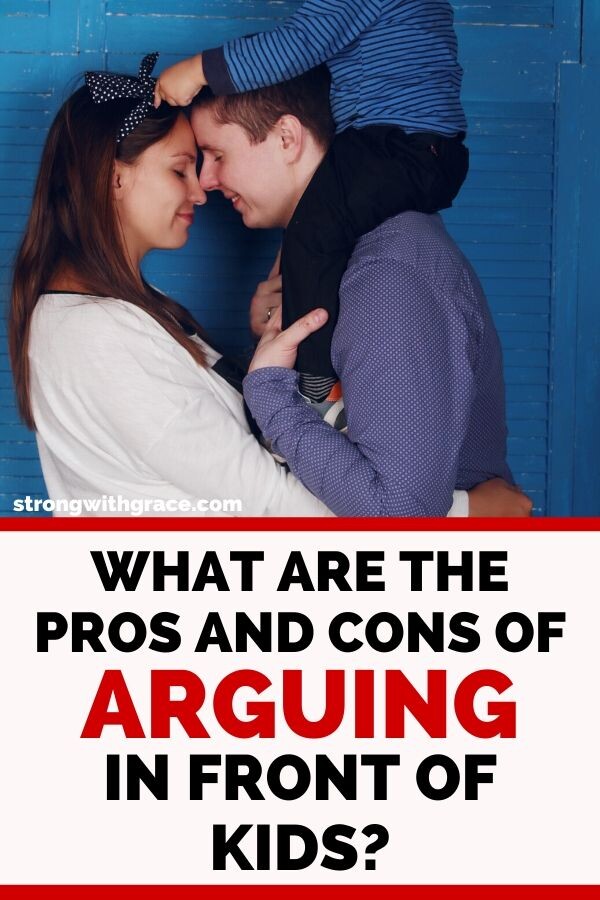 The other night we argued in front of our kids.
We started talking louder, we got frustrated, and we spent about 30 minutes trying to get on the same page while the kids played in the background.
They definitely noticed. Our oldest asked, "why are you guys arguing?"
Arguing in front of the kids is not always a good thing. In this case, we had some of the discussion quietly so they couldn't listen in. We stayed calm enough and were able to discuss things rationally so we felt ok having them around.
Sometimes we've found that it's best to resolve things right away, even if causes us to disagree in front of the kids.
During other arguments, we've chosen to table the conversation and come back to it when we can have focused adult time.
Here are the Pros and Cons of arguing in front of kids
Pros for arguing in front of kids
It's good for kids to know that normal couples have conflict
They can watch you disagree then resolve it, which models conflict resolution.
It teaches them how to argue in a constructive way, (if you are in fact arguing in a positive way.) We all have room to grow in that area, but knowing we have an audience challenges us to intentionally work on our conflict resolution skills.
You demonstrate the power of forgiveness to your children. It's important that the kids see Mom and Dad forgiving each other and accepting each others imperfections.
Speaking of imperfections, kids learn that mommy and daddy aren't perfect (if they didn't already know that clearly)
It helps kids understand that people can still love each other even if they don't always agree.
RELATED: 6 WAYS TO LEARN ABOUT YOUR HUSBAND (AND GAIN A HAPPIER MARRIAGE)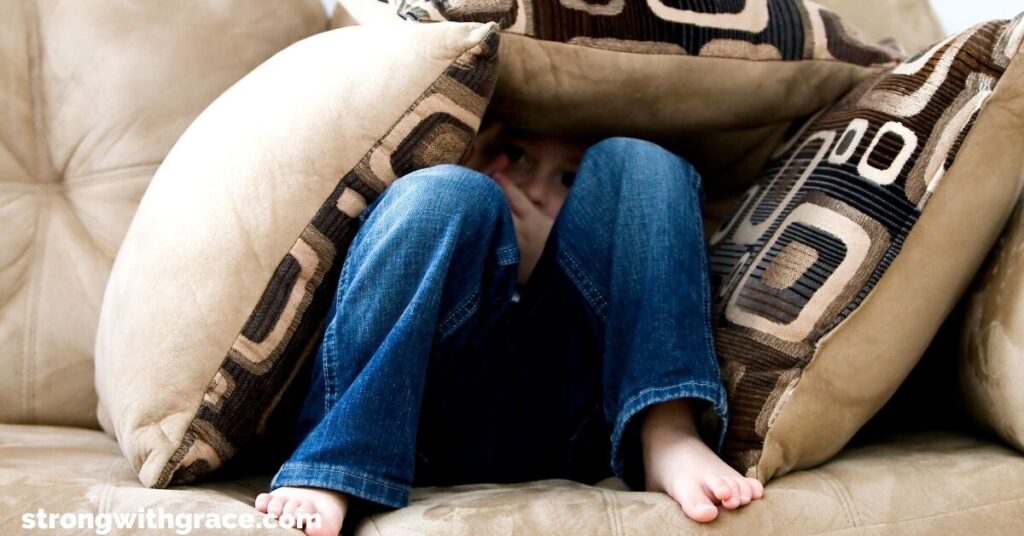 Cons Of Arguing In Front Of Kids
You might frighten them into thinking your relationship isn't secure. Kids don't always understand when adults have big emotions, so it's important to reassure the kids if you do have a sizable disagreement in front of them.
They might feel at fault or torn between you both, depending on the topic of argument. If your disagreement is directly about one of your kids, consider discussing it when they're not around.
Watching an argument can be awkward for them. They might not know what to do.
Since arguments can take time to resolve, they may not see you resolve it. That can leave them wondering about your relationship and can cause anxiety.
They might hear unkind words and negative opinions of each other. Sometimes people say things in anger, but kids would have a hard time separating that from how you really feel. Even adults struggle with this, so kids definitely could. (Side note: We don't demean each other, call names, scream at each other, etc, and that's part of why we feel ok arguing in front of the kids on occasion. If that's your pattern I would strongly consider not having those interactions in front of the kids, and focus in on learning to "fight fair".)
The kids may need your focused attention, and not putting aside the argument can be self-centered if the kids need something right away.
RELATED: YOU MIGHT BE MARRIED WITH TODDLERS IF…
You have to weigh the positive and negative in each situation and decide what's best.
Every disagreement is different and may require a varied response.
Many times, we've paused and said, "let's talk about this later." That way, we can be kid-free and have a focused conversation.
Delaying and argument also gives both parties time to reflect and remember that "unmet expectation = frustration."
Our Conflict Resolution
When we argued the other night, we made sure to resolve our conflict in front of them. They weren't right next to us, but they saw that we were resolving things.
We also made sure to tell them, "Mommy and Daddy love each other very much. We argue sometimes but we always resolve it." We hugged and showed affection toward each other in front of them we well, which helped to reassure them that everything was ok.
We've found that when we resolve things right away whenever possible, we experience greater peace as a family and can focus on enjoying our time together. And I consider that a win for everyone.
Do you argue in front of your kids? What are other pros and cons that I missed?
If you want to grow your marriage quickly and easily, grab my free "Plan A Date" worksheet to prepare a fun at-home date in minutes!