Wondering if it's normal to have all the feels as a mom? Here Heather shares an experience of emotions that all moms can or will soon identify with…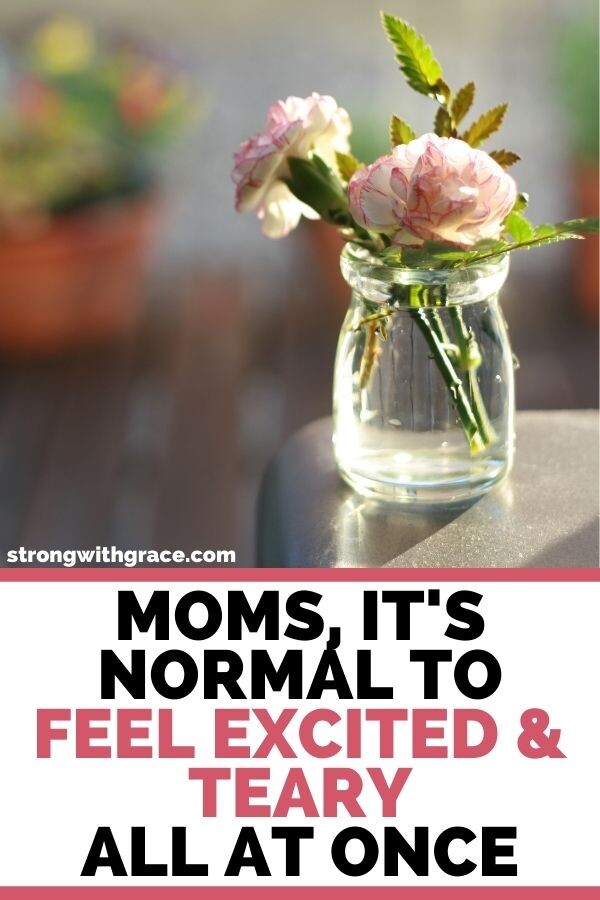 Today I started thinking about my oldest daughter's last day of first grade online instruction, and how relieved/excited/teary/sentimental it made me.
We celebrated that day, back at the end of May, even though she still had a few more days to login with her class.
But the instruction phase was over.
Mostly I was the one celebrating, because I didn't have to manage her online school work anymore.
She wasn't hard to work with (usually). But the daily checklists, the tech help, and preventing her from taking 12 selfies to add to the assignment she turned in on the iPad took a lot of energy during this tough season.
I was so glad to be done!
MIXED EMOTIONS AND ALL THE FEELS
I'll say, though, that also I got a bit wistful at the thought of her being a second-grader all of a sudden. I was having those "why can't time just stand still?" kind of feelings. I started thinking about her as a baby and looking at old videos, which I haven't offloaded from my phone yet. (who has time for that?)
All the posts I wrote over the summer about newborn sleep schedules and getting baby to sleep made me nostalgic too.
It's not like I wanna go back to the sleepless nights and the sleep deprivation. But when I see the pics of my snuggly little babies, I want another newborn.
Or maybe just to go back in time for one day.
Neither of which will actually happen, as it turns out.
In fact, I mentioned my sentimental longing for another baby to my husband the other day, and he quipped, "well, you'll have grandchildren someday." I guess he isn't having the same emotional experience with all this change that I am right now.
So on my behalf, if you have a little one, snuggle them close — even through the bleary eyed- where's my coffee- and please-stop-crying moments– and even if it's just because you can.
Because I'm way past the point of no return on those moments.
MESSY EMOTIONS
Motherhood consists of lots of messy emotions too, I'm learning– all the feels!
Fear about the future, irritation and frustration at the ways my kids butt up against the loving things I try to do for them… and the pure joy of hearing the belly-bursting laughter (and occasional snorts) coming from a pile of goofy sisters.
I love this quote by Elizabeth Stone: "Making the decision to have a child is momentous. It is to decide forever to have your heart go walking around outside your body."
Isn't that the truth?
Like, when I ask my 7-year-old if she needs help, and she smiles, rolls her eyes a bit and says, "I'm fine, Mom." Then I go slinking back down the stairs, half-crying and half beaming with pride.
Weirdest emotions ever!
It really is like my heart is up there in front of the mirror while I'm downstairs wondering where all the time went.
RELATED: 27 QUOTES WITH HUMOR AND ENCOURAGEMENT FOR NEW MOMS
EMBRACING ALL THE FEELS
If you haven't felt that way as a mom, I can pretty much guarantee that you will at some point.
Not sure that's a blessing or a curse. I never want to wish away the years, and I also never want to be trite and tell someone to "just enjoy it because the time flies by."
Because some of those late nights and long days were brutally exhausting, and I'd rather not remember those feelings. But the snuggles, the cute noises, the celebrations after putting her down in one spot and coming back to find her halfway across the room– those I want to treasure forever.
All I can say is, embrace it.
LOOKING AHEAD AND LOOKING BACK
It wouldn't be motherhood without a bit of the high and low emotions, the looking ahead eagerly and the looking back longingly.
I'm trying to do both.
And that's what I was thinking as we ate dinner on the back porch on that day of celebration back in May, in between bites of teriyaki (for Dad and me) and KFC (for the kids).
Looking ahead and looking back, with emotions swirling in the wind.
Not sure how I'll be able to handle it when my 2-year-old is the one going into second grade. I'm pretty sure that will require some form of chocolate to get me through.